Baked hake fillets cooked to perfection served on a bed of mashed plantain with a complementary paleo style mango pineapple salsa .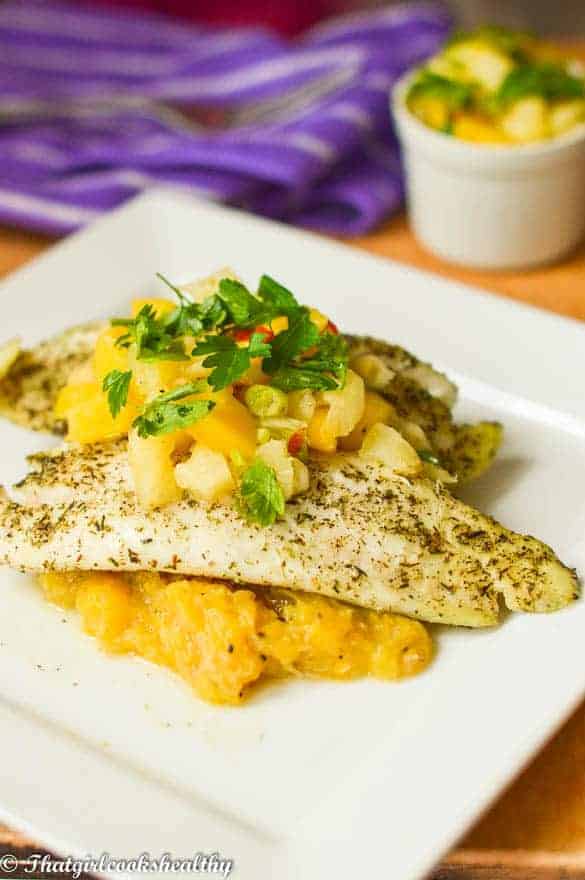 I think it's about time for me to introduce a Caribbean main meal recipe to the blog. I have a host of Caribbean recipes to add if I'm totally honest with you all, but I'm holding off submission as I'm still working on perfecting my photography. I'm still get used to my DSLR and practicing like mad, this can only improve with a determined attitude I digress.
So let's get right into it with the recipe at hand, tilapia is like my seafood side kick. I have a passion for other types of fish but I'm more partial to tilapia. Perhaps it's that succulent, white meaty texture which leaves me spellbound. I honestly have no idea what grips me with this fish. Whenever I get really creative with various ingredients the taste is magnificent (so I'm told).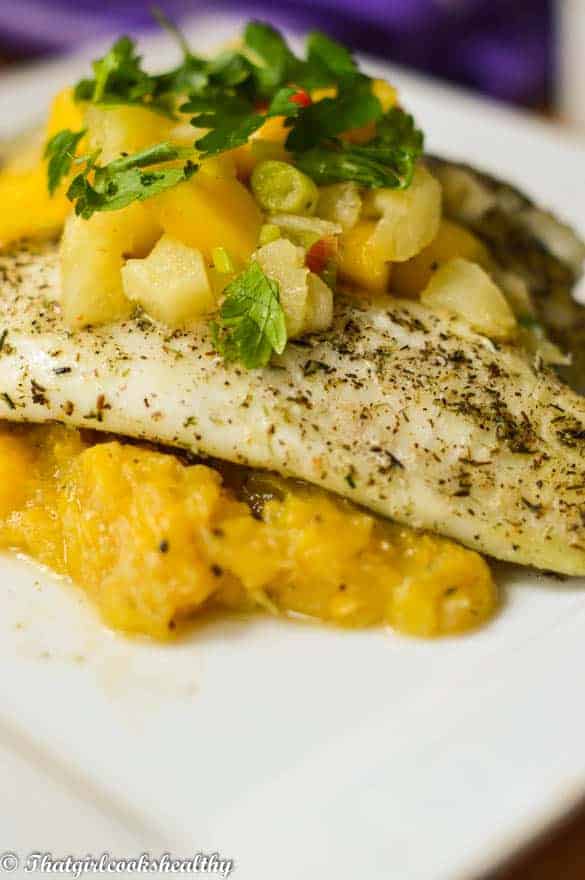 This baked hake recipe pays tribute to the entire Caribbean region as opposed to a specific island. There's a abudance of flavours; from pimento to thyme and lime (hey that rhymes).  If you're reading this recipe from the Caribbean I highly recommend sampling this dish with blue marlin instead. Both hake and blue marlin are not only my favourite fish, but share that meaty texture.
It might be cold outside but it's about to feel like the tropics once you get cooking. I paired the tilapia with spice infused mashed plantain rather than frying it – a much healthier cooking method. Plantain is from the same family as banana, more of a starch enriched vegetable (it's a fruit classified as a vegetable) but cannot be eaten raw. Plantain is often eaten by people from the islands and African continent – a dietary staple, though beginning  to gain an astronomical reputation amongst the paleo community – a contemporary food.
 The hake is lightly seasoned with thyme, Himalayan pink salt, garlic granules and black pepper – a very complimentary herbaceous fish condiment. The plantain is spiced with ground pimento (all spice) and black pepper given a sweet and subtle peppery kick. I like my plaintain just ripe – dark yellow hue on the verge on turning yellow/black in colour. From me, once this stage has passed it's little too sweet, how ironic is that for a young woman with a sweet tooth.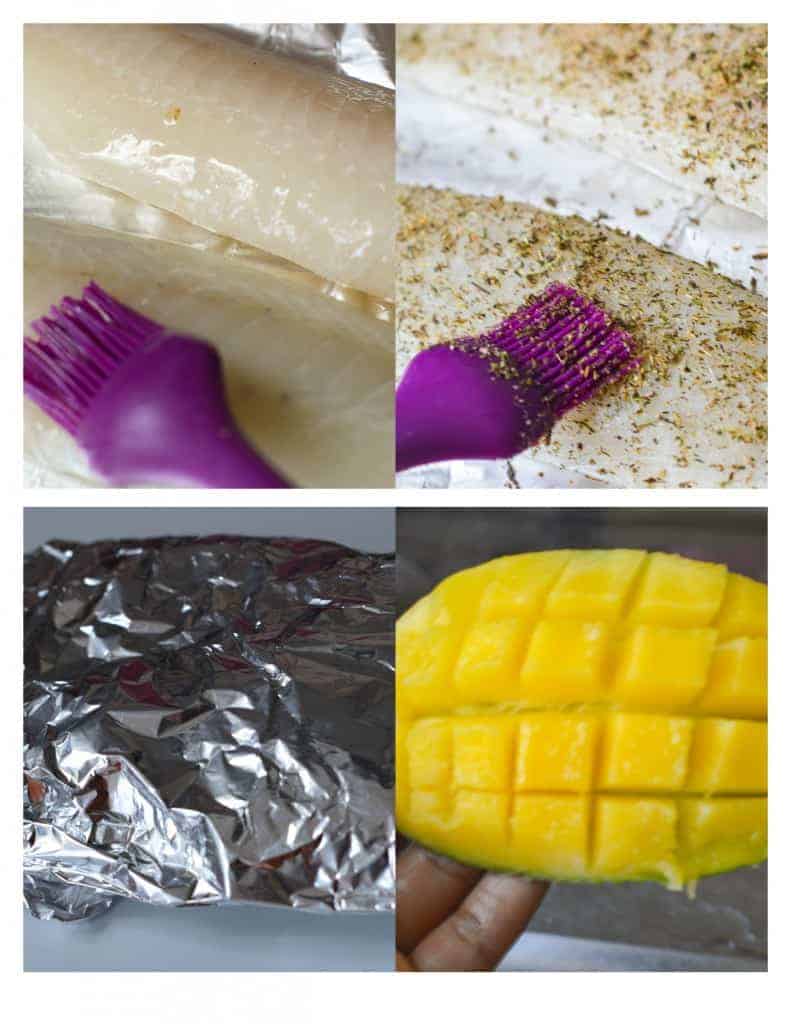 Referring to the step by step pictures, the hake needs to be foil wrapped tightly in order to bake it thoroughly in the oven. Be generous with the fish seasoning, really bathe that fish fillet with the herbs – enhance that flavour.
I took a photo of the best way to cut and slice the mango.
As you can see it looks like a hedgehog in the picture with the pulp pushed up towards. Simply slice around the mango into three sections. Then slice the yellow pulp horizontally and vertically and push the skin so the mango chunks are fully exposed.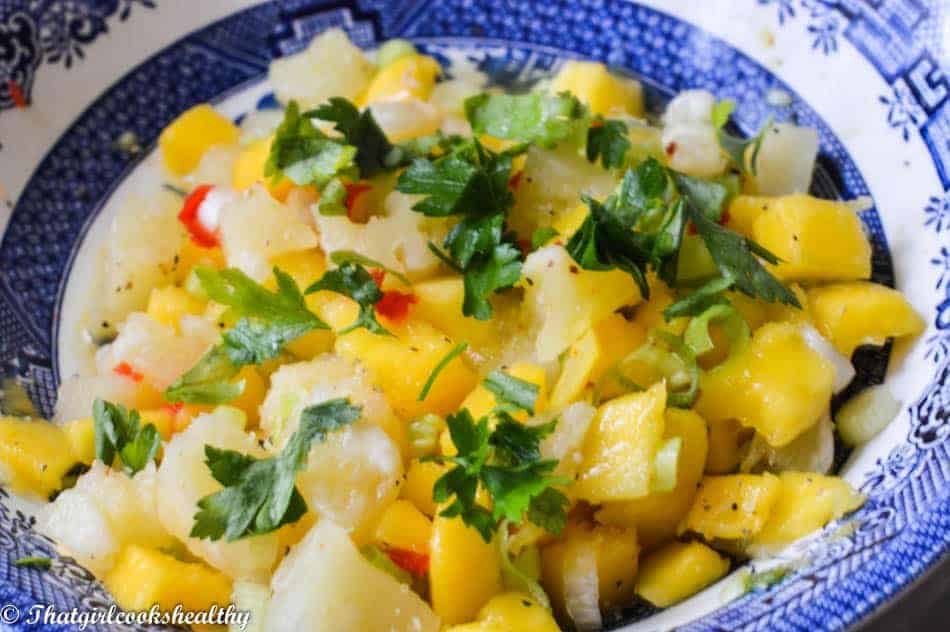 The salsa for the baked hake is very simple to make, it's simply a case of chopping and slicing the necessary fruit and vegetables, squeeze some lime liberally over the entire contents in the bowl, toss and serve.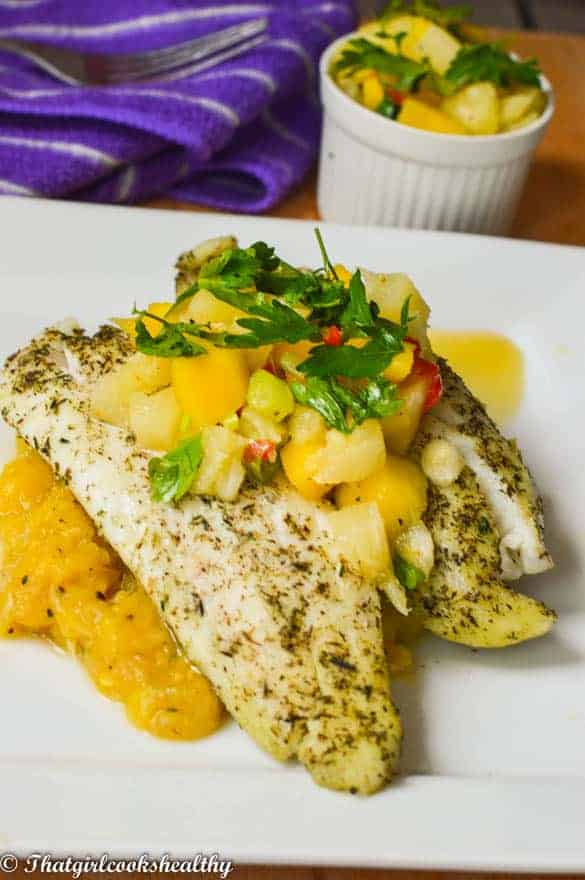 Print
Baked hake with mango pineapple salsa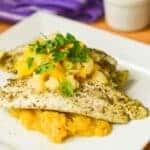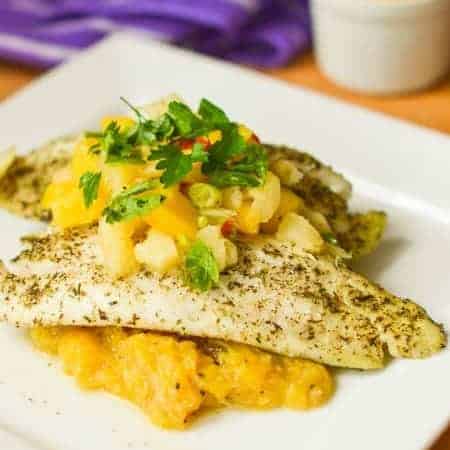 Author:
Prep Time:

15 mins

Cook Time:

30 mins

Total Time:

45 mins

Category:

Caribbean
Ingredients
2 hake fillets
For fish seasoning – 2tbsp thyme, 1/4 tsp Himalayan pink salt, 1/4 tsp onion powder, 1/4 tsp garlic granules and 1/2 tsp black pepper
2tbsp of coconut oil
1 large yellow plantain
1tsp black pepper
1/4tsp of ground pimento (allspice)
——————————————————–
For the salsa
1 cup of mango, roughly chopped
1/2 cup of cucumber **optional
2 tbsp. of lime juice, squeezed
1/3 cup of fresh coriander, chopped
1 cup of pineapple, roughly chopped
1 tsp worth of finely chopped scotch bonnet
1 large scallion, diced
pinch of black pepper
Instructions
Preheat the oven at 180 degrees celsius or gas mark 4.
Ground the fish seasoning in a coffee blender into a fine powder.
Coat the fish fillets in coconut oil, using a silicone brush to lubricate the fish thoroughly on both sides.
Follow up with applying the fish seasoning, again using the same technique, both sides with a generous application.
Wrap the fillets tightly with foil, place on a baking tray to bake for 20 minutes.
In the meantime, remove the skin and cut plantain into two halves, add to a sauce pan with 3 cups of water. Turn the heat high until boiling point has reached, reduce to low to allow simmering for 10 minutes.
The plantain should take on a darker colour and tenderise when done. Once soft use a potato masher to break down the plantain into a puree like consistency and mix in the pimento and black pepper.
Once the 20 minutes has finished, remove the foil enclosed fish from the oven and set aside to cool.
Add all of the salsa ingredients into a bowl and toss so the lime, scotch bonnet and black pepper coat everything.
Serve fish on a bed of plantain with the salsa on top
Notes
Can use other meaty fish like blue marina or hake instead.
Pimento is often referred to as allspice.
Store any left over salsa in the refrigerator and use within 2-3 days.