Caribbean callaloo soup recipe – nourish your body with this heart warming leafy green thick and equally as flavoursome soup.
Finally my first Caribbean soup recipe for the blog. It was well over due and a long time coming, me thinks. Remember I told you guys I was halting some of my recipes until they were completely perfected? Well this little bad boy was on the list amongst others.
I must admit I exceeded my own expectations with this one. I doubted my ability to find the correct substitutes to retain that lovely flavour.
Callaloo is a vegetable brought from west Africa during the transatlantic slave trade. When slaves settled in the Caribbean they found many ingenious ways to cook callaloo including in the form of soup. They also draw inspiration from the indigenous Amerindian people who inhabited the land prior to their arrival.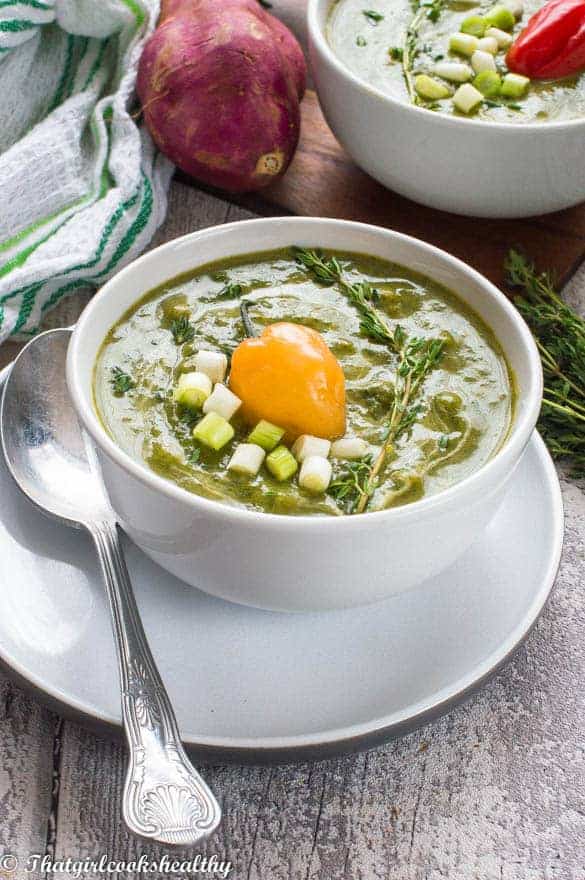 Callaloo soup is made differently by almost every island, there is no right or wrong method, it's simply a case of following ones own cultural upbringing. For instance Trinidadians make callaloo using dasheen (taro) leaves. On the other hand, other islands such as Grenada and Dominica have a tendency to add an assortment of meat and use callaloo not dasheen leaves.
Jamaicans, Guyanese and Antiguans call the meat variation Pepperpot soup.
This all may sound overwhelming to an outsider but the key ingredient throughout is either callaloo or dasheen leaves.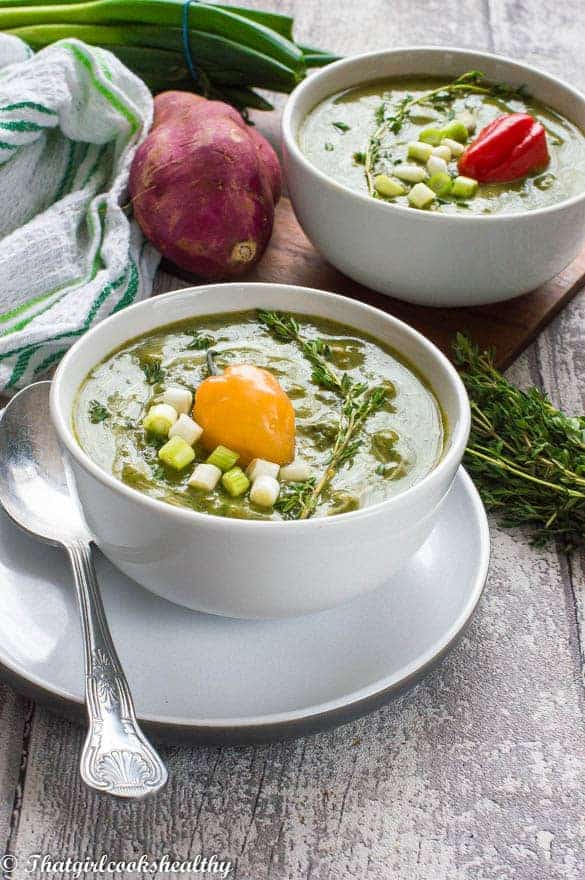 My variation omits the meat and puts more emphasis on using green vegetables. Unfortunately, I wasn't able to get hold of any fresh callaloo at the times of cooking but that's okay because spinach is a popular replica.
This long list of ingredients may seem intimidating at first glance but I promise it's nothing a rookie cannot handle and the results are truly worth the prep work.
To  bulk up the soup with sweet notes, I incorporated butternut squash and sweet potato – healthy clean starch and complex carbs.
The coconut milk and vegetable stock help to liquidise the solid veggies. Although it is best to chop them finely or better yet dice them up. Okra (ladies fingers) is another veg which plays a crucial role in this green leaf soup.
As always to begin with you will sautee the onions and garlic and add the other veggies – scallion, onion, scotch bonnet, okra, butternut and sweet potato. From there sprinkle the spices over the veg whilst they sweat in the pan and infuse the condiments. Add the spinach towards the end along with the stock and coconut milk. The pan may seem overcrowded but the volume will reduce with time.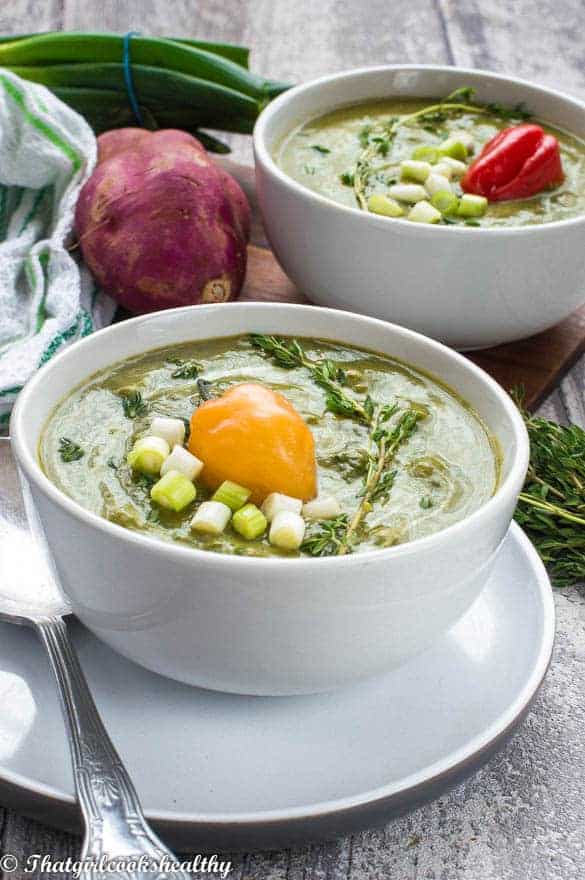 You can leave the mixture to breakdown into a thick stew for up to an hour. I normally intervene around 30 minutes -45 minutes when the kitchen is filled with a tempting aroma where I'm greeted with a thick herbaceous stew. Now it's time to liquidise, don't liquidise too much, embody the soup by using a immersion stick blender and pulse to your desire.
A true taste of the Caribbean that's suitable for most dietary requirement – paleo, gluten free, vegan and dairy free!
Hey, you can even freeze any left overs ……..bonus!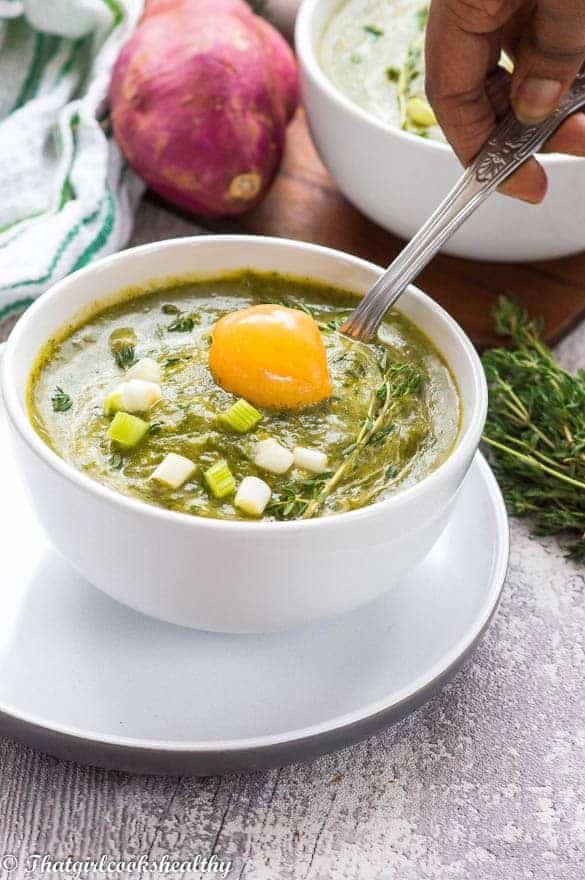 Print
Caribbean callaloo soup (Vegan style)
Vegan, gluten free, dairy free, paleo
Author:
Prep Time:

20 mins

Cook Time:

1 hour

Total Time:

1 hour 20 mins
Ingredients
6 cups of callaloo or spinach, tightly packed
1 1/2 cups of sweet potato, diced
1 1/2 cups of butternut squash, diced
1 small onion, sliced
4 garlic cloves, minced
4 sprigs of thyme or 1/2 tbsp. of dried
1/4 of a scotch bonnet (not too much)
1 tsp of himalayan pink salt
1 large scallion (or 3 small ones) chopped
1/4 tsp of black pepper
4-5 okras, sliced
2 cups of vegetable stock
2 cups of coconut milk
2tbsp of coconut oil
Instructions
Start by heating the coconut oil a in large heavy based saucepan or casserole dish over medium heat.
Now sauté the onion, scallion and garlic for 1 minute, until the onions are soft.
Add the diced butternut, sweet potato, okra and scallions and fold in with the sautéed onions and garlic.
Allow all of the veggies to sweat in to pan, while keeping a watchful eye so nothing burns – stirring frequently for 2-3 minutes
Proceed to add the scotch bonnet, thyme, black pepper and salt, while stirring into the veggies.
Tip the spinach/callaloo into the pan, the pan may seem overcrowded at first but the spinach will wilt and the remaining veggies will breakdown during simmering.
Pour in the coconut milk followed by the vegetable stock and reduce the heat to low.
Cover the pan with the lid and allow to simmer down into a thick stew for up to an hour, stir often to prevent sticking while it thickens.
Once the desired thickness is present, use an immersion stick blender (discard stem if using fresh thyme) to partially liquidise into a more soup like texture.
Serve accordingly.
Notes
Use spinach if dasheen or callaloo leaves are difficult to obtain
This recipe is suitable for home freezing.