Caribbean curried butter beans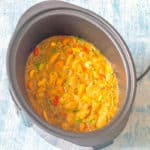 Author:
Prep Time:

30 minutes

Cook Time:

6 hours

Total Time:

6 hours +30 minutes

Yield:

4

-

6

1

x
Category:

Main entree

Cuisine:

Caribbean
Scale
Ingredients
2 cup

s of dried butter beans (lima beans) (340g)

1

can of coconut milk (400ml/

8 oz

/

2 cup

s)

2 cup

s of water (400ml /

8 oz

)

1

large carrot, chopped

1

cho cho (christophine, mirliton, chayote), peel and chopped or use a zucchini/courgette

1

medium onion, chopped

1

inch of ginger, grated

2

bay leaves

4

garlic cloves, chopped

2

small scallion, sliced

3

bell peppers, chopped

1

large tomato, chopped

6

sprigs of thyme

1 tsp

of coriander (cilantro)

1 tbsp

of curry powder

1 tsp

of black pepper

½ tsp

of paprika

1 tsp

of himalayan pink salt (or more to taste)

1

scotch bonnet (optional)
Instructions
Rinse the dried butter beans several times before placing them in a large bowl with enough water to completely cover the beans and soak for several hours or overnight. The beans will swell the longer then soak and absorb some of the water.
Discard the water and rinse off the beans one more time and set aside
Saute the onion, scallion and garlic until soft and translucent.
Transfer the onions, scallion and garlic into your slow cooker unit (my unit is removable so I don't need to do this) add the curry powder, paprika, ginger, bay leaves, black pepper, thyme, pink salt, cho cho, bell peppers, tomatoes and carrots to the unit.
Then add the water and coconut milk, stir, cover with lid and set your slow cooker to low for 6 hours.
A hour before completion feel free to add a scotch bonnet for mild heat and flavour.
Discard the thyme stems, scotch bonnet and bay leaves before serving accordingly
Notes
Use dried beans because they are cheaper and work best in a slow cooker recipe. Cooked beans won't work for this recipe as they will turn to mash far too soon and ruin the dish.
Chop you vegetable ahead of time, if you plan to leave your slow cooker on while running errands or not at home then make it easier by chopping and weighing up everything the night before
Butter beans are also known as lima beans
If you cannot get hold of cho cho/chayote/christophine another water soluble vegetable such as zucchini will work too
If using zucchini make sure to add to a bowl and sprinkle 1tsp of pink salt over it. Leave it to extract its own juices for 10-15 minutes and rinse off. This is to eliminate the bitter taste that comes with zucchini.
Zucchini is known as courgette in the UK
To deepen the flavour I recommend cooking for at least 6 hours, it's the sweet spot for optimal thickness
Use low fat coconut milk if you want to scrimp down more on fat content, although a diluted version of coconut milk may result in a loss in flavour.
Don't forgot to discard the bay leaves, scotch bonnet (if using) and thyme stems prior to serving.