Gluten free donut recipe made with buckwheat flour with a hint of cinnamon it as so much healthier than their fried counterpart and delicious too.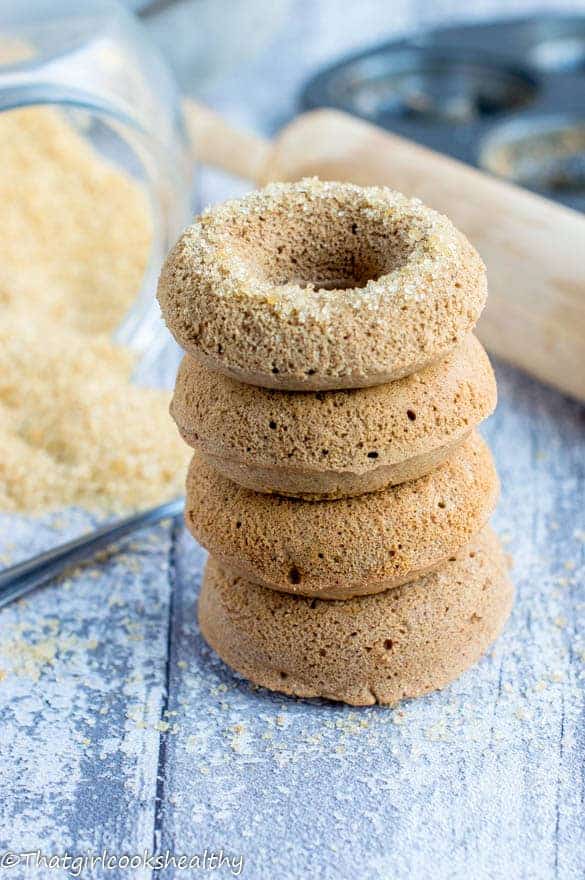 If you are a fan of donuts then you will love my healthy rendition of this gluten free donut recipe – get that sweet sugar fix in a most more healthier context.
After spending the entire morning wondering what I should bake today, it wasn't until the late afternoon I decided to churn out this gluten free donuts recipe because I hadn't eaten donuts in what feels like centuries.
I still can't believe it myself, donuts are a favourite past time treat of mine.
There was a short period of time in my life where I would habitually nibble on donuts, it was quite embarrassing when I think about it.
They were my guilty pleasure, an unfavourable craving of mine, one that I wasn't prepared to give up.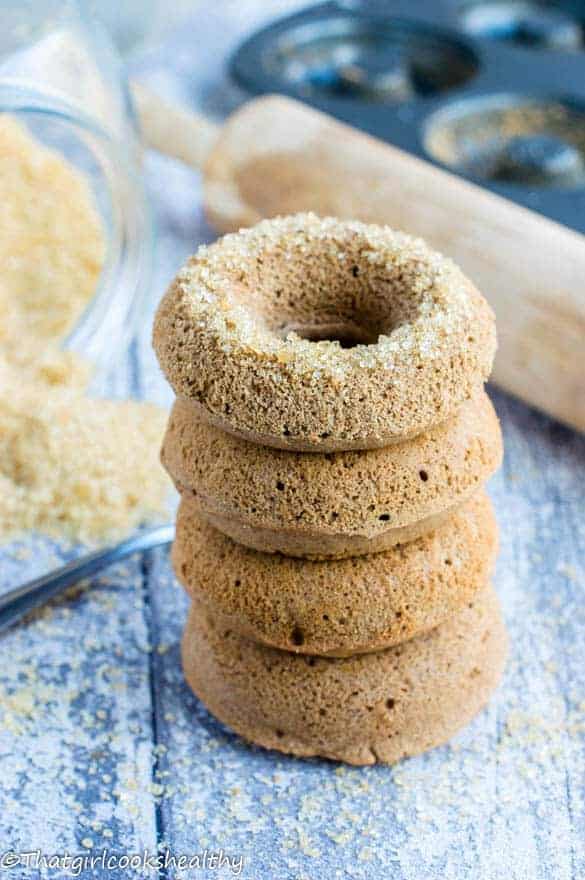 How to make this gluten free donut recipe from scratch
The donuts are very easy and not to mention a lot more healthier then their fried counterpart.
My choice of gluten free flour was buckwheat, there no need to mix it with another flour. Buckwheat is stable and dense enough to work by its self and yield some great results like these cinnamon pancakes
You will need a donut tray to put the batter into.
Feel free to use my homemade nut milk to form part of the recipe coconut or almond work well
The donuts bake quickly quickly – in and out of the oven within 15 minutes
Print
gluten free donut recipe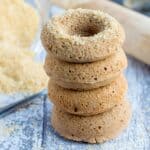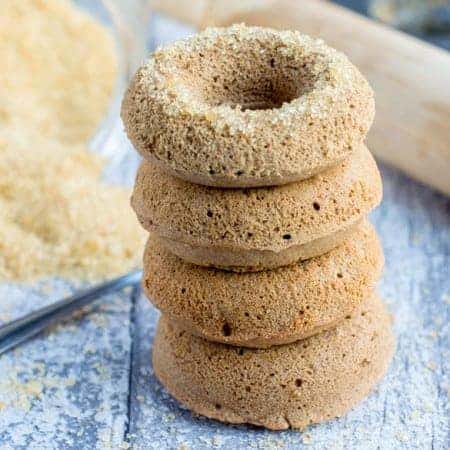 Gluten free donut recipe made from buckwheat flour – Dairy free, gluten free
Author:
Prep Time:

10 mins

Cook Time:

15 mins

Total Time:

25 mins

Category:

Dessert
Ingredients
1 cup of organic gluten free buckwheat flour
1 1/2 tsp of baking powder
1/4 tsp of baking soda
1/8 tsp of himalayan pink salt
1 tsp of cinnamon
1/2 tsp of nutmeg
1/3 cup of coconut palm sugar (or maple, coconut nectar)
1/3 cup of coconut milk (or other nut milk, see link above for homemade recipe)
1 small egg
1 tbsp of coconut oil (and extra for the donut pan)
1 tsp of vanilla powder
————
For cinnamon sugar
1 tsp of cinnamon
1/4 cup of coconut palm sugar for dusting
Instructions
Pre heat oven on gas mark 4/350F/180C
Coat the donut pan with coconut oil so that the mixture won't stick
Combine the flour, spices, vanilla, baking soda, baking powder, palm sugar and pink salt in a large bowl and stir thoroughly.
In a separate bowl add the milk, egg and coconut oil together and whisk briskly for a few seconds.
Fold the wet ingredients into the dry ingredients, and combine thoroughly. I used my immersion blender to ensure the batter was smooth not lumpy
Fill the donut tray until half full and place in the oven for 15 minutes depending on cooker (mine were perfect around 10-11 minutes.
Insert a toothpick to determine readiness, if it's cooked, it should come out without the batter on the pick. If not return to the oven to cook a little longer.
Once cooked remove pan from oven, and set aside for 5 minutes to cool, and then move to wire rack.
Roll donuts in cinnamon sugar whilst warm and store on wire rack
Notes
Use whisk or immersion blender to blend the batter
Once in oven, check towards the end of cooking time, so air doesn't cause donuts to collapse.
Make sure to grease pan to omit sticking