Mango prawn salad recipe – prawns with sweet mango pieces on a bed of romaine lettuce, garnished with red onions and drizzled with a herbaceous dressing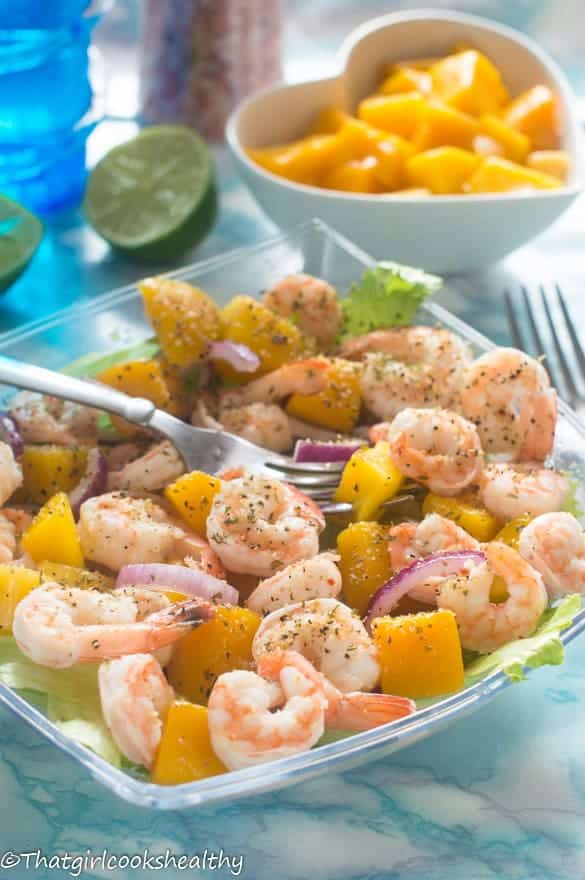 This mango prawn salad is one of my favourite salads to eat, it's quick, light and filling. Perfect to pack and bring with you to work or why not eat it on a sunny day in the park?  You will get all the sweetness that you need from the mango and sweet romaine lettuce.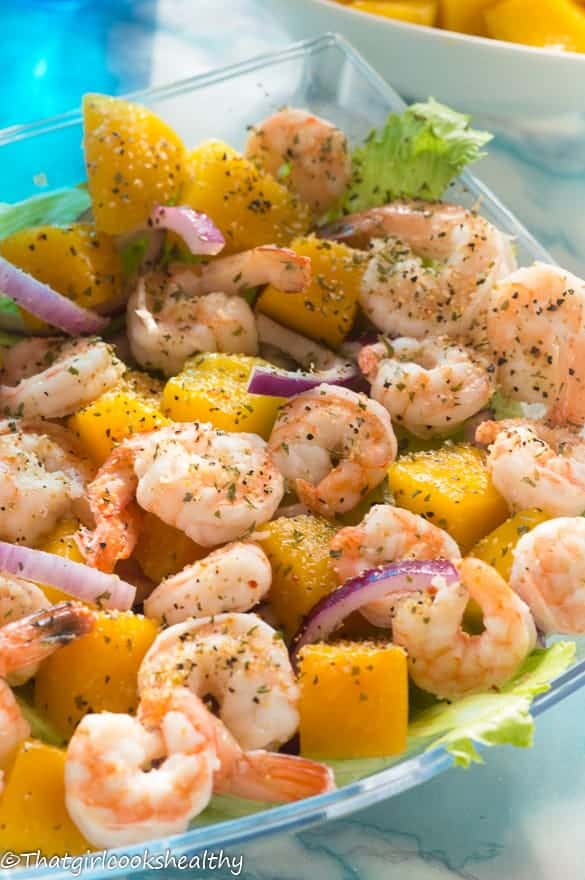 The prawns featured above are pre-cooked – I purchased them cooked as I find the uncooked ones unappealing.  Perhaps I'm a strange woman, but I loathe the thought of visiting my fish monger and looking at a huge quantity of grey prawns. I probably have a inherited dislike for them because my mother feels the same way.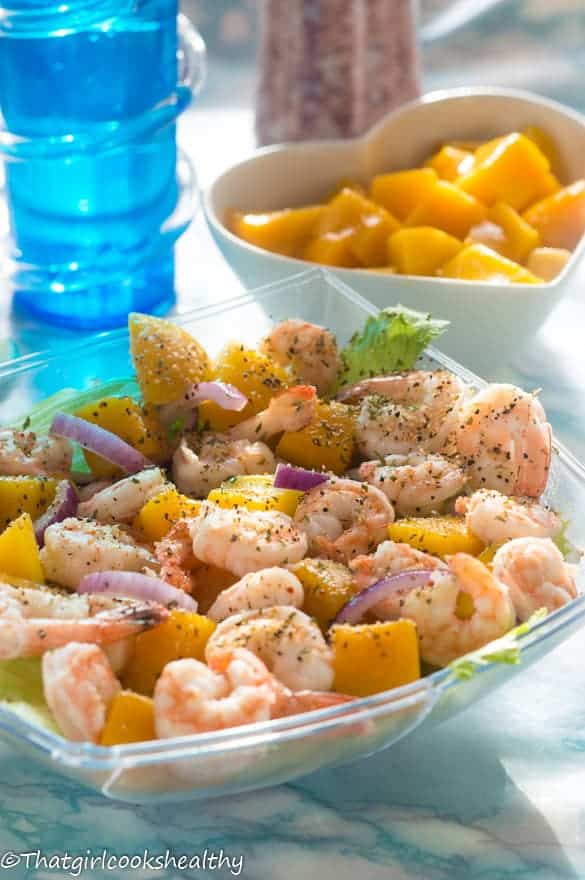 Aside from how unsightly raw prawns maybe, they are packed with protein – essential for building and repairing muscles and low in fat. This salad is perfect for people who are looking for something that tantalises their sweet taste buds with a complementary serving of seafood.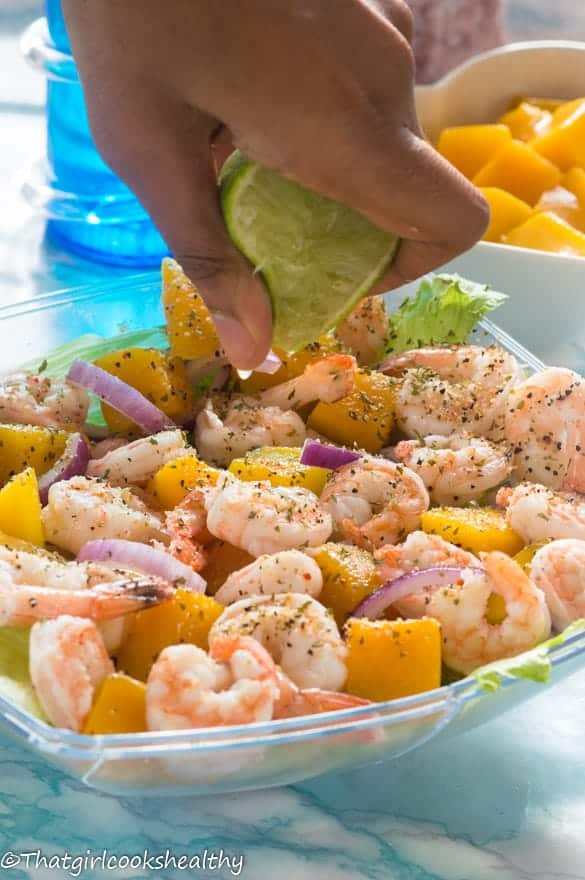 I also made a lime dressing which I initially coated the prawns in and drizzled the excess over the entirety of the salad.
Let's summarise this dish – sweetness + seafood + tanginess = an awesome sweet seafood experience.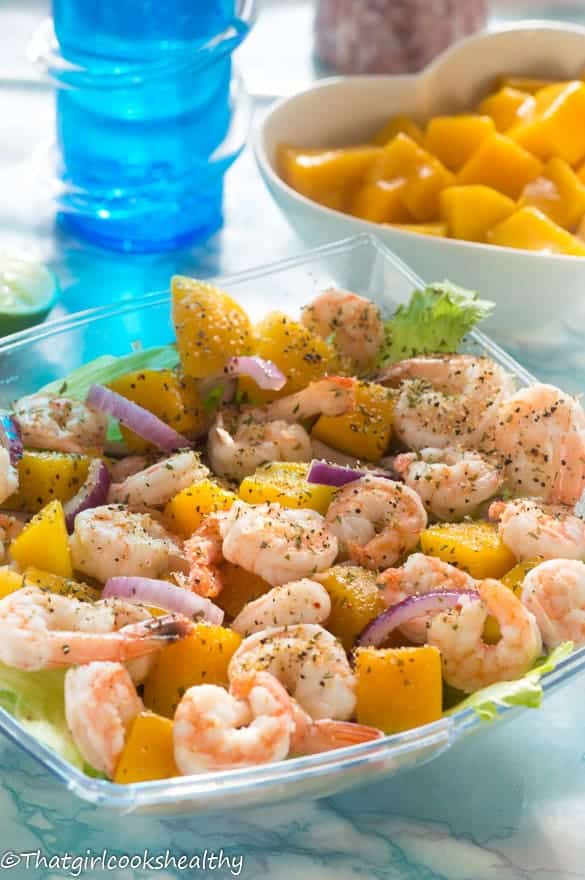 mango prawn salad recipe
2 cups of sweet romaine lettuce, chopped and tightly packed
1 cup of mango, diced
150g of prawns (roughly 1 cup)
1/4 cup of red onions, sliced
For the dressing
2tbsp of extra virgin olive oil
1tsp of parsley
1tsp of black pepper
1/2 tbsp of freshly squeezed lime
1/8 himalayan pink salt
Method
1. Arrange the pre chopped ingredients so that they sit on a bed of sweet romaine lettuce (excluding the prawns).
2. Add all of the dressing ingredients into a bowl and whisk for 30 seconds.
3, Toss the prawns into the liquid, ensuring that all the prawns are completely saturated and leave to sit for 2 minutes.
4,  Remove the prawns from the mixture and place onto the lettuce bed
5, Pour the remaining dressing all over the salad
Print
mango prawn salad recipe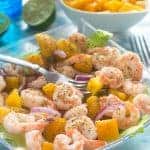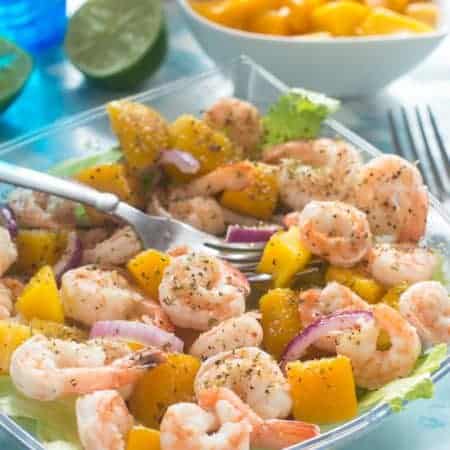 Low fat, gluten free, paleo friendly
Author:
Prep Time:

5 mins

Total Time:

5 mins

Yield:

1

Category:

Lunch and Salads
Ingredients
2 cups of sweet romaine lettuce, chopped and tightly packed
1 cup of mango, diced
150g of prawns (roughly 1 cup)
1/4 cup of red onions, sliced
—————————–
For the dressing
2tbsp of extra virgin olive oil
1tsp of parsley
1tsp of black pepper
1/2 tbsp of freshly squeezed lime
1/8 himalayan pink salt
Instructions
Arrange the pre chopped ingredients so that they sit on a bed of sweet romaine lettuce (excluding the prawns).
Add all of the dressing ingredients into a bowl and whisk for 30 seconds.
Toss the prawns into the liquid, ensuring that all the prawns are completely saturated and leave to sit for 2 minutes.
Remove the prawns from the mixture and place onto the lettuce bed
, Pour the remaining dressing all over the salad