Easy banana smoothie recipe – this dairy free banana smoothie recipe is packed with nutritional value thanks to the fibre, potassium and vitamin c levels.
For the past few days the weather has been perfect in my neck of the woods. You see when you live in a country which consists of constant rainfall with cold, dismal weather.
There's a sense of gratefulness when the weather transitions from icy cold to warm, hot sunny days. I also like the vibe which summer evokes, people seem to smile more and greet one another. It's such a nice atmosphere which is why I love summer time more than any other season because people are generally more positive and radiant such warmth.
My favourite hobby is to people watch on my lunch break, sometimes it's nice to just watch the world go by. Another great thing about summer is the smoothies and deliciously tasting frozen desserts. I made a lovely banana rama smoothie to accompany my dahl today (I know 2 liquids at once, who does that?).
The secret to this banana smoothie is adding a small quarter of apple, there's something about adding an apple to the mix which really enhances the taste. The walnuts provide additional healthy fats and protein too.
This easy banana smoothie recipe is suitable as a meal replacement or simply drink at your leisure to optimise good health.
Print
Easy banana smoothie recipe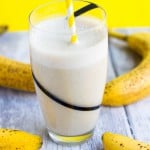 Paleo, raw, vegan, gluten free
Author:
Prep Time:

2 mins

Cook Time:

1 min

Total Time:

3 mins

Yield:

2

Category:

Drinks
Ingredients
1 large banana (preferably frozen)
4 ice cubes
2 pitted medjool dates
A small 1/4 of an apple
1tbsp of flaxseeds
1/2 tsp of cinnamon
1/2 cup of coconut milk
1/4 cup of walnuts
Instructions
Blitz in high speed blender until smooth consistency is present