Jamaican carrot juice recipe – A classic Jamaican vegetable based beverage made from carrots, nutmeg, cinnamon and vegan condensed coconut milk.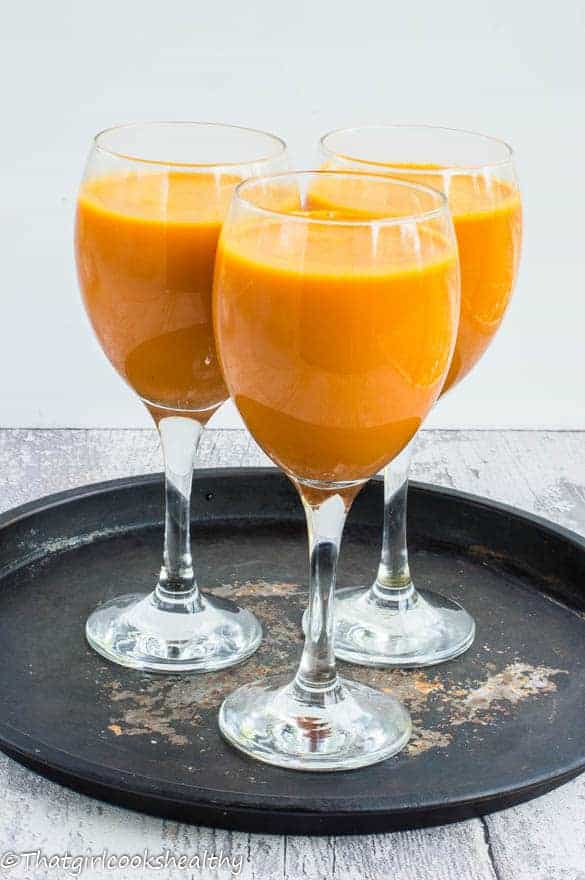 If you're a fan of carrots then you'll definitely want to stick around of this beverage. This isn't just any old carrot juice recipe, it's Caribbean so you already know to expect some spices here and there. I'm not one to disappoint so hopefully I will do my mother's recipe some justice.
Growing up carrot juice was something we'd consume especially when we'd have lots of guests around. In all, I would summarise it as a celebratory drink. Sometimes mom would make two batches one for the children (meaning myself and the younger relatives) and another batch for the adults this was known as the "grown up drink" due to the additional splash of rum.
It's really simple to make this drink yet one that is guaranteed to impress your family and friends. If you don't believe me then I dare you to try it and let me know the response received from your guests…I will be waiting.
Now onto the beverage at hand, traditionally carrot juice is made with condensed milk which we all know contains dairy. You guys know while I'm not quite vegan, I do embrace a dairy free lifestyle, so I managed to successfully replicate the conventional results, only using my homemade condensed milk made from coconut milk.
This coconut condensed milk is my savour, if you're lactose intolerant or lead a vegan lifestyle then I'm sure you will appreciate how difficult is it to substitute specific recipes from time to time. Since discovering this dairy free condensed milk I always keep a stash in my refrigerator as an alternative sweetener.
The key ingredients for Jamaican carrot juice are carrots, nutmeg, vanilla with a lovely hint of cinnamon to balance out of nutmeg.
You can make this drink using either a juicer or a blender. I wish I had the former due to the amass of leftover pulp from juicing with the aid of water. I'm way too frugal to discard the pulp, simply freeze it and reuse for some carrot cake – job done.
The spices and sweetener are added to the juice when the carrots have been extracted/pulverised.
Print
Jamaican carrot juice (Vegan style)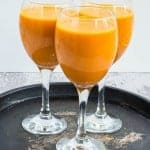 Paleo, gluten free, vegan, dairy free
Author:
Prep Time:

7 mins

Total Time:

7 mins

Category:

Caribbean
Ingredients
2lb of carrots (preferrably organic), halved or sliced
1tsp of nutmeg
1/4 tsp of cinnamon
5 cups of water (only use if doing the blender technique)
1tsp of vanilla (power or extract)
Coconut condensed milk (sweetener to taste 1/2 cup should suffice)
Instructions
Proceed to put the carrot in the blender with the water and blend, you may need to do this in two batches depending on the capacity of your machine. If using a juicer then extract the juice and move onto step 3
Once completed use a strainer or cheese cloth to extract the juice from the pulp. Keep the pulp for another time to add to your baking, freeze it and re-use.
Stir in the coconut condensed milk, nutmeg, optional cinnamon and vanilla.
Serve accordingly.