Jamaican saltfish fritters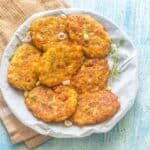 Author:
Prep Time:

15 minutes

Cook Time:

20 minutes

Total Time:

35 minutes

Yield:

8

1

x
Scale
Ingredients
2 cup

s of saltfish, shredded(see post for unrefined version)(270g)

1 cup

of gluten free flour (140g)(Bob red mills

1

to

1

flour)

1

small onion, chopped

1

small tomato, chopped

1

garlic clove, chopped finely

1 tsp

of black pepper

5

sprigs of fresh thyme (or

1/2 tbsp

dried thyme)

1 cup

of water (

8oz

/ 250ml)

1/2

bell pepper, chopped (optional)
Olive or coconut oil for frying (I used 1/4 cup, non stick frying pan)
scotch bonnet (optional, I used 1/2 for extra heat!)
Instructions
Place the shredded saltfish in a medium sized bowl
Mix together the onion and garlic until fully combined
Pick the leaves from the stems of the thyme and sprinkle in along with the black pepper into the saltfish.
Add the scotch bonnet (if using), tomato and fold in so all of the ingredients are evenly distributed.
Add the flour and then slowly mix in the water to form a smooth batter – shouldn't be too runny nor too thick.
Preheat a sturdy non stick frying pan on medium heat and pour in the oil (I used a total of 1/4 cup for the entire batch) and spoon a small amount of the fritter mixture into the frying pan. repeat…being careful not to overcrowd the pan.
Reduce the heat to low-medium and cook each side until golden brown, carefully move the pan from side to side to distribute the oil evenly (helps the fritters cook quicker).
Once cooked place each fritter on some paper towel to absorb any extra oil
Repeat the above 3 steps with the rest of the batter.
Notes
Don't spoon too much of the batter into the frying pan. The fritters will naturally increase somewhat in volume which is why I don't use raising agents.
Don't pile on too much batter onto each fritter. In order for them to crisp up well they shouldn't be too dense when cooking in the pan.
Make sure your batter isn't too thick nor too runny. It should be a medium consistency, if it's too runny add a tablespoon more of flour. If too thick, thin it out with a splash of water.
The membrane of the scotch bonnet is where the heat is, how much you use it up to.
If you don't care for heat then leave out the scotch bonnet.
If you cannot get hold of scotch bonnet use a harbanero or chilli instead
Feel free to add scallion and bell peppers -1/2 if using. Add them along with the onions, just mix them in!
I used a total of 270g of shredded fish to make my saltfish. That's 2 cups worth in total. If you aren't using the method then use 1 1/2 pack of saltfish 
Make sure to use a non stick frying pan to eliminate using an excess amount of oil. It will take awhile for it to crisp up with the amount of oil I used but it's healthier than deep fat frying your fritters.