Raw cacao energy balls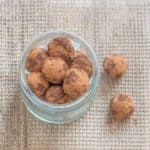 Raw cacao energy balls that are healthy and made from scratch – vegan, paleo, dairy free and gluten free friendly
Author:
Prep Time:

10 minutes

Cook Time:

5 minutes

Total Time:

15 minutes

Category:

Appetisers/Snacks
Ingredients
1 cup of pitted medjool dates (150g)
2 tsp of raw cacao powder
2 tbsp of raw cacao nibs
1/2 cup of almonds (75g)
1/2 cup of walnuts (60g)
1/8 tsp of vanilla powder
2 tbsp of raisins
1/8 tsp of nutmeg
pinch of himalayan pink salt
Extra cacao for dusting (optional)
Instructions
Soak the dates in warm water for 10 minutes
Blitz the almonds and walnuts on high speed for 45 seconds, using a S blade. You want the consistency to be semi fine, not chunks or completely ground – somewhere in between.
Add the cacao powder, salt, nutmeg cacao nibs, raisins, vanilla and pitted dates to the nut mix
Process for approximately 1 minute or until a huge ball is formed
Roll the dough into miniature balls and dust in excess cacao powder (optional, not required)
Notes
It is essential that you use a food processor in order to make the energy balls
The amount of energy balls made will vary depending on size of each ball.
Make sure to use "cacao" vegan chocolate powder and not "cocoa" which isn't dairy free
If you want to make more I would recommend making in separate batches so everything grinds down evenly.
The balls are freezer friendly or refrigerate and consume within a few days.
You can use another form of date if you can't get hold of medjools