Print
Stir fried quinoa shrimp recipe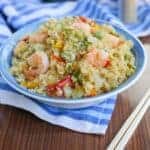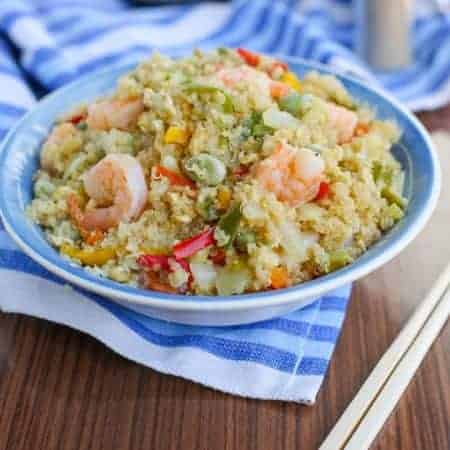 Author:
Prep Time:

20 mins

Cook Time:

15 mins

Total Time:

35 mins
Ingredients
1 1/2 Cups of cooked quinoa
200g of precooked shrimp (prawns)
2 eggs, scrambled
3tbsp of coconut aminos
4, small scallions, sliced
2tbsp of organic sesame oil
1/2 cup of broad beans
2 tbsp. of coconut oil
2 garlic cloves, minced
1 tbsp. of ginger, minced
1/2 onion, sliced
1 cup of mixed bell peppers, finely sliced
1/8 tsp of himalayan pink salt
1/2 tsp of black pepper
Instructions
Pour the coconut oil into a wok or wok styled pan on high heat and allow the oil to preheat for 30 seconds.
Start to add the ginger and garlic and sautee on medium heat. Given that the oil was preheated on high heat sautee for a few seconds before adding the scallion and continue sautéing.
Most of the oil should have absorbed into the ginger, garlic and onion (scallion) mixture, this is normal.
Quickly add the bell peppers and broad beans, allowing them to cook for 5- 10 minutes. Despite the lack of oil, they shouldn't burn in the wok. If they do add a splash more of coconut oil and resume frying until tender.
Once the veggies are tender, proceed with adding the quinoa in intervals until all is in the wok and fold into the veggies.
Now is a good time to fold in the scrambled eggs, coconut aminos, black pepper and pink salt. Ensure the coconut aminos coats all the ingredients and continue to fry and rotate the wok.
Add the onions, again using the folding technique. The idea is to cook them thoroughly not satuee in order to prevent them from shrinking.
Now add the prawns to the fried quinoa and let them absorb the flavours and heat through – folding and rotating the wok.
To determine their readiness check the warmth by testing them with a fork – it should take 2 minutes maximum. DO NOT OVERCOOK
Half way through adding the shrimp splash the sesame oil over the entire quinoa mix while tossing the food in the wok.
Serve immediately.