Sweet okra shrimp curry braised in a delicious curry sauce with a side serving of pureed plantain. A tasty and equally filling weeknight meal.
Try saying the title of this post several times really fast and I can guarantee you'll trip over your words a few times. This is a main meal with a unusual twist, can you guess what it is? Okay I tell you, it's the plantain puree. Rather than do something completely predictable with shrimp, that would be to pair it with ground provisions (yam, dasheen, breadfruit) or even rice, I took the liberty of paring the shrimp with pureed plantain.
I'm sure you're probably wondering if the pureed plantain compliments the shrimp right? Yes it does, granted I sauteed some onions and garlic to form the base and added a few condiments to enhance the flavour of the plantain. One condiment used that you should be aware of is called annatto. This exotic seed grows on the achiote tree, the flavour is somewhat earthy with hint of pepper. The taste is quite unique and difficult to describe in words. The seeds are widely used in latin and south American food.
The annatto extract is used in the west for commercial and culinary purposes, it's not unusual to see annatto appear in dye or providing the orange/yellow hue for colour to butter or cheese. It's something most of us are subconsciously familiar with.
Sometimes when I make recipes especially Caribbean themed recipe such as this one, many of my readers ask me where I purchase certain things from. I'm going to add a link to any of the hard to find/unusual ingredients just so we are on the same page with cooking. I want you, my readers, to replicate my results to the tee, so by adding a link or two will allow you to purchase items that would ordinarily prove troublesome to find.
Anyway, back to the recipe the plantain needs to be over ripe, that's with the skin being black. I'm talking about JET BLACK with no obvious signs of yellow. This is where the plantain will be at it's sweetest, very starchy and soft to the touch. Before boiling the plantain make sure to really scrub the skins as they're going to be boiled with the skin on (boiling takes roughly half a hour).
I suggest prepping the foundation for the plantain puree – garlic and onions and have the seasoning to the ready during the boiling process. For the shrimp I used approximately 1lb of raw shrimp with the tails on and devained. I like using raw shrimp as they can be cooked for a little longer then readily cooked shrimp which only require a very short amount of time to cook. Uncooked shrimp are really ideal for slow cooker recipes (like this one) as you can allow the shrimp to braise for a slightly extended amount of time in the sweet curry sauce, thus deepening the flavour.
My two favourite vegetables made a great addition sweet curry shrimp – okra and cho cho (some islands call it chayote/christophine). I added a little picture below of the cho cho to draw some clarity on the image of the vegetable.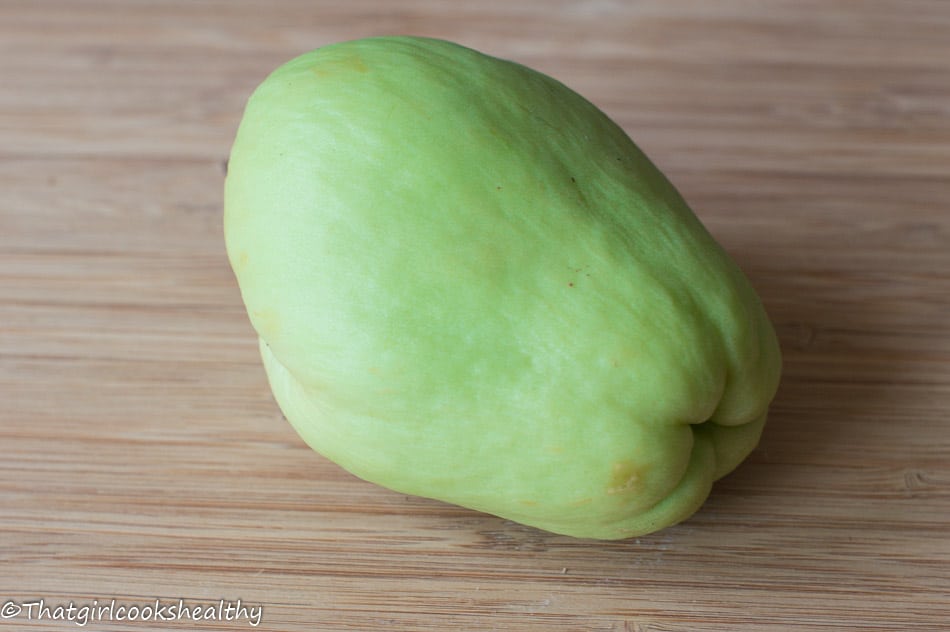 If for whatever reason you cannot procure cho cho simply use some zucchini/courgette as this is a good replica of the water soluble vegetable.
Click the link to purchase annatto powder
Click the link to purchase coconut nectar
**Disclaimer this post contains affiliate links, a small percentage of the commission goes to the maintenance of That Girl Cooks Healthy.
Print
Sweet okra shrimp curry
Paleo, seafood, gluten free, dairy free
Author:
Prep Time:

15 mins

Cook Time:

45 mins

Total Time:

1 hour

Category:

Dinner

Cuisine:

Caribbean
Ingredients
4 plantains, over ripe, washed, halved, ends cut with skin on
2 cups of coconut milk
3 tbsp of dairy free butter
1 medium sized onion, sliced
4 garlic cloves, halved
2 tsp cumin
1 tsp ground annatto/achiote (see post for link)
1/2 tsp cayenne pepper
2 tsp of thyme
himalayan salt and pepper to taste
———————————————————————————
For the sweet shrimp curry
1lb raw shrimp with tails, devained
1 cho cho, cut into small pieces
10 fingers of okra, cut into small slices
1 medium sized onion, sliced
4 garlic cloves, minced
1 tbsp of coconut nectar (or agave nectar, maple syrup see link)
1 tbsp sweet paprika
2 tsp of curry powder
1 tsp of cumin powder
1/4 tsp ground allspice (pimento)
1 tsp of ginger
1 tsp of thyme
1 tsp of black pepper + salt to taste
2-3 tbsp of tomato puree (organic if possible)
2 tbsp of coconut oil
1/4 cup of water
Instructions
Boil the plantain halves for 30 minutes in a large pot with enough water to cover the plantain in its entirety. Once cooked drain and set aside to cool.
Meanwhile heat the dairy free butter and begin to sautee the onion and garlic until soft.
Peel each plantain piece and blend in batches, with the coconut milk. You may need to add 1 cup of coconut milk to each batch to ensure enough liquid is able to ease the puree.
Pour the puree back into a medium sized pot to heat through on low to medium heat.
Stir in the seasoning – cumin, annatto, thyme and salt and pepper to taste
Once heated through set aside prior to serving.
Add the shrimp to a large bowl, combine and rub all of the dry spices into the shrimp.
Heat the coconut oil in a skillet on medium heat add the pieces of cho cho and okra to the pan and cook for 5 minutes, during this time make sure to stir to hasten the softening and add a small amount of the 1/4 cup of water (leave the rest until later)
After 5 minutes add the garlic and onions ready to sautee until soft before adding the tomato puree.
Add the shrimp to the skillet along with the sweetener (coconut nectar or other wise) stir and combine with the rest of the ingredients.
Finally pour in the water before bringing to the boil then allow the shrimp to braise on medium heat for 5-7 minutes (shrimp should be pink)
Serve with the plantain puree accordingly.