Vegan chickpea curry recipe – a tasty legume based vegan style curry made with high protein chickpeas and sweet potatoes.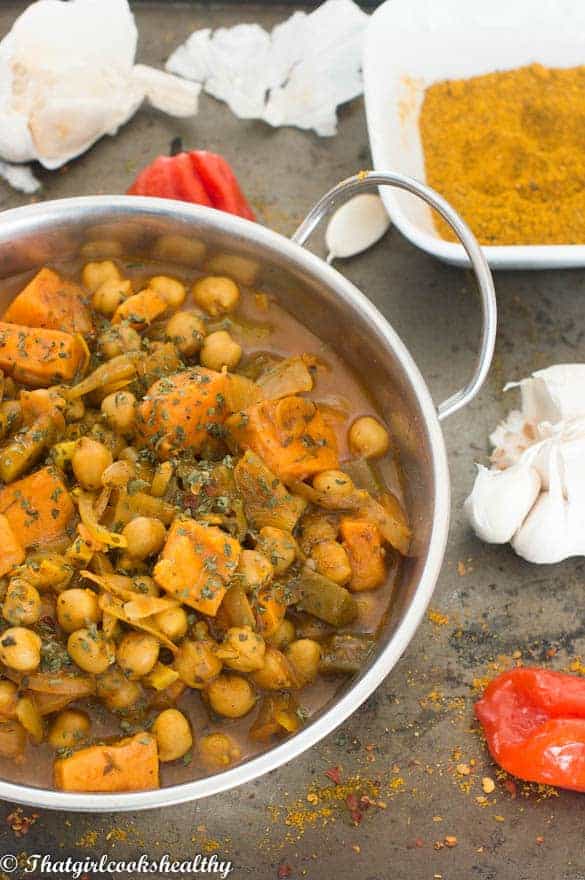 Who doesn't love a good ole curry recipe? I know I do! More importantly who enjoys nothing more than a slow cooked vegan chickpea curry recipe. This spice infused curry is true vegan heaven especially with the additional use of sweet potatoes creating a uber filling family meal.
There's no such thing as a "curry" per say
Although the word curry in English means a dish that is prepared with an array of complex spices, in Southern Asian region, curry doesn't really have a true meaning.
The vast majority Indian cooking is made up of dishes with herbs and spices, so there isn't a spice word to describe a "curry".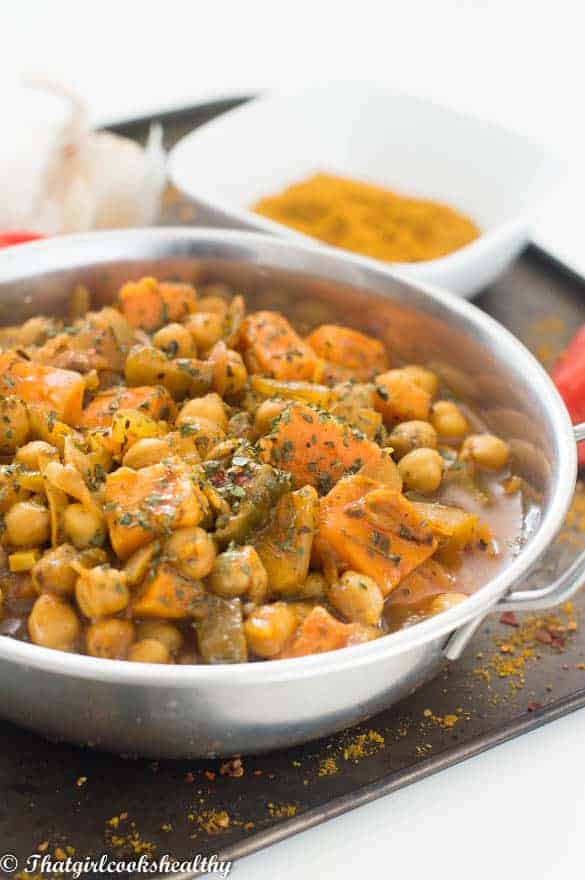 With that being said, because the word "curry" is very popular in the British vocabulary, I too have somewhat embraced the word and use it to my leisure, though being acutely aware of its non existence to the South Asian population.
Here in you UK you will find a large quantity of "curry houses" – a word used to describe take away style Indian cuisine. I've visited a few and the taste/flavours always seem to blow me away, almost to the point where I made a pledge to myself to try my hand at Indian style recipes.
Plant based vegan chickpea curry recipe is the real deal!
When it comes to curries granted I love chicken dishes but second in line has to be my favourite plant based protein – chickpeas. Let me introduce this vegan chickpea curry. One that isn't too complex and very VERY VERY tasty might I add.
Finding that herbaceous balance to make an amazing curry
When cooking with a number of herbs and spices, the key to success is to find that balance of herbs/spices that are complimentary in taste – use too much and the results can be an overpowering taste of curry and the use of too little makes the dish bland.
In short, this is why balance is essential and the key to this award winning vegan chickpea curry recipe.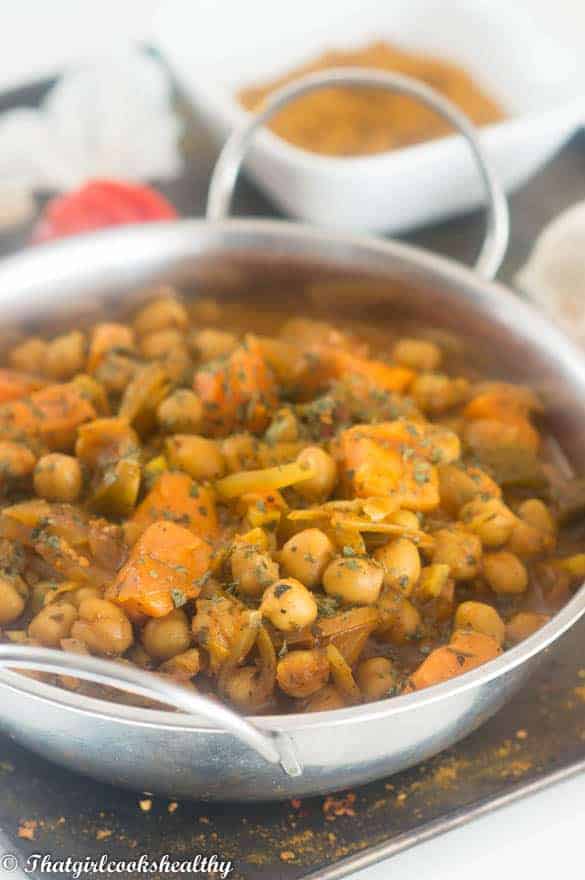 How to make this vegan chickpea curry recipe
Luckily for you, my lovely readers I have completed all aspects of trial and error. All you need to do now is grab what is listed and follow the instructions.
A couple of things I want to bring to your attention;
Add the sweet potato cubes last – I find that adding them too early results in an over saturated texture
Add the tapioca flour/water mixture to the curry to aid thickening
The curry power I used
The curry powder used for this recipe for taken from my lovely blogger friend Imma. Her Caribbean curry powder is highly recommendable – I use it for many of my recipes including my pigeon pea coconut curry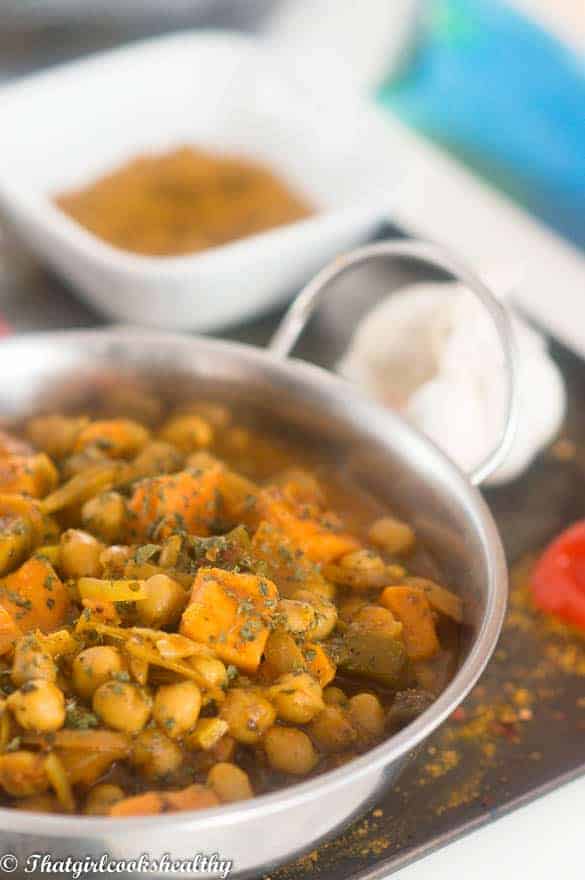 You will love vegan chickpea curry because……….
Vegan chickpea curry is so filling and ready in a matter of 30 minutes.
It's a healthy chickpea curry that is made from scratch
Bring some to work in a sandwich box
You can surprise your meat eating guests to a vegan inspired meal.
Contains a moderate dose of complex carbohydrates and lean protein.
Additional things to add to your curry…….
You can quite easily turn this recipe into a chickpea spinach curry by adding some spinach leave
Kale
Eggplant
Brown rice
Coconut milk in place of water
Other vegan curry recipes you may like
Print
Vegan chickpea curry recipe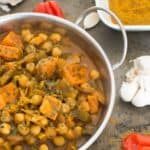 Gluten free, Dairy free, Vegan
Author:
Prep Time:

10 mins

Cook Time:

30 mins

Total Time:

40 mins

Category:

Main entree

Cuisine:

Indian
Ingredients
1 tin of chickpeas, drained
1 medium sized sweet potato, peeled and cubed
5 fingers of okra, sliced
1 tbsp of curry powder mixed into a paste with 2tbsp of water
1 small onion, sliced
3 garlic cloves, minced
1 tsp paprika
2 tbsp of coriander
1tsp black pepper
1teaspoon of cumin
1/4 tsp of chilli powder
1/4 cup of tomato
1/2teaspoon salt (or to taste)
2 cups of water
1tbsp of tapioca flour mixed with 2tbsp of water
2tbsp pf coconut oil
Instructions
Melt the coconut oil in a large pan on low-medium heat and proceed to add the curry paste and stir frequently
Now add the cumin and paprika, all the while stirring. As the curry mixture begins to reduce a little, add the onion, garlic, pepper, coriander and sautee until the onions have softened.
Once the onions have softened, now is a good time to stir in tomato paste and fold in the chickpeas, okra and sweet potato.
Pour the water and tapioca mix into the pan and season with salt (according to taste).
Bring the pan to the boil and allow to simmer down (with pot covered)
Cook the curry for 15-20 minutes until potatoes are soft. During this time you will notice the sauce should have thicken and spicy flavours more concentrated. Keep an eye on the level of liquid in the pan, if the liquid level drastically drops add 1/2 – 1 cup of water.
Serve accordingly.