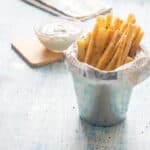 Print
Baked yucca fries with lime yoghurt dip
Delicious crisp crunch baked yucca fries served with an optional vegan lime yoghurt dip - paleo, gluten free
To make the lime yoghurt dip
1/2

cup

of vegan yoghurt

100g

2

tbsp

of coconut oil

melted (olive oil works too)

2

tbsp

of lime

1

tbsp

of cilantro

coriander

1

tsp

of garlic granules or powder

1

tsp

of oregano

1/4

tsp

of coconut nectar

agave or maple

1/4

tsp

of cumin

salt to taste
Preheat the oven

Line a baking tray with parchment paper and coat with oil

Chop both the end of the yucca root then slice in half or smaller (depending on the size)

Stand each piece upright and proceed to slice off the skin

Slice the yucca in half and again then at an angle to discard the core.

Cut into small french fries

Place the fries into a saucepan of water and bring to the boil for 10-15 minutes, until tender (prick with a fork, not too soft/0

Strain off the water and allow to cool before placing the fries onto the baking tray. Spread them out so they don't overlap/crowd each other

Bake for 25 minutes or until golden brown

Mix all of the ingredients together for the lime dip in a bowl then serve
Make sure to coat the fries evenly with oil to ensure they crisp well
It take around 25 minutes for the fries to bake, bake for longer if you want them more crispy
Cut the fries to size to suite your preference. Mine are about 1/8'' in thickness
The dipping sauce is complementary or can use an alternative dip if this isn't to your tastebuds
Yucca is also known as cassava or manioc - do be sure of the interchangeable name(s) prior to purchasing.
Yucca is accessible in multicultural neighborhoods where there are Caribbean/African/Latino/Asian communities
You can make this with frozen yucca if you can't obtain fresh or unsure of how to work with it.
Calories:
520
kcal
|
Carbohydrates:
86
g
|
Protein:
6
g
|
Fat:
18
g
|
Saturated Fat:
15
g
|
Cholesterol:
4
mg
|
Sodium:
219
mg
|
Potassium:
714
mg
|
Fiber:
4
g
|
Sugar:
9
g
|
Vitamin A:
58
IU
|
Vitamin C:
47
mg
|
Calcium:
161
mg
|
Iron:
1
mg