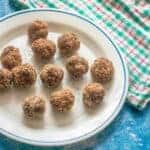 Print
Tamarind Balls
Learn how to make these delicious tamarind candy balls - paleo, gluten free, vegan
A box of fresh tamarind pods

or use 20 pods

1

tablespoon

of rum essence

optional

¼

cup

of coconut sugar

or raw cane sugar

Additional sugar for dusting - I used sukin gold and stevia or raw cane sugar works too!

optional
Use your hands to de-shell the tamarind then place the flesh in a medium sized bowl.

Discard the stem and shell pieces once the tamarind has been shelled

Add the coconut sugar, rum essence and any other additional ingredients you choose to use i.e black pepper, hot sauce etc..

Use your hands to mould the tamarind into a large ball and prepare a plate with a layer of sugar for dusting.

Break off small pieces of tamarind to form balls then roll into the sugar

Repeat this step until all the balls have been made
Use your hands to shape the tamarind into a ball. It takes a bit of effort to make into a dough ball. Some people add flour as an aid for shaping the tamarind ball but I prefer to add as little additives as possible.
The seeds are supposed to be there, you simply suck the tamarind fruit off and discard the seed, that's the Caribbean way having this snack.
  Don't worry if some of the seeds come apart, this is completely normal.
When forming the balls, your hands maybe become sticky overtime, so wash in between intervals if needed.
Tamarind is also known as sampaloc/tamarindo
Omit the rum essence if you want to keep the recipe child friendly
Add hot sauce or black pepper for an extra kick
Using fine coconut sugar to dust the rolls, form a thicker coating around the balls (not what is pictured, looks like a truffle)
Can use a white zero calorie sweetener such a sukin gold stevia, raw cane sugar or erythritol for dusting the balls if you prefer to.
Calories:
155
kcal
|
Carbohydrates:
40
g
|
Protein:
2
g
|
Fat:
1
g
|
Saturated Fat:
1
g
|
Sodium:
26
mg
|
Potassium:
353
mg
|
Fiber:
3
g
|
Sugar:
36
g
|
Vitamin A:
17
IU
|
Vitamin C:
2
mg
|
Calcium:
42
mg
|
Iron:
2
mg