Boiled plantains with curly kale is a great way to jazz up what would be an ordinary lunch. Healthy leafy greens combined with bell peppers.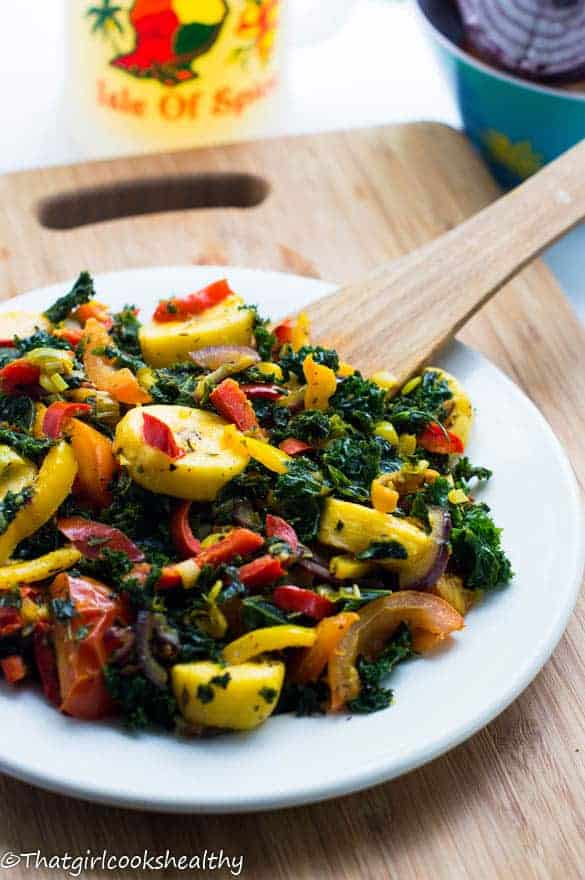 There's something amazing about plantains, I just cannot seem to get enough of them. I don't think there's a week that goes by without me incorporating this starchy vegetable (fruit but classified as a veg). What's more, there's a store right around the corner from me that certainly knows how to entice me.
My fruit trolley is full to the brim right now with plantains courtesy of the little store on the corner plus the price is simply unbeatable. As long as this establishment remains replenished and fully stocked then Charlene will make a regular appearance to purchase again and again.
You'll be pleased to know this recipe is super duper healthy, the plantain is boiled and not fried (YIPEE).
What I did was boil the plantain with the skin on for roughly 20 minutes until tender. The key here is to yield tenderness and not achieve some type of mushy texture. When I first started boiling plantains to make this dish I  winded up disheartened because the results would range from tender to mushy. Overcoming that obstacle presented itself as a challenge but I finally managed to perfect a fine balance between mushy and tenderness – boiling the plantain for 15 minutes. For me this seemed to be the most desired texture so keep this in mind as I summarise the meal.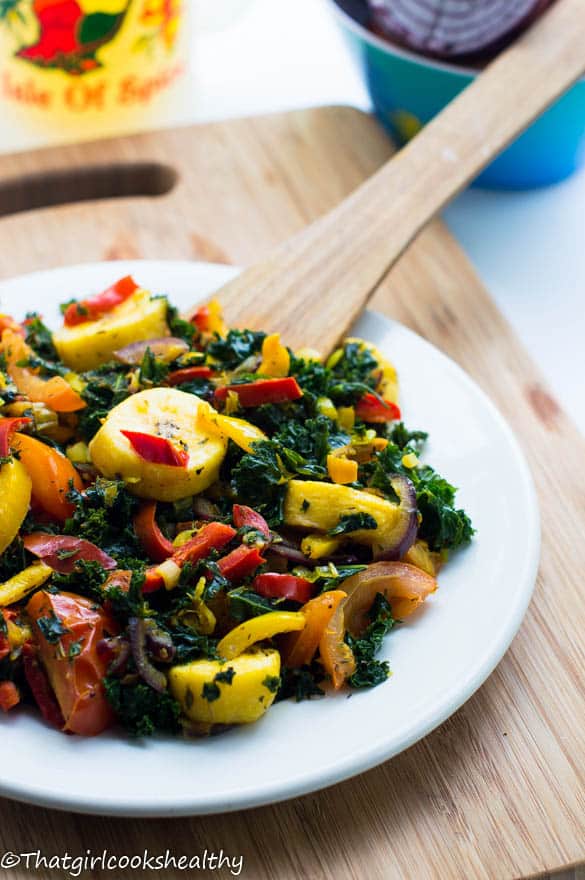 I wanted to pair the recipe with some callaloo which is an exotic leafy vegetable derived from the same family as spinach. However my vendor didn't have any to hand and so I used curly kale leaves to substitute. You can follow suit and use kale or better yet spinach if you don't have access to callaloo, the results using spinach are incredibly fool proof I'm just a bit more partial to my beloved kale right now.
To keep the calories on the lower spectrum or should I say balance things out with the starchy enriched plantains, you'll find a selection of veggies – red and yellow bell peppers, tomatoes, scallions along with the kale. I would render this light yet filling and definitely not fattening, so ladies do not run from this on, there;s nothing but love and healthiness here.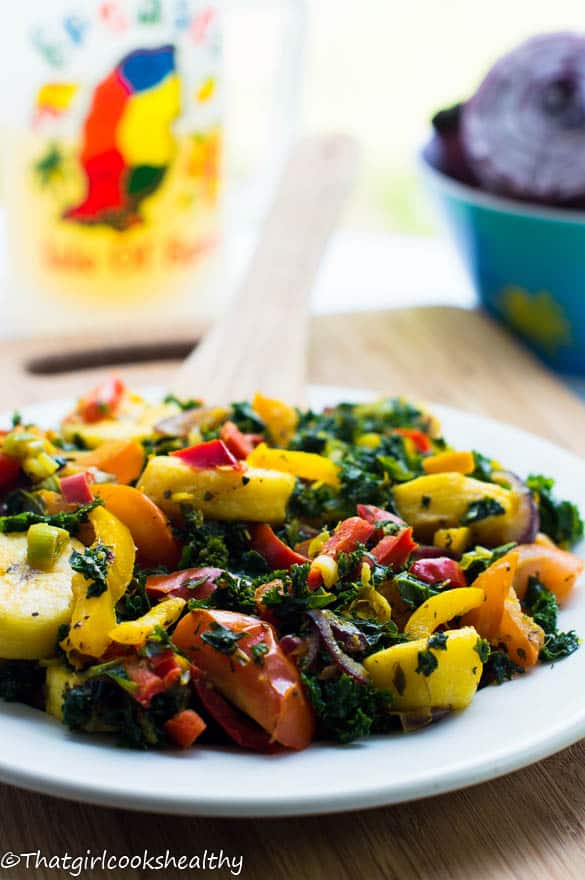 Print
Boiled plantains with kale (Paleo)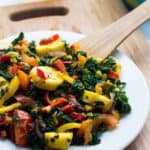 Paleo, gluten free, vegan
Author:
Prep Time:

5 mins

Cook Time:

20 mins

Total Time:

25 mins

Cuisine:

Caribbean
Ingredients
1-2 large plantains (yellow with dark spots)
1 cup worth of bell pepper (red and yellow mixed)
2 large scallions, sliced (or 3 small ones)
2 fresh tomatoes, chopped
1 tsp of turmeric
1/4 tsp of allspice
1 tsp of thyme
1/4 tsp of himalayan pink salt
large bunch of kale (chopped)
1tbsp worth of ginger, minced
1 small red onion, chopped
coconut oil for sauteeing
Instructions
Boil the plantain for roughly 15 minutes until tender. Once cooked drain off the excess water and allow to cool then cut the tips of the plantain and use a paring knife to make a incision length ways to remove the peel, it should come off with ease, then slice the plantain into little discs.
Meanwhile on medium heat sautee the scallions/red onions to begin with in about 2tbsp of coconut oil for 30 seconds, then add the tomatoes, bell peppers and add the rest of the spices.
Flip the pan to ensure everything is thoroughly coated before incorporating the sliced plantains and allow to infuse with the spices. The kale should be added lastly to cook for another minute and combine with the rest of the ingredients.
Serve accordingly.