Almond butter chicken satay – a paleo style recipe where chicken pieces are fed onto a skewer, marinated then grilled and served with an almond butter dip.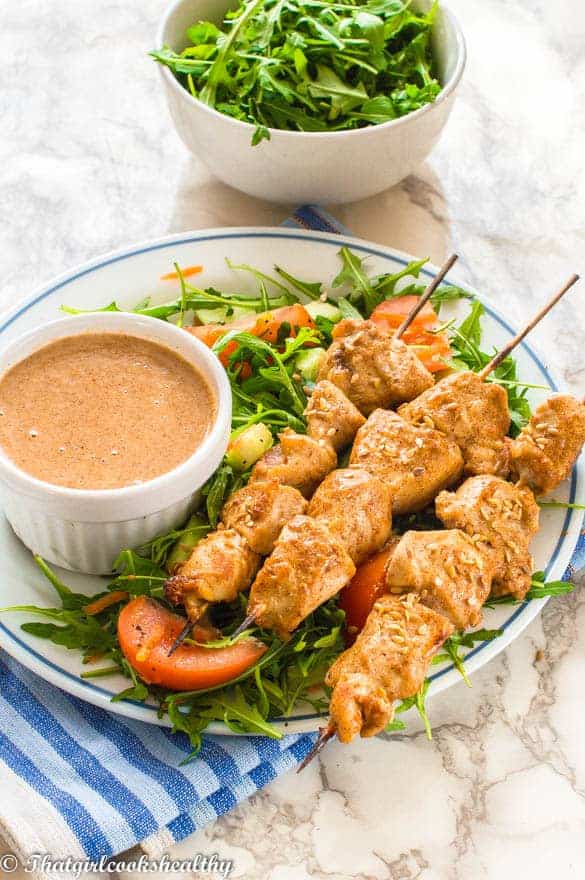 It's been a while since I made some Asian styled food and now I'm back in full form. I remember the first time I sampled some satay chicken skewers. The memory so vivid it's unreal – a male friend of mine who I went to college with during my late teens, invited me to a birthday dinner he was hosting.
My family weren't big lovers of east Asian food, sure part of our Caribbean heritage is inspired by Chinese cuisines but for the most part, we simply didn't gravitate towards the food. Since I had no influence over what food I'd be brought up on, I ate what the rest of the family did without question.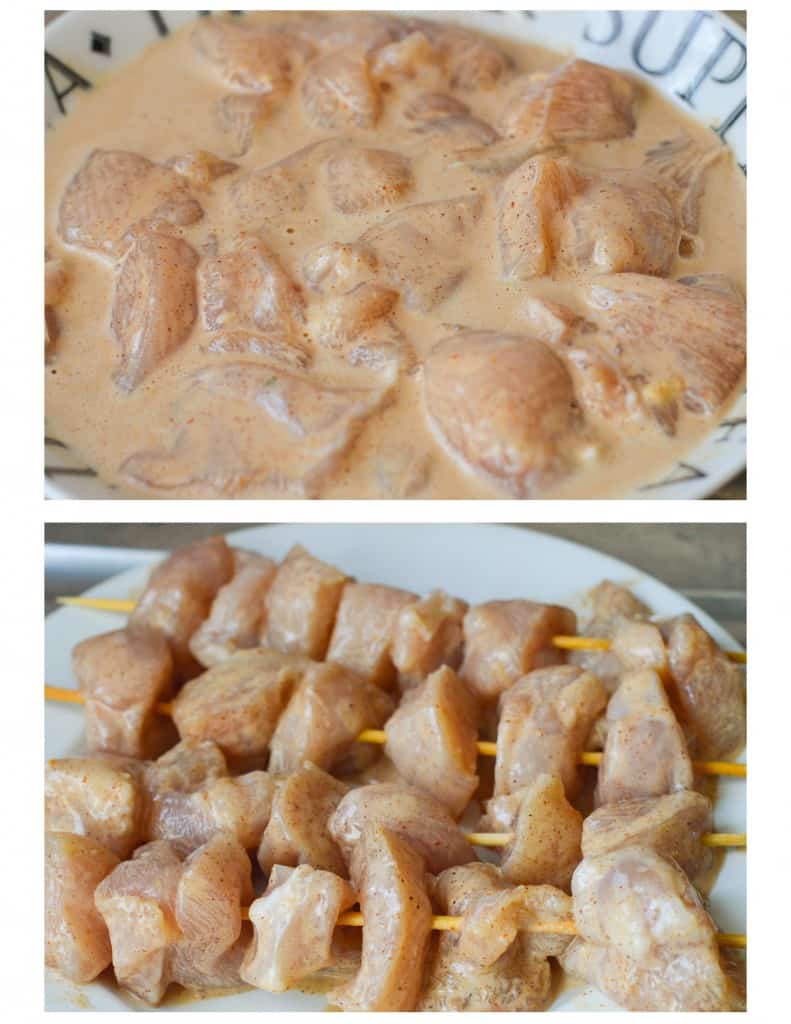 Moving forward to this dinner party, the satay chicken was awesome, very succulent and tender. I had no clue what the dipping sauce was but found it addictive. The food at the restaurant was very authentic, I'd heard many reviews about this establishment and this was partly why I accepted the invite (shh, don't tell my friend that).
A lot of the east Asian food that's sold in the western hemisphere is loaded with unnecessary fillers like MSG – a toxic chemical flavour enhancer and this saddens me as it gives a bad rep to Authentic east Asian food. When I visited relatives in Canada, there was a huge Asian community across the entire GTA (Greater Toronto Area).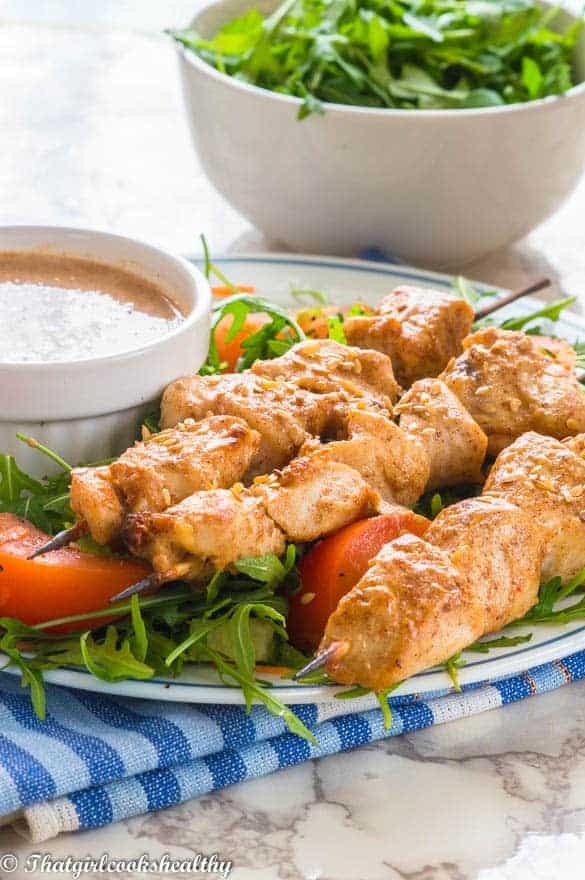 Needless to say I managed to sample the REAL deal over there – additive free. Upon my return from North America, I decided to whip up my own east Asian food at home as a means of controlling what goes into my food.
This chicken satay was purposely made with almond butter as opposed to peanut so my paleo audience can reap the delicious benefits along with the gluten free crew. It's succulent and tastes identical to the peanut butter version only legume free.
You'll be pleased to know there isn't a lot of prep and marinating going on – no overnight marinating (yahoo) yes I will let you off just this once. Please note,  save half of the marinade for the dipping sauce, yes the marinade doubles up – half for marinating and the reserved portion for a dip – two in one ain't bad.
I grilled the almond butter chicken satay to a fine crisp, if you luckily own a broiler than use as instructed. If not, it's perfectly fine to follow my method of grilling both sides of the meat.
Let's get cooking some almond butter chicken satay, hurry! hurry!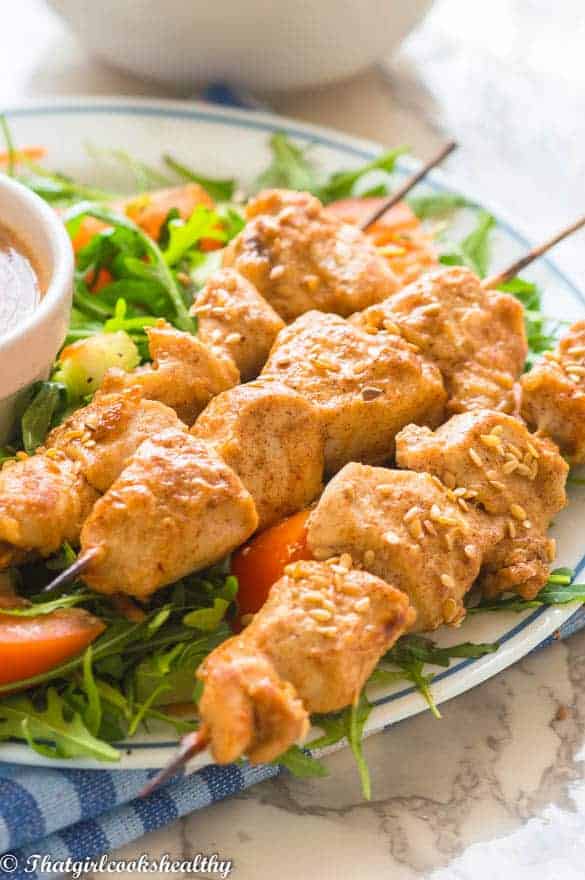 Print
almond butter chicken satay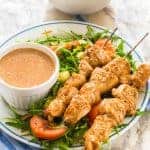 Paleo, gluten free, dairy free
Author:
Prep Time:

1 min

Cook Time:

10 mins

Total Time:

11 mins

Category:

Main entree
Ingredients
4 chicken breasts, cut into chunks, washed and dried
1/2 a cup of almond butter
2 tbsp. fresh lime juice
1 tbsp. coconut palm sugar
1 tsp. ground ginger
1 cup coconut milk
2 garlic cloves, chopped
1/2 tsp. of red pepper flakes
2 tbsp. of coconut aminos
1 1/2 tsp. of himalayan pink salt
5 large wooden skewers, presoaked
Instructions
Massage the pink salt into the chicken chunks in a bowl and feed the chunks onto each skewer leaving a few centimetres at the bottom of each skewer free to hold and set aside.
Add all of the ingredients to a blender and blend into a smooth consistency. The mixture should be a smooth (not runny paste) this will thicken with time.
Divide the marinade evenly, pouring one half of the almond sauce over the chicken to act as a marinade.
Allow the meat to infuse and marinate for 1 – 2hours.
Crack up the broiler/grill on high heat and grill the meat thoroughly on each side until both sides are golden brown.
Serve with a side of veggies, dipping sauce or quiona (gluten not paleo option).
Notes
Can use maple syrup of alternative low GI sweetener instead