A quick and easy Chinese inspired beef stir fry with a medley of vegetables served over gluten free noodles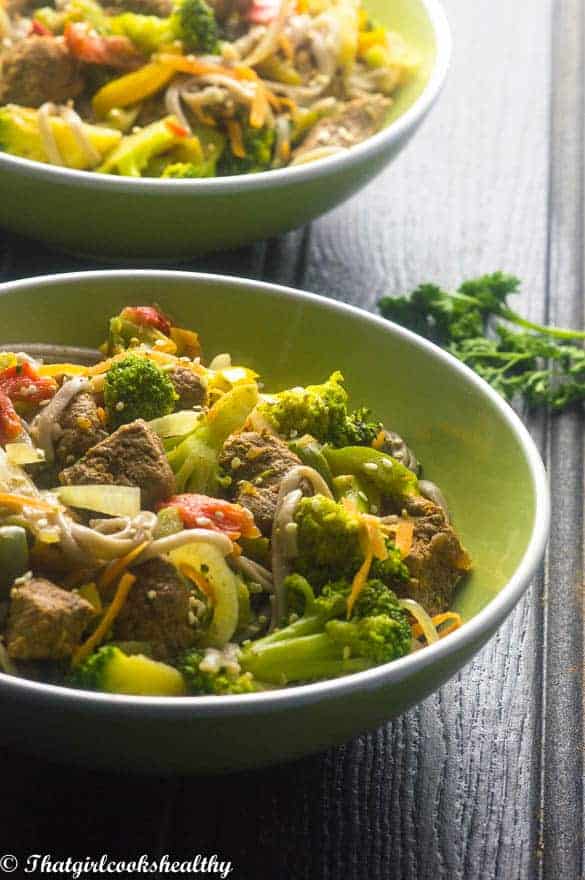 I never used to be a fan of stir fry until my mother won me over with your Chinese inspired stir fry. My mother is the type of person who likes to put her own culinary spin on many recipes and of course being her daughter and a foodie at that, it makes perfect sense for me to follow suit with this beef noodle stir fry.
Now the most important aspect of this dish is the gluten free noodles. Yes the noodles are free from wheat and very tasty too especially when added to a recipe such as this one. I'm sure you're probably wondering which brand of noodles did I use? Well the answer to that is King Soba's gluten free and organic sweet potato & buckwheat noodles.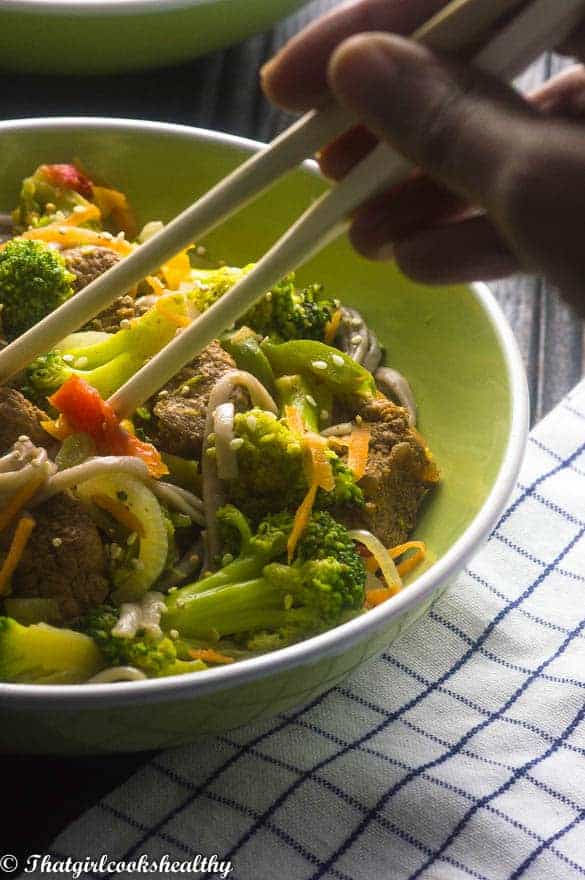 I purchased them from Asda but you can also purchase them from Amazon if you wish. They cook very quick and because of that, I only par-boiled them for just under 2 minutes so they wouldn't become too soft and limp in the pan.
The taste and texture is pleasant and the packet is is divided into 3 usable portions. The noodles are grey in colour which might seem unappealing but in the grand scheme of things, let's be thankful that they are gluten free. One tip when boiling the noodles, add a splash of olive oil to the saucepan as this will prevent the noodles from lumping together.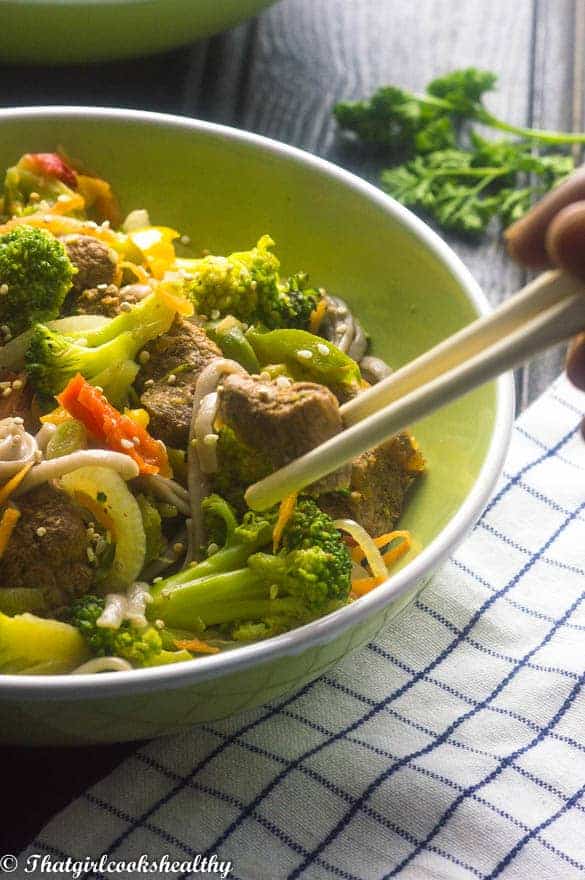 I like my beef seasoned so I used the dry rub that featured in my egg white philly cheese omelette recipe. For you this recipe, you don't need to leave the meat to infuse for several hours or overnight. Simply use a tenderiser mallet to breakdown the rough cuts of beef and season accordingly and set aside.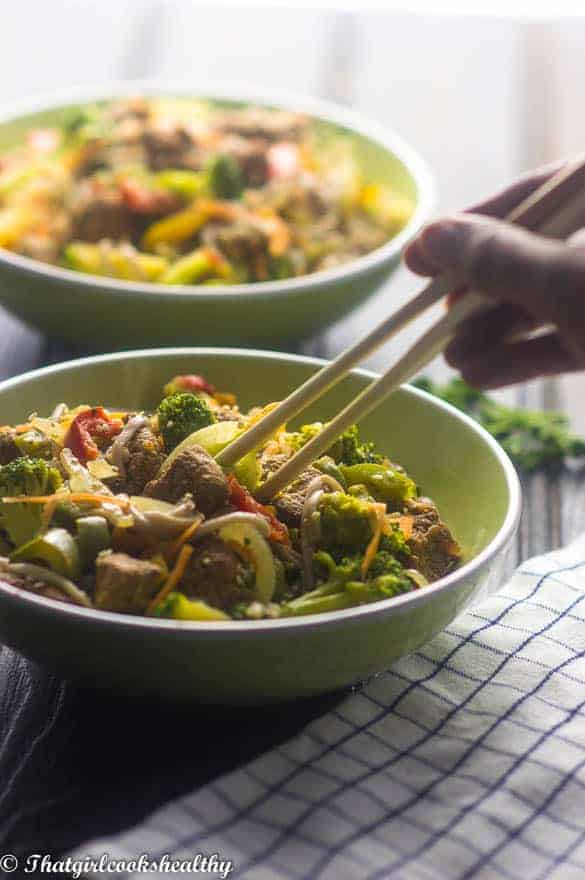 You can use whatever veggies you like, I used broccoli, bell peppers along with shredded carrots. Cut them into small bitesize pieces so they are able to cook thoroughly in the wok/pan.
Great for those busy weeknights ahead, no fuss – just simply in and out of the kitchen with a healthy meal in no time.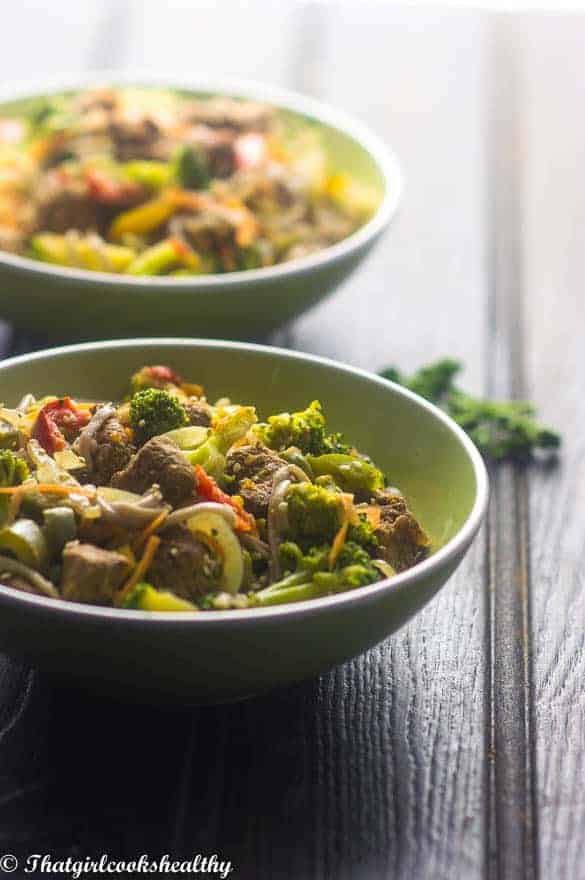 For the Steak dry rub – 2 tbsp paprika, 2tbsp black pepper, 1 tbsp himalayan pink salt, 1 tbsp garlic granules/powder, 1 tbsp onion powder,  1tsbp coriander, 1tbsp chives, 1 tbsp, red pepper flakes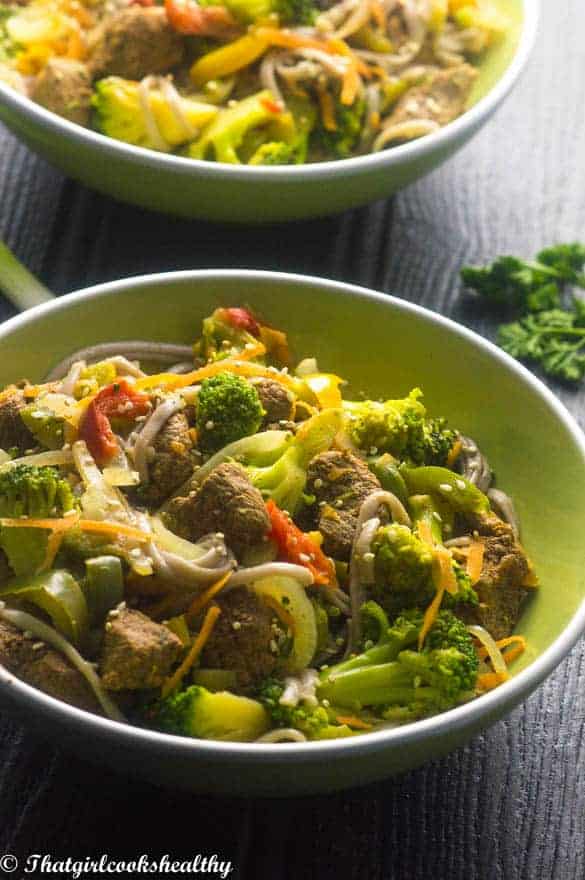 Print
Beef noodle stir fry (Gluten free)
Author:
Prep Time:

10 mins

Cook Time:

12 mins

Total Time:

22 mins

Category:

Main Entree
Ingredients
250g of sirloin steak cut into strips
1-2 tbsp of steak seasoning (see post)
1 portion of soba gluten free noodles (see post)
1 cup of broccoli, cut into mini florets
1 cup of mixed bell peppers, sliced
1 large carrot, grated
1 small onion, sliced and halved
1 spring onion, sliced
2 garlic cloves, minced
1 tbsp coconut aminos (alternative to soy)
2 tbsp of sesame seeds, toasted
———————
Coconut oil
Instructions
Apply the steak seasoning to the steak strips and set aside
Bring a large saucepan of water with 1 tbsp of olive oil to a rolling boil, then gradually add the noodles cook until barely done (1-2 minutes), drain well then set aside.
Heat a wok or large saucepan with 2 tbsp of coconut oil over medium-high.
Add the beef, flip the pan/wok occasionally while the meat sears. This should take 3-4 minutes.
Stir in the broccoli, carrots, minced garlic, onions and bell peppers. Cook the vegetables until they are soft and tender.
Finally add the noodles along with the coconut aminos. Carefully stir and combine all of the ingredients together.
Garnish with sesame seeds and serve accordingly