Crema de yautia – A rich, creamy, comforting popular vegan style Latin American soup that's made from the yautia root vegetable.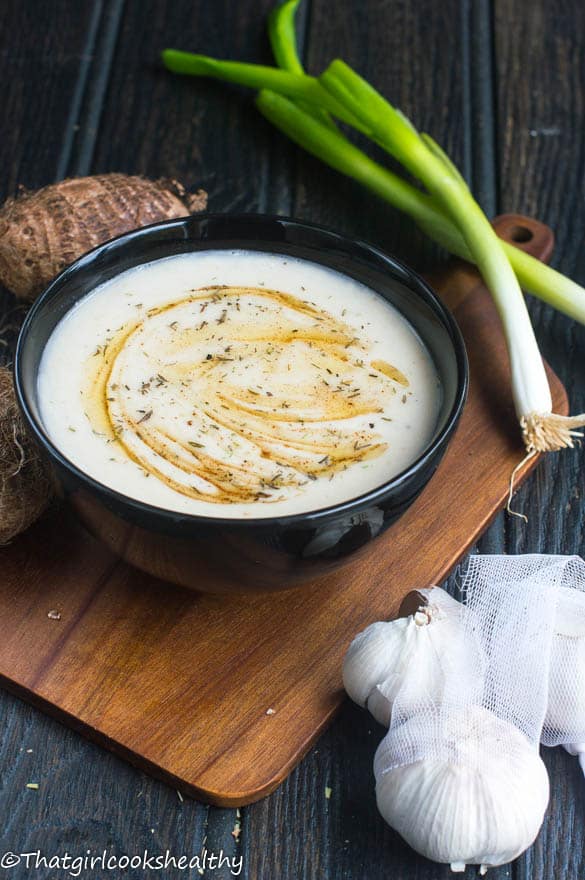 Now that the weather is on the decline, it's time to move away from the light salads and turn to some comfort food. I'm not a huge fan of winter – shorter days, cold weather, snowfall it just makes me darn right miserable to be honest. One thing for sure I do enjoy consuming some good old comfort food and I know I'm not the only person who loves it.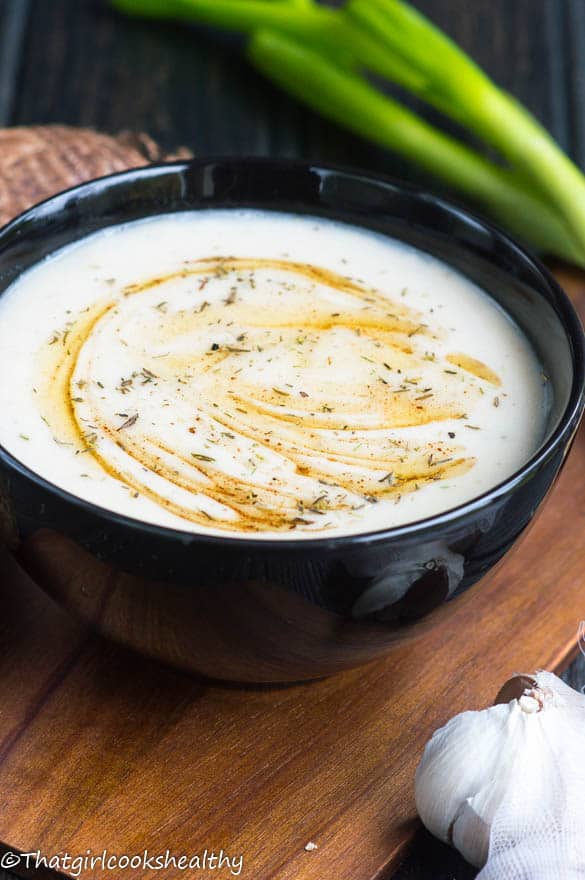 It's so nice to cosy up in the warmth to some flavourful food that literally fills you up in a matter of seconds. Well that's how I would describe comfort food in a nutshell. In fact I will go one step further to admit I only enjoy the wintertime because of my love for comfort food and the ability to wear knee high boots – random about me moment there.
I felt the need to get the ball rolling with this wonderful latin American soup. Crema  de yautia also known as malanga. Crema da yautia is a white velvet soup made from a starchy vegetable named taro which Latinos refer to as either Yautia or Malanga. Being from the English speaking Caribbean Island I've come to realise that the aforementioned is just another type of dasheen (taro). Only Yautia/Malanga is elongated in shape and a slightly bumpy/patchy brown in texture. The flesh can range from yellow, white, pink or even a purplish hue.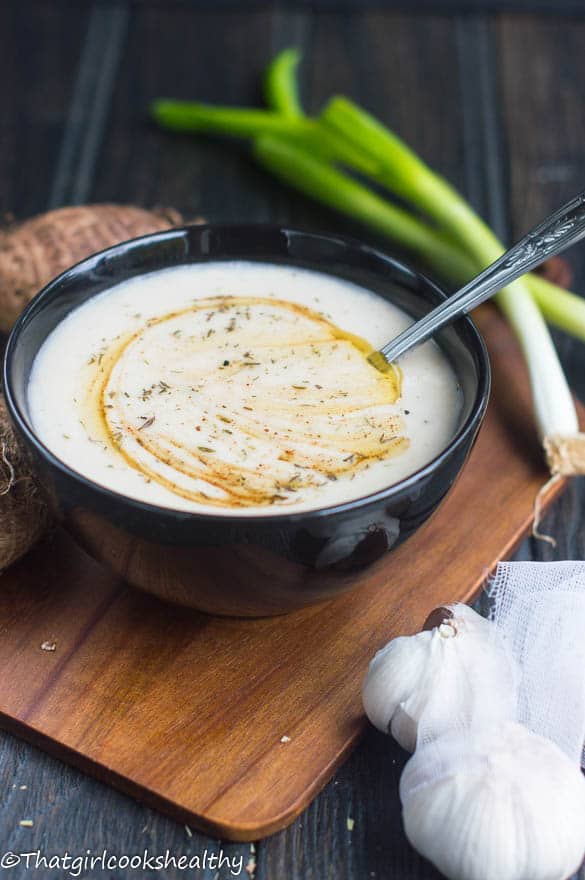 Dasheen, on the other hand, bears the same brown exterior, only small in size with flesh that ranges from white to a cream yellow. Eddo is another type of taro that tends to grow on the Asian continent, it's the smallest taro of the bunch, it looks like a tiny brown fur ball and slippery when peeled.
Don't worry if you can't tell them apart they all share the same nutritional properties – (Vitamin B5 and B6) dietary fiber, zinc, iron, and a healthy source of potassium. Feel free to use any type of taro you see fit for my recipe, there won't be much difference in taste.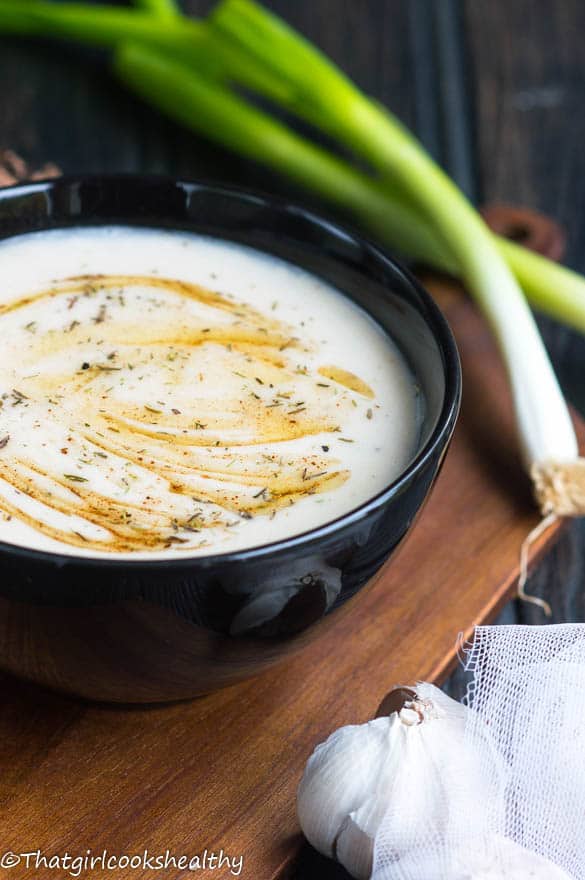 The consistency of crema de yautia is creamy and with a mild nutty taste which imparts from the cooking process. I adapted the recipe according to my preference – adding some homemade vegetable stock with a small amount of thyme. Other soup variations call for stock  or simply rely on the coconut milk for enhanced flavour.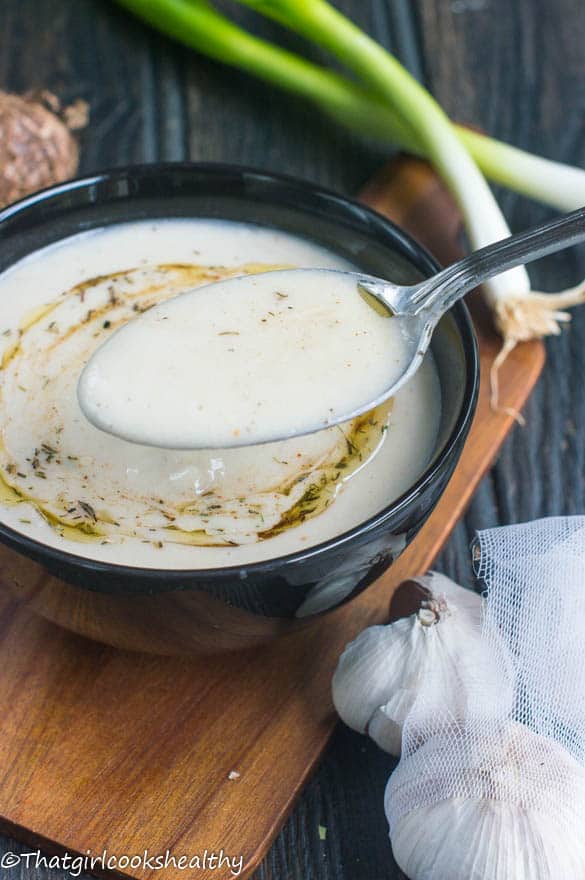 This soup is quite dense and very filling – just remember it's not made from processed foods and all the ingredients are made from scratch.
Print
Crema de yautia (dasheen soup)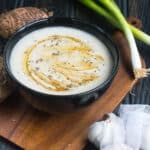 Paleo, gluten free, dairy free, vegan
Author:
Prep Time:

5 mins

Cook Time:

15 mins

Total Time:

20 mins
Ingredients
2 lb of Yautia/Malanga/Dasheen/Taro/Eddoe
1 medium onion
2 small scallion stalks
3 garlic cloves, chopped
1 tsp of thyme
1/2 cup of coconut milk (see post)
4-6 cups of vegetable stock (see post)
pepper and himalayan pink salt (according to taste)
1 tbsp of coconut oil
pinch of nutmeg
Instructions
Begin to peel, cut and thoroughly rinse the dasheen (yautia).
Pour the vegetable stock into a medium saucepan with the dasheen pieces.
Bring to the boil before reducing the flame to medium-low heat then cover with the lid.
Cook the dasheen until tender, prick with a folk to determine tenderness (should take roughly 8-10 minutes).
Meanwhile sautee the onions and garlic on low-medium heat until slightly golden.
Add the sauteed ingredients to the saucepan and stir.
Continue to simmer for a further 5 minutes and season with the pink salt, pepper and thyme.
Finally stir into the coconut milk.
Carefully transfer the hot contents into a food processor or blender. You want to achieve a smooth consistency.
Once a smooth consistency is achieved either serve with a pinch of nutmeg or pour the cream into a saucepan to heat further before serving with the nutmeg garnish.