This Trinidad corn soup recipe is the ultimate popular vegan style street food that's perfect to consume any time of the year.
If you love Caribbean food that is naturally vegan then this corn soup is what you need in your life. It's filling, delicious and made from scratch. What more could you ask for? Typically known as an after party soup that can easily double up as a perfect crowd pleaser that will soon become a family favourite in no time.
When the weather is cold, that is when I'm usually rotating between various soup dishes. Sometimes I will consume some Jamaican gungo peas soup, other times it will be Cuban black bean soup or this Trinidadian corn soup because Charla simply cannot get enough of island style soup in all it's variations.
I do recall my first experience of sampling corn soup was in the Caribbean. Anyone who knows me very well would know that I'm not an avid corn lover. I have to be in the mood for it and it's also depends on the preparation of the corn for me to eat it.
Needless to say I ended up drinking 2 bowls of soup, it was so tasty and incredibly filling too. I was really impressed with the flavour too. I always said to myself that I would love to make my own version of Trinidad corn soup one day, something I could showcase to a wider audience.
My line of thinking was if I enjoyed corn soup then it's only fair that you should enjoy some soup too. Even though there seems to be a lot of ingredients that go into corn soup. It's a fairly easy recipe to follow featuring some homemade vegetable stock and one that is worth the effort in my humble opinion
How to make Trinidad corn soup
Melt the coconut oil on medium heat.
Proceed to saute the onion, chives, garlic and celery until soft and translucent.
Add the split peas, red bell peppers, sweet potato then stir and season with thyme, chadon beni, black pepper and pink salt to taste.
Cook for 2-3 minutes until fragrant.
Pour in the vegetable stock along with the warm water
Bring the pot to a boil, reduce the heat to medium-low then cover with lid and simmer for 30 minutes until the split peas are soft (they should be easy to smash with a fork or spoon).
Remove the lid then use an immersion stick blender to puree the entire contents in the pot.
Pour in the coconut milk, ears of corn, corn kernels, carrots , pumpkin and scotch bonnet.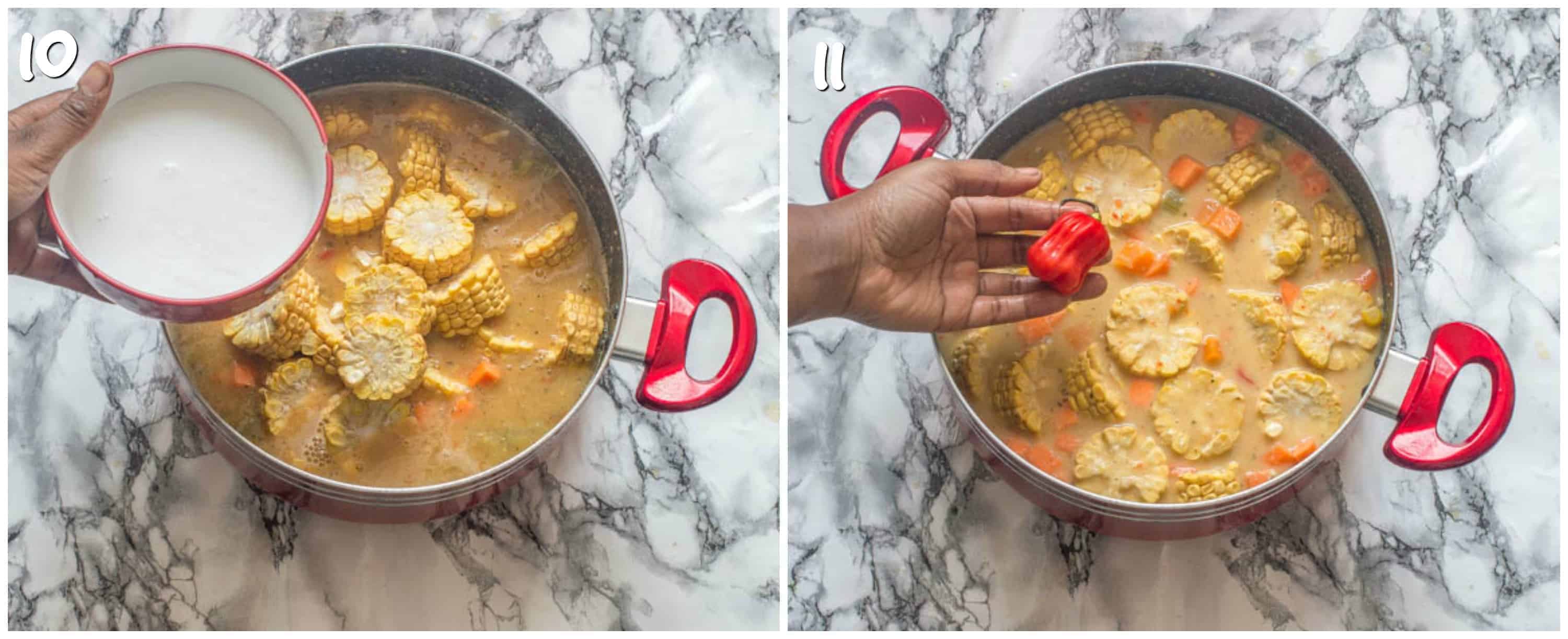 Make the dumplings by placing the flour and pink salt in a medium sized bowl
Pour the water, in intervals into the bowl while kneading the flour and water into a large dough ball
Pinch off a small piece of dough and roll in the palm of your hands to create a long (spinner) dumpling
Repeat and lower each dumpling into the pot of soup.
Once added continue to simmer for a further 20 minutes.
Remove the scotch bonnet pepper before serving
Notes and tips
Make sure the ears of corn are chopped roughly the same size
The kernels are optional as the corn pieces do pull away leaving some corn pieces floating in the soup
The soup dish is vegan but also suitable for those who are gluten/wheat intolerant
If you cannot get hold of chadon beni use coriander/cilantro instead
Chadon beni is known as spirit weed (Jamaica), long coriander, Thai parsley
The soup may thicken up as it cools down/the next day, this is normal just add a splash or water to it while heating it up and it will liquidize again
You can consume this soup on a calorie control/weightloss diet.
Scotch bonnet peppers are very fiery. The heat is extracted from piercing/cutting into the pepper. In this case we are only adding the whole pepper for flavour NOT heat.
Don't forget to remove the scotch pepper prior to serving
Scallion/green onion is known as chives to Trinidadians
Frequently asked questions
Can I freeze the soup
Yes, this recipe is freezer friendly. I suggest freezing the soup in individual portions
I'm Caribbean but not gluten/wheat free. Can I still make this soup
Yes, just use regular flour
Do I have to add the pumpkin and sweet potatoes
No, simply omit them if you don't care for them
More Trinidadian recipes
Trinidadian tomato choka

Buljol (vegan style)
Trinidad corn soup
Trinidad corn soup is the ultimate one pot, vegan street food that is hearty and flavoursome
Print
Pin
Rate
Ingredients
5

ears of corn

chopped in 2 inch pieces

1

cup

corn kernels

115g

¾

cup

presoaked split peas

drained (115g)

1

medium sweet potato

chopped

1

red pepper

chopped

1

cup

pumpkin

chopped (135g)

1

medium carrot

chopped

2

celery stalks

sliced

1

small onion

chopped

2

chives

scallion, sliced

4

garlic cloves

chopped finely

¼

of chadon beni

chopped (cilantro/coriander)

4

sprigs of thyme

stems removed

1

teaspoon

black pepper

1

can of coconut milk

400ml

3

cups

of vegetable stock

300ml

3

cups

warm water

300ml

1

scotch bonnet

2

tablespoon

coconut oil

Pink salt to taste
To make the dumpling
1

cup

of gluten free flour

125g

½

cup

of warm water

125ml

¼

teaspoon

of pink salt
Instructions
Melt the coconut oil on medium heat.

Proceed to saute the onion, chives, garlic and celery until soft and translucent.

Add the split peas, red bell peppers, sweet potato then stir and season with thyme, chadon beni, black pepper and pink salt to taste.

Cook for 2-3 minutes until fragrant.

Pour in the vegetable stock along with the warm water

Bring the pot to a boil, reduce the heat to medium-low then cover with lid and simmer for 30 minutes until the split peas are soft (they should be easy to smash with a fork or spoon).

Remove the lid then use an immersion stick blender to puree the entire contents in the pot.

Pour in the coconut milk, ears of corn, corn kernels, carrots, pumpkin and scotch bonnet.

Make the dumplings by placing the flour and pink salt in a medium sized bowl

Pour the water, in intervals into the bowl while kneading the flour and water into a large dough ball

Pinch off a small piece of dough and roll in the palm of your hands to create a long (spinner) dumpling

Repeat and lower each dumpling into the pot of soup.

Once added continue to simmer for a further 20 minutes.

Remove the scotch bonnet pepper before serving
Notes
Make sure the ears of corn are chopped roughly the same size
The kernels are optional as the corn pieces do pull away leaving some corn pieces floating in the soup
The soup dish is vegan but also suitable for those who are gluten/wheat intolerant
If you cannot get hold of chadon beni use coriander/cilantro instead
Chadon beni is known as spirit weed (Jamaica), long coriander, Thai parsley
The soup may thicken up as it cools down/the next day, this is normal just add a splash or water to it while heating it up and it will liquidize again
You can consume this soup on a calorie control/weightloss diet.
Scotch bonnet peppers are very fiery. The heat is extracted from piercing/cutting into the pepper. In this case we are only adding the whole pepper for flavour NOT heat.
Don't forget to remove the scotch pepper prior to serving
Scallion/green onion is known as chives to Trinidadians
Nutrition
Calories:
617
kcal
|
Carbohydrates:
94
g
|
Protein:
21
g
|
Fat:
32
g
|
Saturated Fat:
26
g
|
Sodium:
1014
mg
|
Potassium:
1341
mg
|
Fiber:
19
g
|
Sugar:
19
g
|
Vitamin A:
11660
IU
|
Vitamin C:
62
mg
|
Calcium:
105
mg
|
Iron:
8
mg