Rice and peas recipe – Sunday dinner wouldn't be the same without some Jamaican rice an peas (kidney beans) made with coconut milk and seasoning.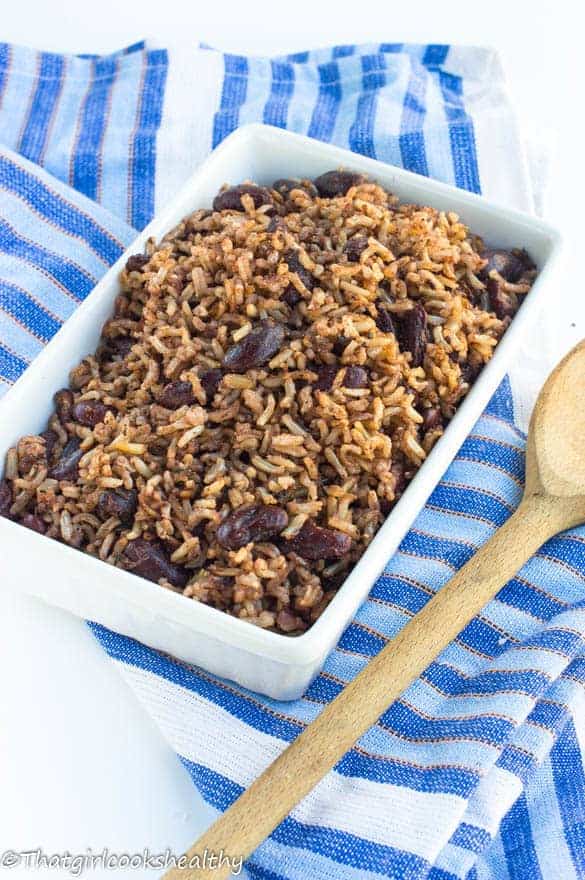 Rice and peas are an absolute staple within Jamaican households, infact not just Jamaicans but the entire English Caribbean region indulges in this staple dish. Rice and peas aka peas and rice or moros y cristianos  are essentially beans, though in the Caribbean especially among the English speaking islands, you'll find different variants of beans referred to as 'peas'.
Don't ask me why Island people refer to beans as peas it's simply a cultural custom norm which people abide by without questioning. Interestingly enough, the dish itself derives from a Ghanaian cuisine called Waakye, where beans and rice are boiled together, omitting the condiments.
Each Caribbean island has their own prized adaptation of rice and peas, don't be alarmed if the recipe varies according to each island or even household. I've travelled to various Caribbean islands and to be honest with you, the recipe tastes identical to how my grandmother and mother made/taught me how to do it.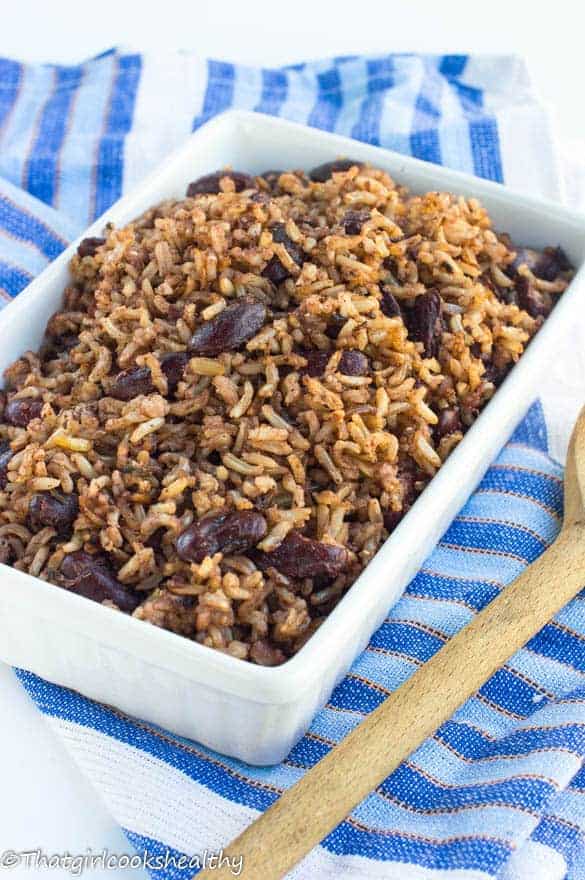 I think Cuba was probably a stark contrast since they seasoned their rice with cumin, bell peppers, oregano and simmered the rice in water rather than water and coconut milk. Aside from that, it tasted flavoursome, though I did have to ask the lady who was serving me to leave out the pork, another addition to the dish.
Traditionally you'll find most people from Caribbean backgrounds eating rice and peas on a Sunday, for dinner usually when church was officially over. There's no limitations to eating this on a Sunday only, you can eat this any day of the week, however Sunday is the cultural norm.
Living in the diaspora has seen a change in eating habits with people from Caribbean lineage (mainly 2nd -3rd generations) eating more western foods and shunning their traditional food.
Growing up for us, there was no arguing or debate for that matter, you'd eat what was prepared and be grateful. We ALWAYS used dried kidney beans instead of canned beans because it was cost effective and we weren't in a rush to cook. In all, it took almost 2 days to cook the dish since we'd soak the peas overnight – stage 1 and follow up with boiling and simmering the pot the next day.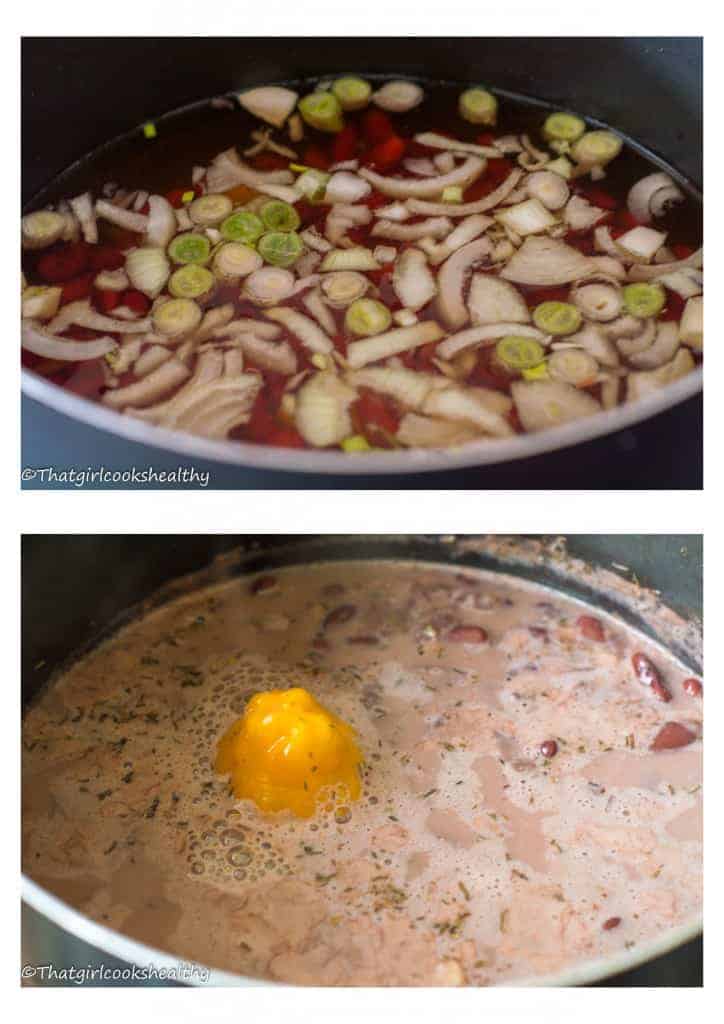 This recipe uses the old method of cooking rice and peas – using dried beans. I rarely use canned beans unless I'm extremely busy, I'd much rather follow in my grandmother and mothers foot steps by using their method of slow cooking, it's more intimate albeit longer. I think because the women were seen as the nurturers they had more time to dedicate to cooking which explains why dried beans were probably a preference.
You can of course used canned beans, with that being said, the water levels will change, as I used quite a bit of water to compensate the absorption levels of the peas and brown rice. The beans will need to soak overnight to soften and exude a dark hue – rinse the peas several times prior to soaking.
Overall, this may seem challenging for a novice BUT it's really not that difficult once you master the ratio of water or dried goods. It took me awhile to do so myself namely because the women in my family used white rice which you know is processed and has no place on my blog.
The brown rice gives a mild nutty taste, nothing that overpowers/ dulls the taste it's very complimentary and of course brown rice is full of fibre. It's ability to expand and act as a internal sweeper, cleaning up the waste and expelling it from the body is remarkable, for some the slow breaking down mechanism can cause digestive problems/sensitivities….therefore sprouted grains are also a good digestive friendly choice to substitute with.
Pair this with some veggies if you're vegan or as a side serving with some brown stew chicken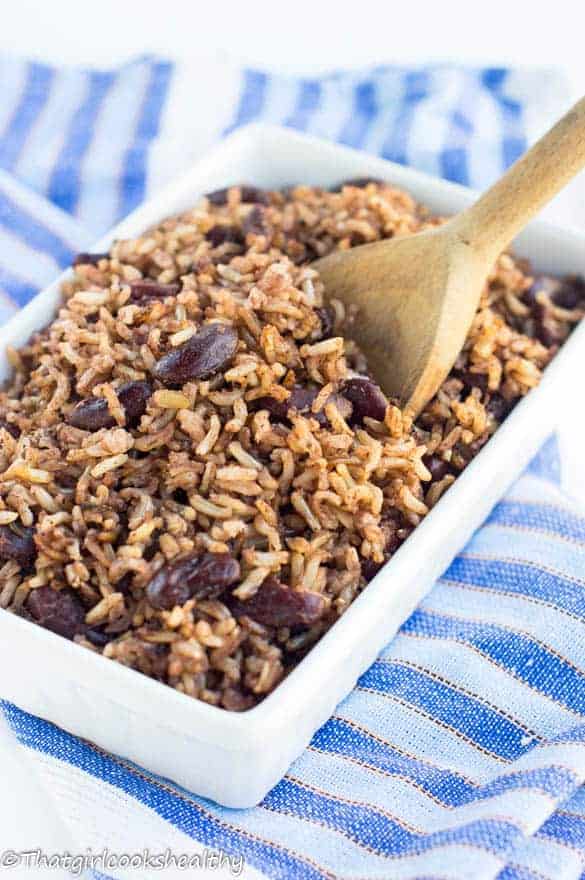 Print
Rice and peas recipe – Jamaican style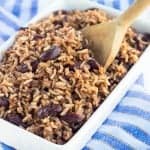 Author:
Prep Time:

10 mins

Cook Time:

1 hour 45 mins

Total Time:

1 hour 55 mins

Category:

Caribbean
Ingredients
3/4 cup of red kidney beans (peas)(soaked in 7 cups of water)
1 1/2 cups of brown rice
1 cup of coconut milk or 1 canned coconut milk
1tbsp of thyme or 4 sprigs
1-2 tsp of himalayan pink salt
2 scallions, sliced
1 small onion, sliced
3 garlic cloves, sliced
1 thumb sized piece of ginger
2 pimento berries (optional)
1 whole scotch bonnet (optional)
Instructions
Bring the peas in water with the garlic, onion and scallion to the boil and reduce to medium.
Cover the saucepan with the lid and simmer for 1hr – 1hr 15 minutes – check the water levels throughout this time as it will have reduced by half, anything lower than that add a cup of hot water.
Check the readiness of the peas by using a slotted spoon to remove a few and mashing them. If they mash with ease, they are ready for the next step.
Add the coconut milk and continue to simmer for a further 10 minutes before adding the rice, thyme, scotch bonnet, pink salt, ginger and pimento and stir.
Allow to slowly simmer for 40-45 minutes, low-medium heat check frequently to ensure the rice doesn't burn and absorption levels.
After 45 minutes the rice should be soft, fluffy (not sticky).