Caribbean paella recipe – Indulge on this meat free paella alternative with lots of veggies and a generously seasoned version of the popular Spanish cuisine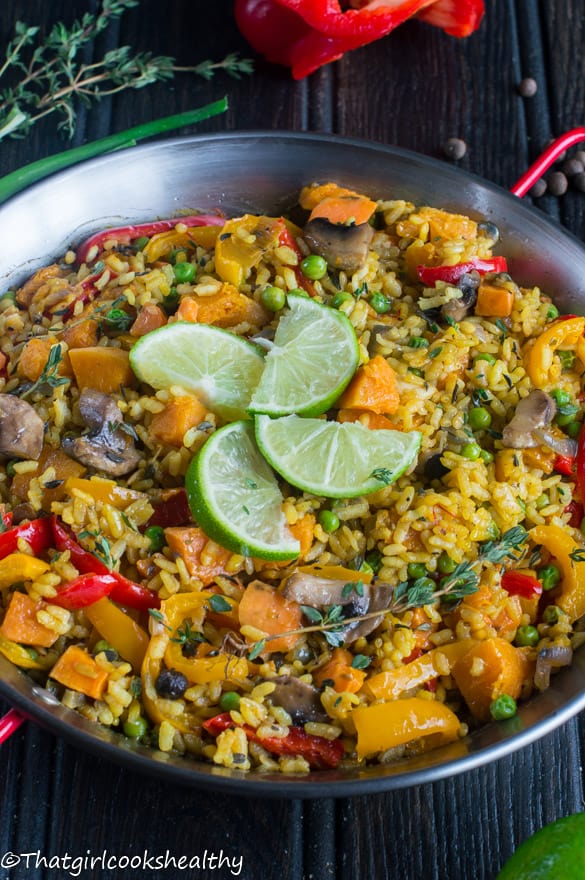 There's nothing these days that won't stop me from doing a Caribbean rendition of another culture's cuisine. This main meal is actually for The holiday flavours campaign that I was asked to participate in, now I must put this disclaimer out that I am NOT being paid to post this recipe. I also thought it would be the perfect opportunity to showcase something with a tropical theme especially during these cold winter months. I hope this Caribbean paella dish, where the combination of Spain mixed with the Caribbean islands will bring some sunshine (and vitamin D) into your life.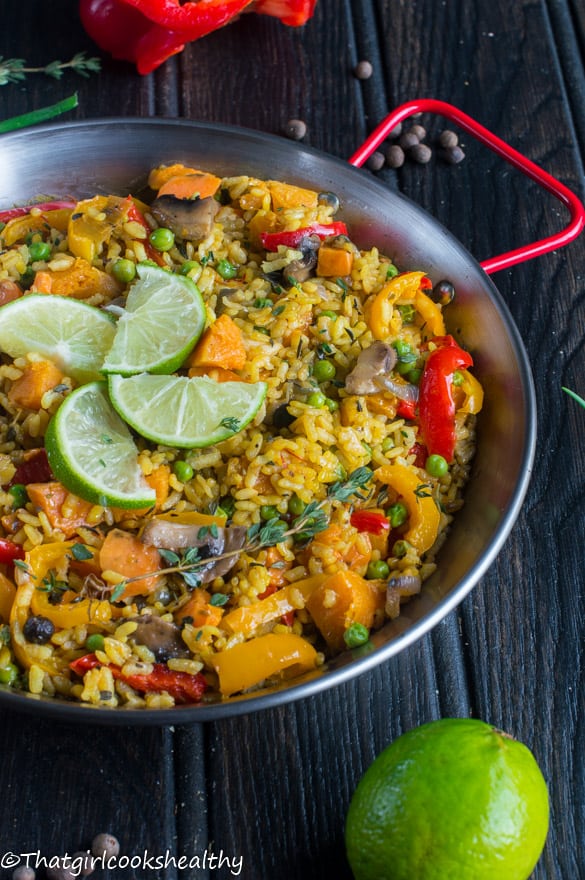 Spanish food is one of the most popular type of cuisines here in the UK, there's practically a Spanish restaurant in every corner of each city. You can also find Greek, Italian, Indian, Cantonese and even Thai in high numbers, notice I didn't include Caribbean food that's because Island food doesn't have a monopoly like the aforementioned, as I've said before Caribbean food isn't widely understood, what people think they know is usually the stereotypical theme of a coconut, pineapple with a large piece of jerk chicken to boot.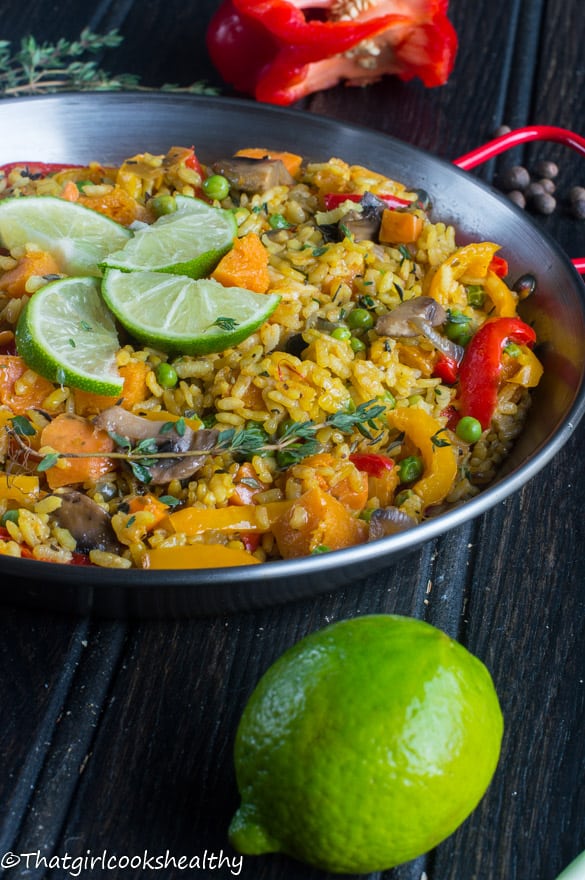 Although I'm admittedly saddened by the mis-informed definition of Caribbean food I do envision positive changes with food bloggers such as myself educating the massive about authentic Caribbean cooking. I strongly believe by reversing the stereotypical notion of Caribbean food, not only will this fully inform people of it's true meaning but also help to globalise our cuisines in a fair manner (rant over).
Let's talk about Caribbean PAELLA-ELLA! Paella is a popular rice dish which originates from a city called Valencia in Spain and is regarded by Spaniards as the national dish. There are different types of paella – seafood, valencian (the acclaimed original), meat, mixed, vegan… you name it and it's in there – rabbit, snail, artichokes, green beans, mussels, prawns. Irrespective of the style of paella one unchangeable foundation for this dish is the bomba rice. Bomba rice is Spain's premium rice and essential for absorbing the broth, it absorbs three times the volume of broth than regular rice yet remains firm and holdS up quite well.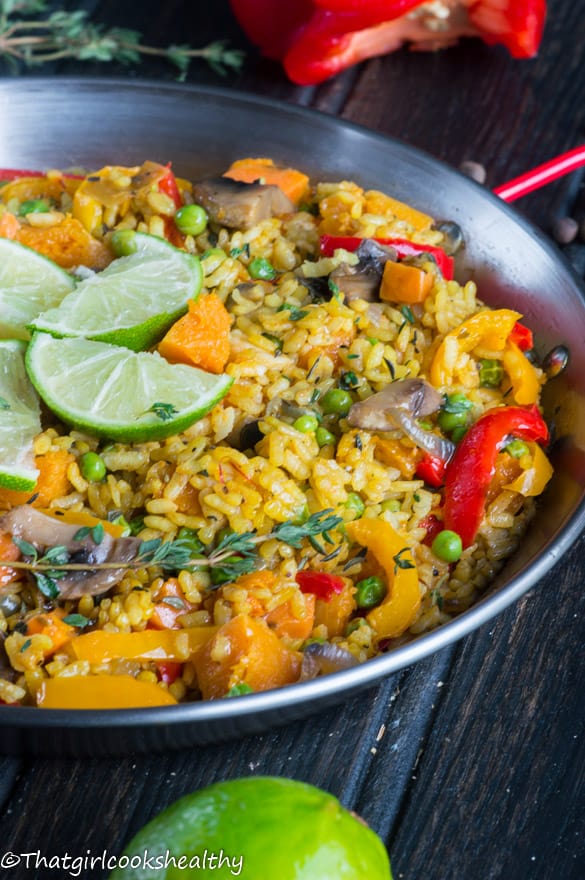 There IS no substitute for bomba rice, with that being said, do purchase the closest thing to it which is short grain brown rice bomba rice.  This rice is GI Index friendly, though it is very difficult to obtain.
You will find a number of commonly used Caribbean herbs/spices/condiment pop up in this recipe – cinnamon, allspice (pimento), lime, scotch bonnet, thyme, and bay leaf – Since bomba rice absorbs most of the flavour from the stock I tempered the cinnamon, bayleaf, thyme and allspice just before adding the stock followed by the bomba rice. The idea is to release the flavour of the spices during tempering so they infuse the vegetable stock which is then absorbed by the bomba rice (this is where to magic occurs).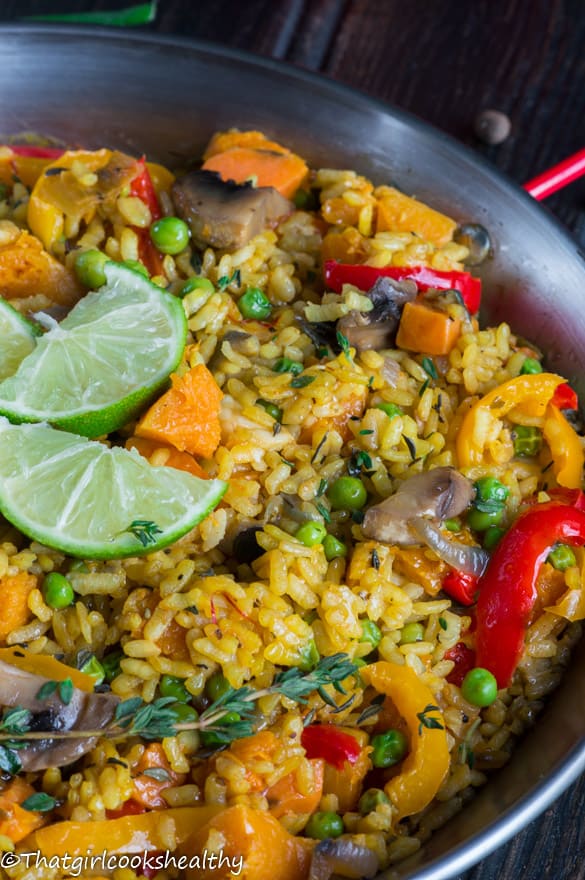 It wouldn't be Caribbean without inviting some pumpkin and sweet potato to the party, all of which are added to the traditional paella pan called Garcima. When all of the vegetables are added to the pan (see the ingredients list for the rest) fold everything together ONCE! YES I SAID ONCE…What you are trying to achieve is the "socarrat" that crisp crust towards the bottom of the pan.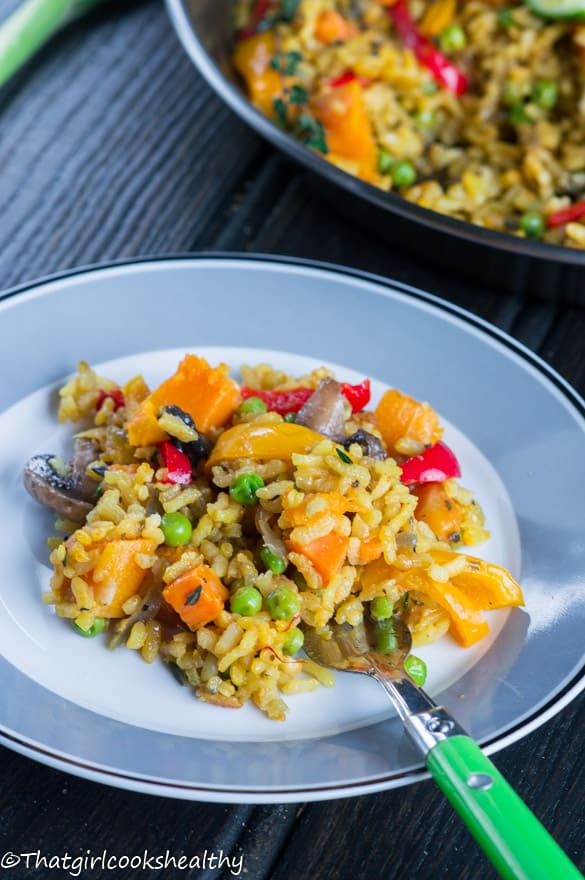 I promise you will love this wonderful Caribbean Paella dish but you have to try it in order to believe me!
Print
Caribbean paella (vegan style)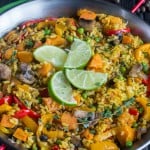 Dairy free, gluten free, vegan
Author:
Prep Time:

15 mins

Cook Time:

25 mins

Total Time:

40 mins

Category:

Main

Cuisine:

Caribbean
Ingredients
200g (1 cup) of brown short grain bomba rice
1 small yellow bell pepper, sliced
1 small red bell pepper, sliced
2 1/2 cups of vegetable stock
200g (1 cup) sweet green peas
1/2 tsp of saffron threads
4 to 5 sprigs of thyme (stems removed)
1 red onion, sliced
2 scallion, chopped
100g of mushrooms, sliced
200g (1 cup) pumpkin, cubed & peeled
200g (1 cup) sweet potato, cubed & peeled
4 pimento seeds (1/4 tsp allspice)
1 cinnamon stick
1/2 tsp black pepper
3 garlic cloves, minced
1/4 tsp of paprika (smoked or regular)
1 bay leaf
1 scotch bonnet (whole)
himalayan pink salt (according to taste)
1 lime
*coconut oil
Instructions
Combine the vegetable stock with the saffron threads, bring to the boil then reduce to a simmer for 5 minutes and set aside.
Meanwhile heat your Garcima (can use skillet) with 2 tablespoons of coconut oil then temper the cinnamon stick and pimento (allspice) until the aroma is released, once an aroma is achieved add the bay leaf and continue to temper for another 30 seconds before sauteing the garlic, scallion and red onions for 2 minutes.
Proceed to add the bell peppers then cook until softened, this should take 3-5 minutes in total.
Fold the pumpkin, mushrooms and sweet potatoes pieces into the pan, don't forget to maneuver/rotate the pan during cooking.
Season the entire pan with the thyme, black pepper and your desired amount of pink salt – 1 teaspoon worth was suffice for me.
Add the bomba rice along with the paprika, use a wooden spoon to fully coat/combine the bomba rice with the seasoning and mix through.
Gradually add the saffron infused stock to the paella, start by adding 1/3 of the stock leaving a 3-4 minute interval while the rice absorbs the first portion of liquid…..STIR ONCE ONLY!
Then add the remaining stock to the pan and leave uncovered for 5 minutes.
Finally sprinkle the green peas along with the scotch bonnet to the pan before covering with foil to steam for 10 minutes. During the given time the socarrat will form quite nicely.
After 10 minutes turn off the heat and leave to settle for 5 minutes before removing the foil to serve.
Don't forgot to squeeze some lime over the top and garnish with further thyme (remove the bay leaf and cinnamon too).