Chocolate avocado ice cream – dairy free chocolate ice cream made with avocado and coconut milk made in a food processor or ice cream maker.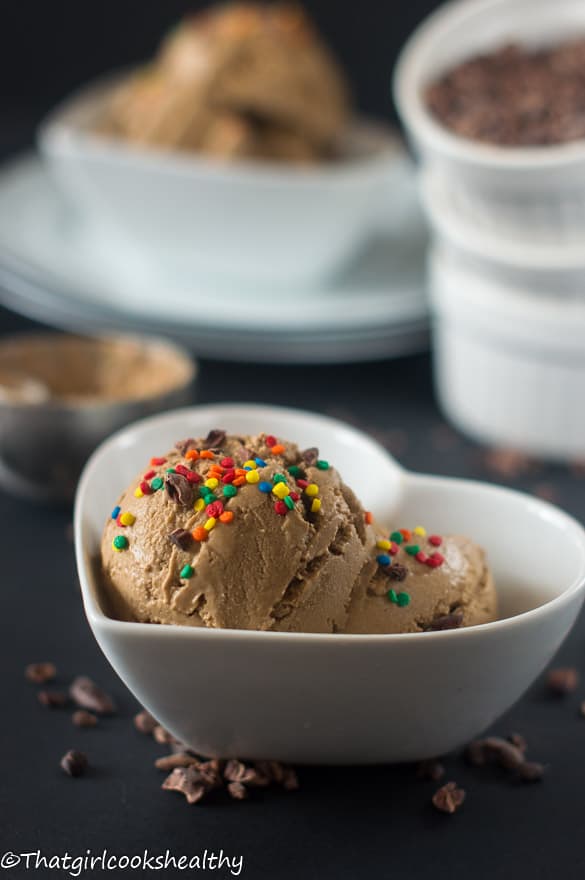 The weather over the past few weeks has been insane here in the UK with plenty of sharp showers and random spots of sunshine. While I'm glad to see the back of winter I certain don't like this everlasting unpredictable wet weather. As the weather continues to behave rather sporadically I've been preparing a few recipes for the website as the next few weeks are going to be relatively busy in my personal life. Do not fret I won't be abandoning the blog, I'll be right here, only things are rather hectic for the month of May.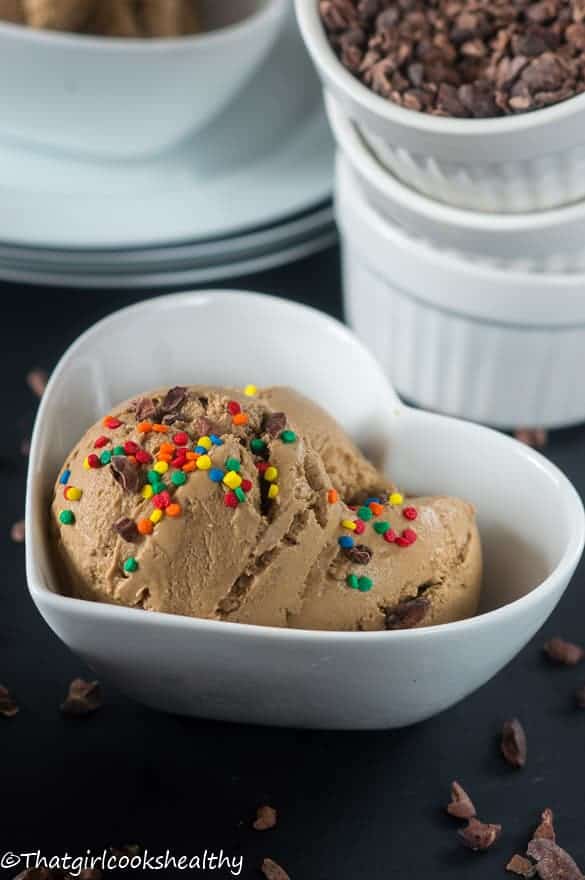 I've been thinking over and over again about recipes for the summer. Last year was my debut, as exciting as it was I was slightly overwhelmed with SO many recipes to whip up from popsicles to light salads and ice cream, the list was endless. In true Charla style I didn't manage to submit most of the recipes that I would have liked to, besides I was still perfecting my photography skills (that's an on going thing might I add).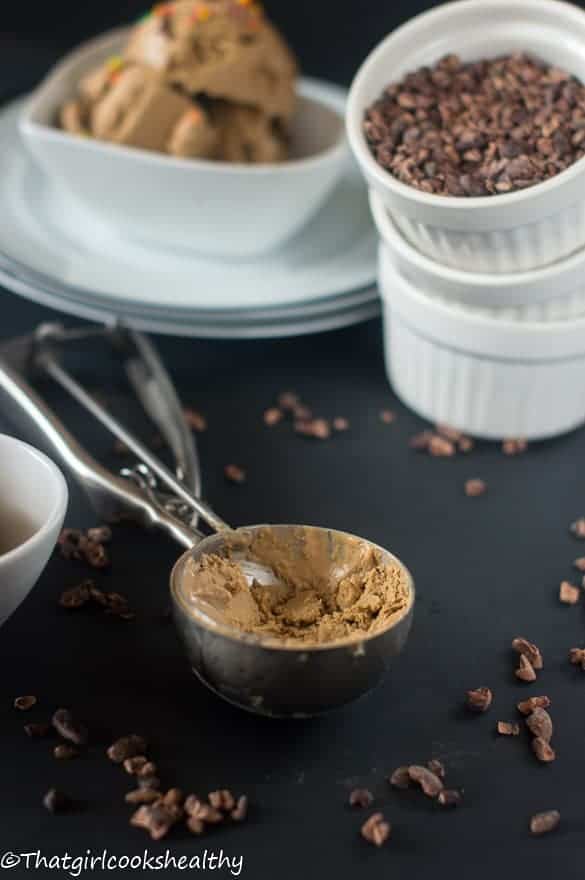 In a bid not to miss out on all of those wonderful summer time recipes, I have decided to be ahead of myself and start submitting a few from May. Furthermore, apparently the weather is set to soar over the weekend so you might be thanking me for this pre-summer time recipe.
If you do not own an ice cream maker then you are missing out on some of the best dessert recipes on the planet. I use my ice cream all year round, though I increase its usage during the spring/summer. I like to experiment with different flavours – forget the ice cream that's ladened with all of those additional additives and preservatives. This recipe is the real deal you will taste all of those bold, rich, FRESH (very important word) complimentary flavours.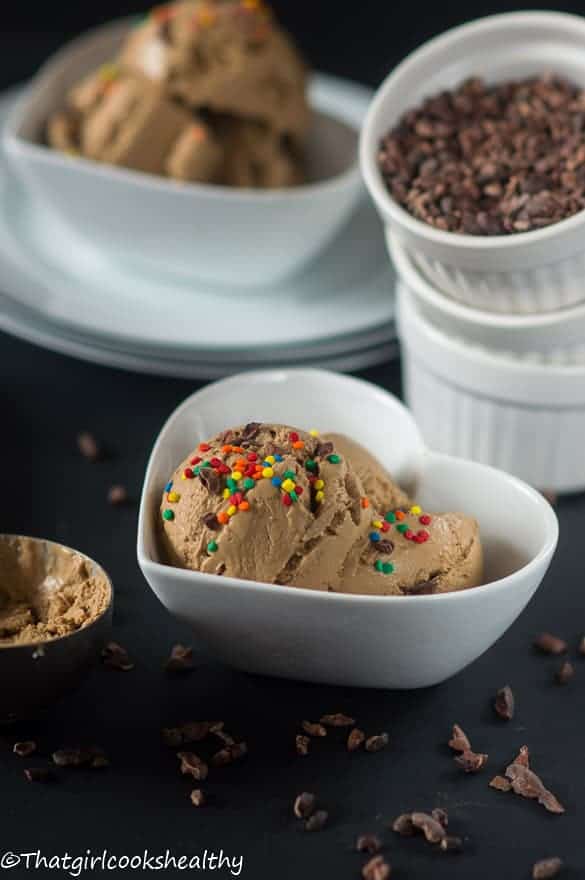 Nowadays I rarely purchase ice cream I would much rather enjoy making my own instead. It's easy and incredibly effortless but it feels like a milestone has been achieved if it's your first time doing so. In terms of what flavours one can make, absolutely ANY…though the general rule of thumb is to use milk as the base. I always whip up my ice cream with full fat coconut milk and then include whatever add-ins I see fit.
In this case I made a diabetic friendly chocolate avocado ice cream for my grandmother, she likes ice cream but being afflicted with type 2 diabetes doesn't permit consuming processed store brought ice cream. Home made ice cream allows one to enjoy their creature comforts without compromising health. Avocados are full high density lipoprotein (HDL) a type of good cholesterol that lowers the bad cholesterol which can clog our major arteries and create fatty deposits in the liver. Many people shy away from ALL type of fat in fear of developing cardiovascular disease but the true is we need fats to regulate our hormones AND to fight inflammation.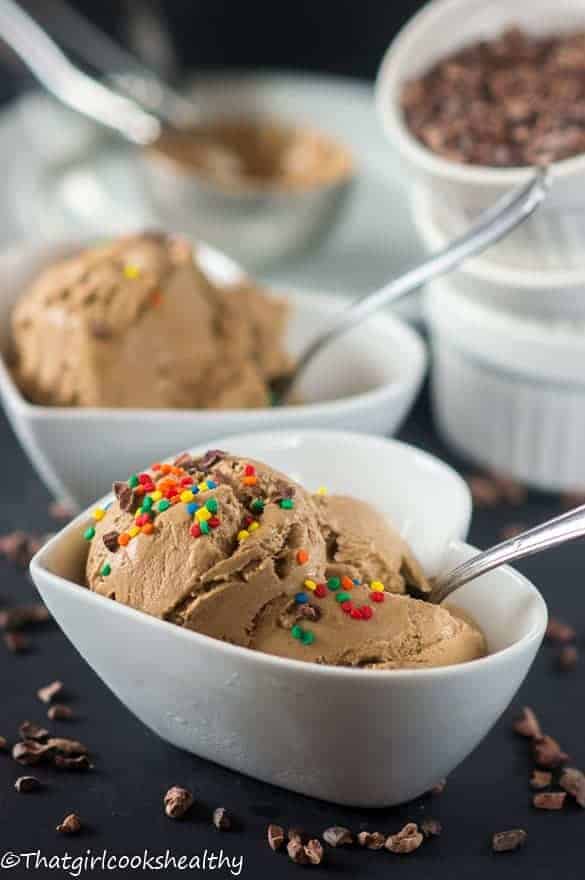 Another thing, if you're looking to gain weight in a healthy manner I would highly recommend consuming some good fats like avocados, so in a sense while this ice cream isn't specifically made to gain weight, you can incorporate into a lifestyle where eating something more calorific needed.
The additional hint of cinnamon is there to add a spicy flare and to also aid blood sugar levels  (no huge spike).
Recommended sweetener as always low glycemic index – coconut nectar, agave or maple syrup.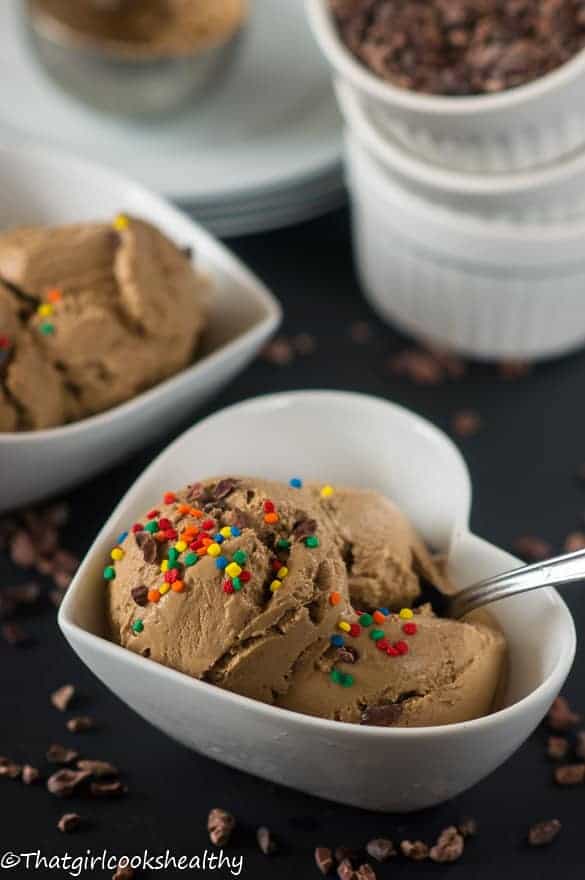 Delicious dairy free chocolate avocado ice cream
Print
Chocolate avocado ice cream (vegan style)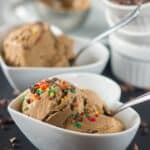 Paleo, gluten free, vegan, dairy free
Author:
Prep Time:

5 mins

Cook Time:

4 mins

Total Time:

9 mins

Category:

Dessert
Ingredients
1 can of full fat coconut milk
1 large avocado, ripe, pitted and skin removed.
3 tbsp of raw cacao powder
1/4 cup of coconut nectar (can use agave or maple)
1/2 tsp of cinnamon
1 tsp of vanilla powder or extract
Instructions
If using an ice cream maker, place the bowl in a freezer overnight for at least 4 hours before use.
Place all of the ingredients in a high speed blender or food processor and blitz into a smooth consistency.
Once a smooth consistency has been achieved, prepare the ice cream maker and use accordingly to the manufacturer instructions.
To make without a ice cream maker, once the ingredients have been blended, simply pour into a freezer friendly container and freeze for an hour. After the given time whisk the mixture every 30 minutes for up to 4 hours to omit freezer burn. Over a course of time the ice cream will thicken and then serve accordingly.