Cuban style picadillo – A traditional dish where ground beef stewed in tomato sauce with an abundance of regional Latin American spices.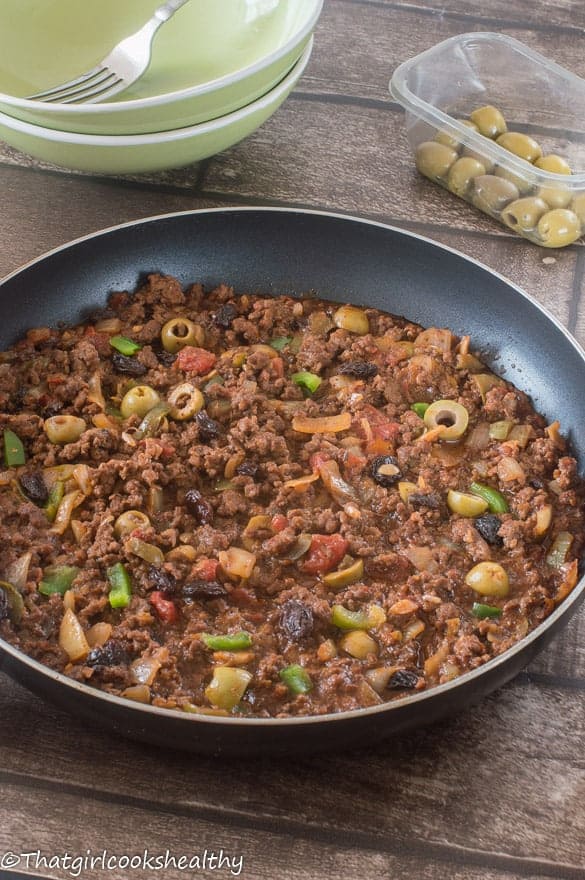 I remember the first time I tried this recipe, it was when I visited Cuba a few years ago. They say the best food to eat is outside of the tourist area and this definitely rings true. Even though part of my heritage is Cuban, I don't know a great deal about that side of my family so in some respects I feel like I'm on the outside looking in. Latin American food is a new learning curve for me, but one that I enjoy immensely.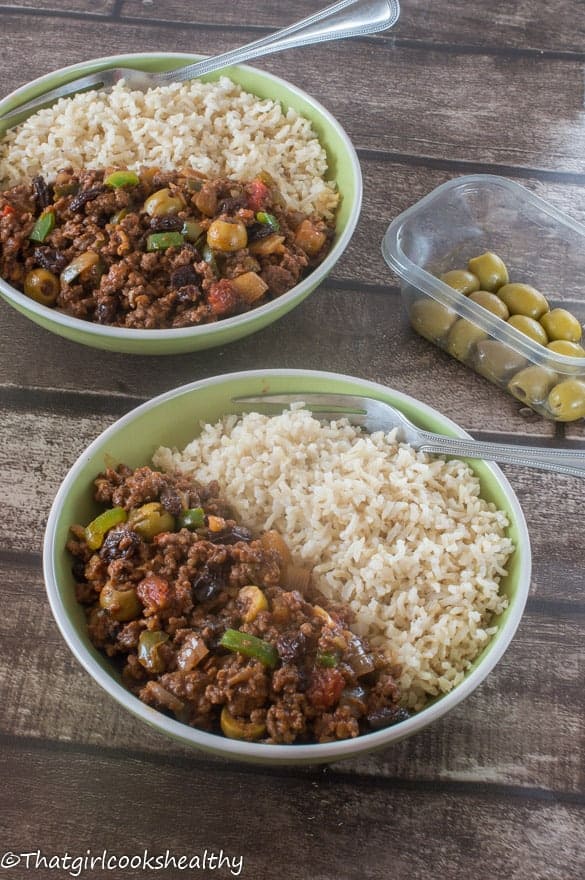 Cuban style picadillo was one of those unforgettable recipes, the flavours were bold and the meat generously seasoned – just how I like it, no complaints from me. I made a pledge to myself that I would make my own rendition and try to do the traditional recipe some justice. Picadillo is actually a Spanish cuisine that was brought to the Spanish colonies including Puerto Rico.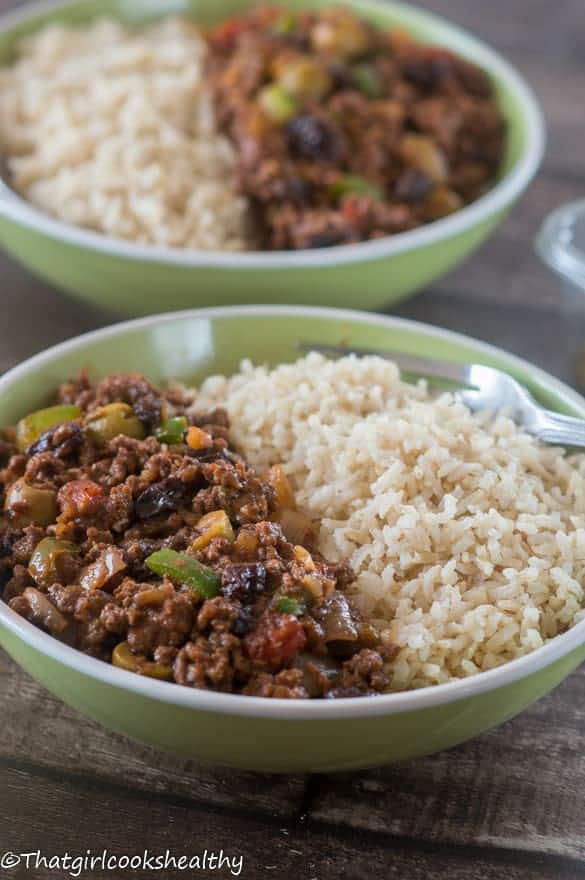 Similar to the other Caribbean islands, each island has their own version of how to make this wonderful dish. My version of this Cuban style picadillo has its own adaptation to suit but these are modifications that don't stray too far away from the traditional recipe and using ingredients that you will most likely have in your pantry/spice rack.
As with many Latin American dishes, sofrito which is an aromatic sauce consisting of bell peppers, onions, tomatoes, garlic and herbs form the base of almost any dish, so this what will need to be prepped before browning the ground beef.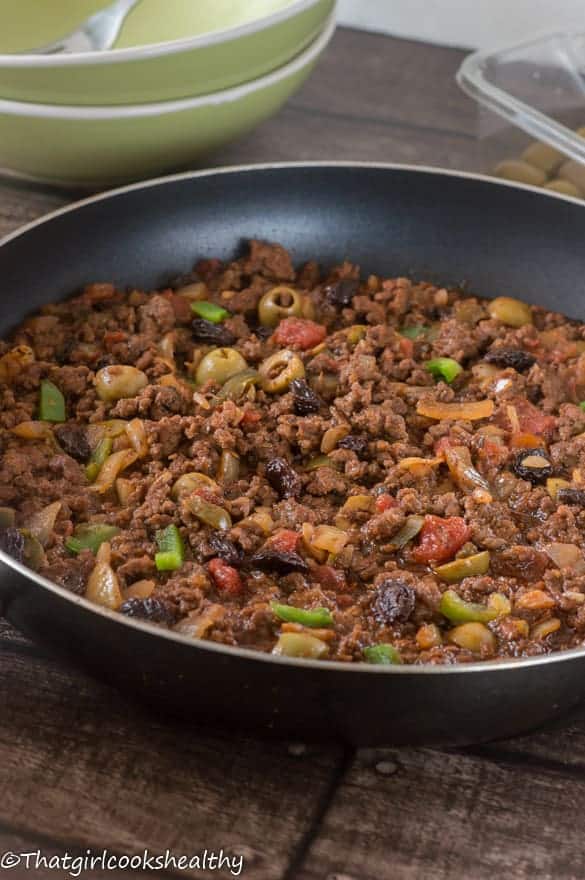 What really gives this recipe a kick, along with the sofrito is adobo seasoning. Adobo seasoning is a combination of commonly used Latin American herbs/spice including garlic, cumin and oregano. Although most picadillo recipes tend to use individual herb and spices as opposed to pre-blended seasoning I found a few tablespoons of the homemade adobo seasoning really helped to deepen the flavour.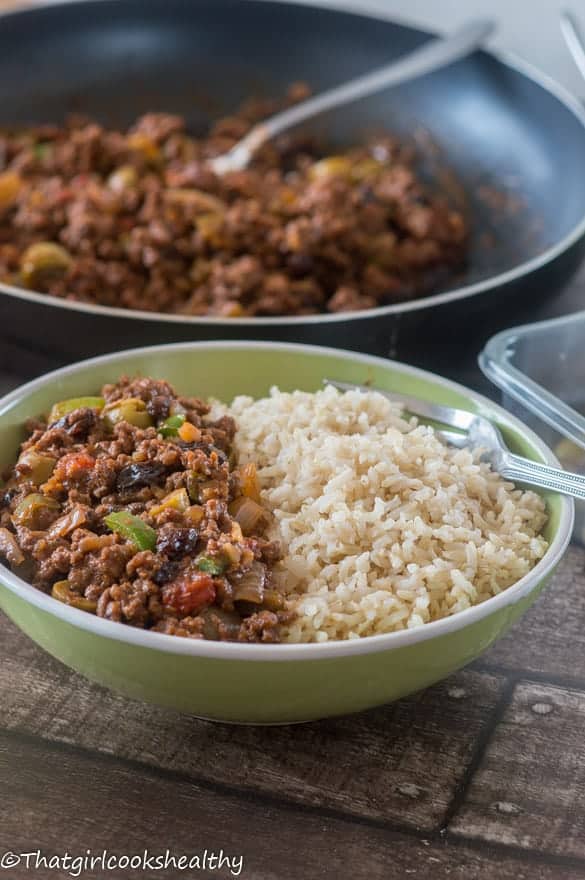 Red or white wine is added near towards the final stage of cooking, I rarely cook food with alcohol, it'simply a personal decision, more often than not I've found grape juice is a really good foolproof substitute and in this case I successfully used red grape juice. If alcohol isn't a issue with you that's perfectly okay, simply go ahead and use as per instructions.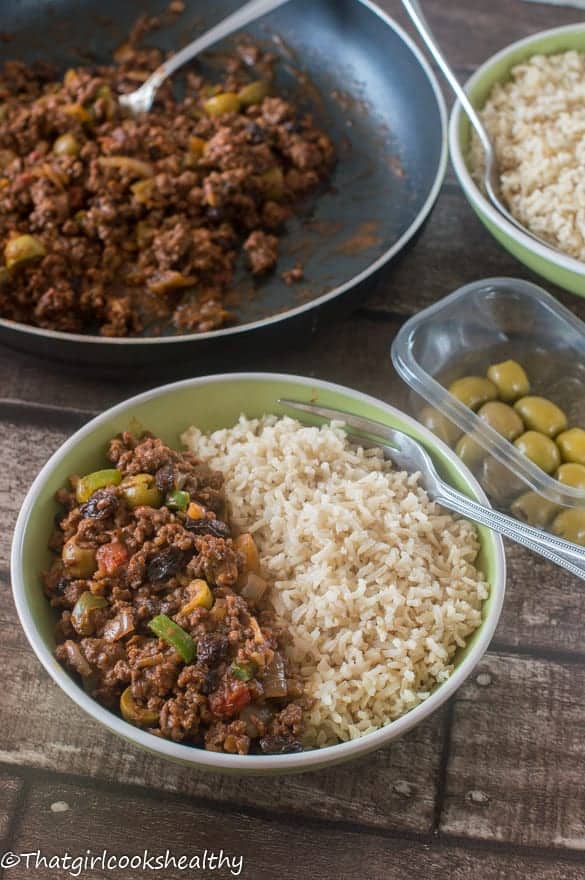 Feel free to serve this Cuban style picadillo with potatoes, rice (nice although starch overload) black beans or even plantain (plantanos)
Adobo seasoning mix –
2 teaspoons himalayan pink salt,
1 tablespoon paprika
2 teaspoons black pepper
1 1/2 teaspoon onion powder
1 1/2 teaspoon oregano
1 1/2 teaspoon cumin
1 teaspoon garlic
1/2 teaspoon chilli powder
Print
Cuban style picadillo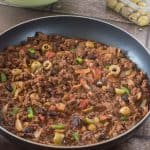 Author:
Prep Time:

15 mins

Cook Time:

30 mins

Total Time:

45 mins

Category:

Main entree

Cuisine:

Caribbean
Ingredients
1 lb of grass feed minced beef (washed)
Adobo seasoning (see post, use all)
1 onion, chopped
5 garlic cloves, minced
1 green bell pepper, chopped
1/2 tsp cumin
1/2 tsp oregano
2 bay leaves
1 small can of chopped tomatoes
1/3 cup of olives or capers
1/2 cup of raisins
1/2 cup of red grape juice (see post, can use red wine)
2 tsp parsley (optional)
3 tbsp coconut oil (can use olive oil if you prefer)
Instructions
Start by placing the ground meat in a large bowl. Use your hands to work in the adobo seasoning. Really work the dry rub in by breaking down the slab of minced beef then set aside. Melt the coconut oil in a large skillet/pan on medium heat, then add the onions, garlic and bay leaf and sautee for 1 minute.
Add the beef and proceed to seal and brown the meat with the other ingredients. This should take 4-5 minutes.
Once the meat has darkened add the green bell pepper then pour in the chopped tomato and evenly coat the minced beef in the sauce.
Sprinkle the cumin, oregano and parsley into the pan and stir.
Add the raisins and olives to the pan again, giving another good stir.
Finally pour the red grape juice to the entire pan and bring to a rolling boil before reducing the flame to low.
Cover the pan with lid and simmer for 15-20 minutes (checking periodically).
Serve accordingly