Authentic Jamaican brown stew chicken – experience the epitome of Jamaican cuisine by sampling this generously seasoned succulent chicken in a rich thick gravy.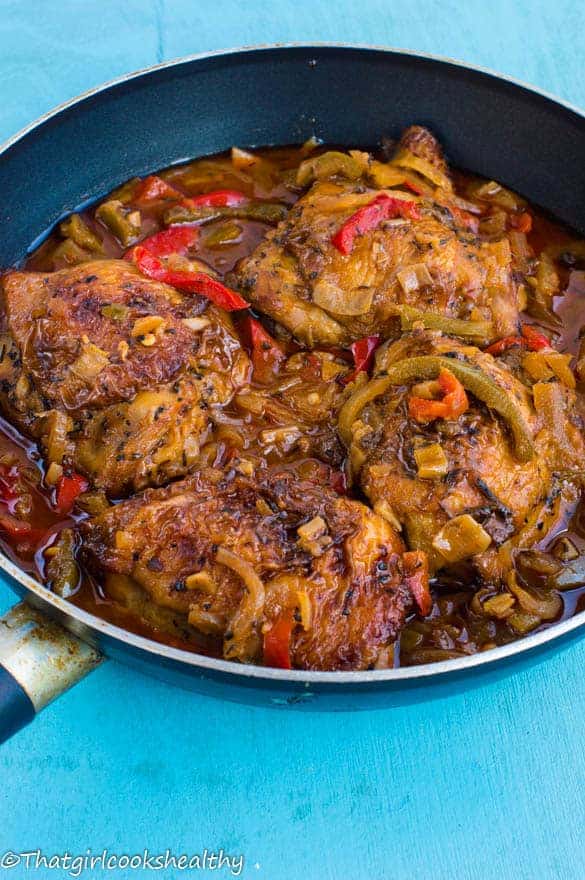 Brown stew chicken is a favourite amongst English speaking Caribbean islands, it is traditionally eating with rice and peas (or peas and rice).  Though, times are changing and with cultural trends taking a different direction, don't be surprised if the masses pair this with something other than rice and peas.
I absolutely love Jamaican brown stew chicken and other variants of island style stewed chicken. Yes I am being biased but there's reason for me to be partial to my roots. This  Jamaican brown stew chicken recipe is SO flavoursome and I promise you this one will impress your guests.
What is Jamaican brown stew chicken?
The name brown stew, derived from the distinctive dark hue that's created from browning the chicken with brown sugar.I cannot emphasis the importance of yielding that detectable dark brown colour, it's crucial for that wonderful deep coffee coloured gravy to accompany the browned chicken.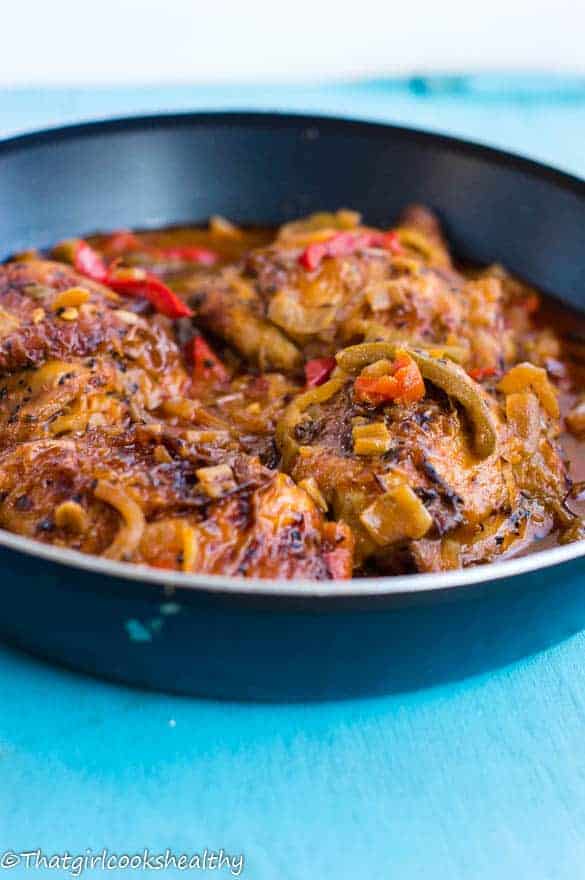 Sunday would be the day that we would serve brown stew chicken, although there's no reason why you cannot make this any day of the week.
Like most dishes each Caribbean island has their own variation of brown stew chicken, for now I'll be showing you how to make this Jamaican brown stew chicken. It's very simple to pull off, once you master this the first time, you'll be making this for dinner all the time – I can tell you that.
Is brown stew chicken healthy?
Yes, my version is!! As you already know, being healthy is my middle name , so expect a few adjustments to this recipe. For instance, I roasted the chicken instead of frying it in a large quantity of oil. My philosophy is avoid deep fat frying where possible, if there's a healthier alternative Charla will gladly pursue that root.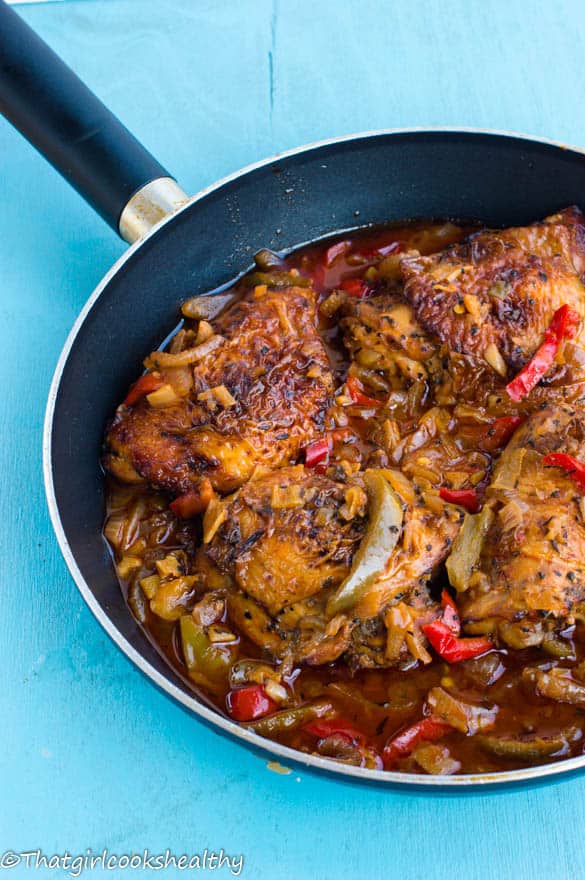 How to make the perfect Jamaican brown stew chicken
I do recommend preparing the chicken over night and leaving it to infuse the flavours. To begin, we need to create the marinade, it's a simple concoction which includes some homemade browning and coconut palm sugar. Coconut palm sugar is a low glycemic index sweetener made from 'tapping' the sap of the coconut palm tree. This is by far more superior to the overly processed brown sugar, albeit expensive, keep in mind it's nutritional properties are retained through it's minimal processing.
Of course the chicken is cleaned/neutralised using the lime and vinegar technique, a traditional way of washing chicken and one that I still uphold as I embark this culinary adventure. The next day is where the fun happens, prior to browning the chicken, scrap off the marinade and store in the refrigerator (we will return to this during cooking).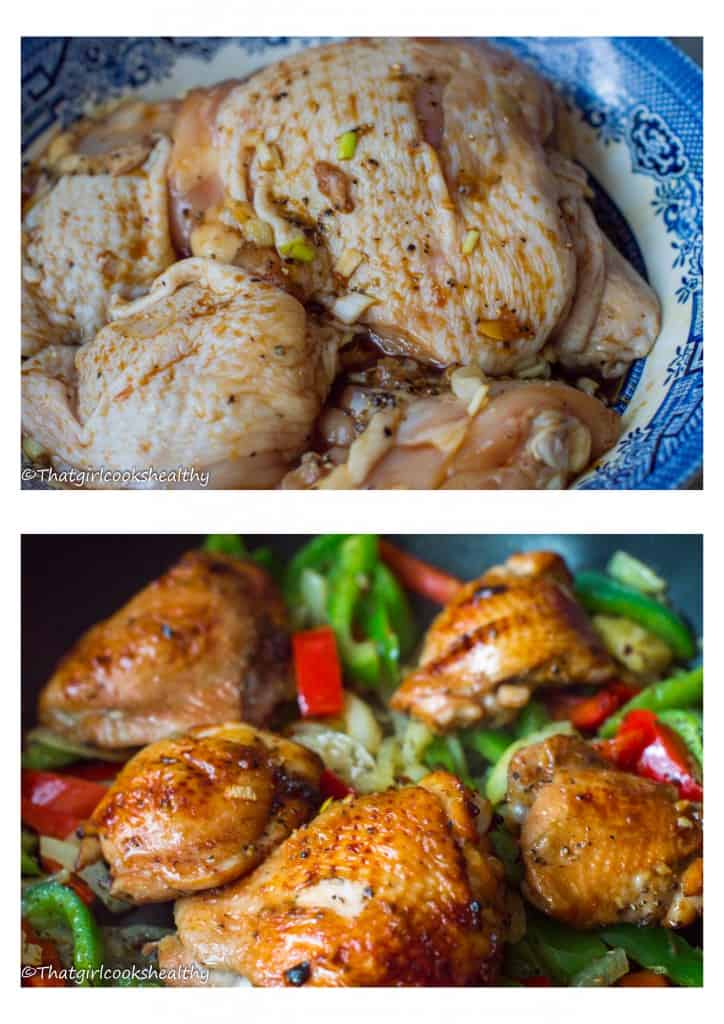 How long does it take to cook brown stew chicken in the oven?
The chicken shouldn't take too long to brown in the oven. There is roughly a 25 minute difference in cooking time. Yes it will take longer than frying, but as I said before, this is a great oil free method to follow through while yielding the same results – a win-win situation right?
As the chicken roasts, it will generate it's own liquid, this is known as the dripping. You can add a tablespoon or two to the frying pan given that the flavour from the drippings is extracts of the overnight marinade.
The bell peppers will lend a vibrant colourful flare, the ginger will add warmth, while the pimento adds a hint of tropical spice. The hot pepper sauce provides that heat element, again I have a recipe coming up, so your girl has you covered in that arena too. I substituted tomato ketchup for organic tomato puree which doesn't compromise the taste at all.
Once the chicken has been added to the pan with the other veggies and warm water  (use warm water to keep the temperature consistent) – a slow simmer will create a deep enriched brown gravy.
Recipe for the homemade browning sauce that you will need.
This recipe is paleo approved (omit the rice for potatoes) and free from gluten
Love the recipe???? Don't forgot to give me a star rating and most importantly follow me on Pinterest and Facebook
Print
Authentic Jamaican brown stew chicken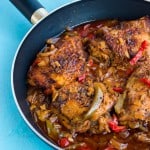 Author:
Prep Time:

10 mins

Cook Time:

45 mins

Total Time:

55 mins

Category:

Main entree

Cuisine:

Jamaican
Ingredients
For the marinade
3lb of chicken thighs, washed and cleaned as instructed in the post.
2tsp of himalayan pink salt
1 tsp of black pepper
3 medium sized scallions, sliced
2 tsp of coconut palm sugar
4 cloves of garlic, minced
1/4-1/2 tsp of browning sauce
——————————-
To make the gravy
2tbsp of coconut oil
1 medium sized onion, sliced
1/2tbsp of dried thyme or 3 sprigs of thyme
2 pimento berries (1/4 tsp allspice)
a thumb sized piece ginger
1tbsp of organic tomato puree
1tsp of hot pepper sauce
1 small red bell pepper
1 small green bell pepper
2 cups of hot water
Instructions
Place all of the ingredients for the marinade into a large bowl with the chicken thighs and rub the entire marinade into the chicken, then store in the refrigerator overnight.
Preheat the oven on 230 degrees celsius or gas mark 8.
Scrap off the excess marinade, store in the refrigerator and proceed to put the chicken in the oven in a roasting pan and roast for 20-25 minutes until brown, making sure to turn over half way through.
Once browned, remove from oven and set aside.
Heat a large frying pan with the coconut oil on medium heat and add the onions, sauteing for 1-2 minutes until translucent.
Then add the bell peppers, ginger, pimento (allspice) along with the dried thyme, tomato puree and hot pepper sauce.
Flip the pan – stir and fold the entire contents.
Now add the chicken with a tablespoon or two of the drippings and scrap the rest of the marinade which was stored in the refrigerator into the pan.
Finally pour in the two cups of water and stir.
Reduce the heat to low, cover pan with the lid and allow to slowly simmer for 30 minutes.
The water levels will reduce by half and thicken slightly into a rich brown sauce as it simmers. Check the pan to see if any oil is suspeneded on the surface, if so, skim this off with a spoon.
Once the gravy has formed, remove from heat and serve accordingly.