Green smoothie pancakes recipe –  love vegetables? then try these healthy pancakes loaded with kale and drizzled with ginger syrup.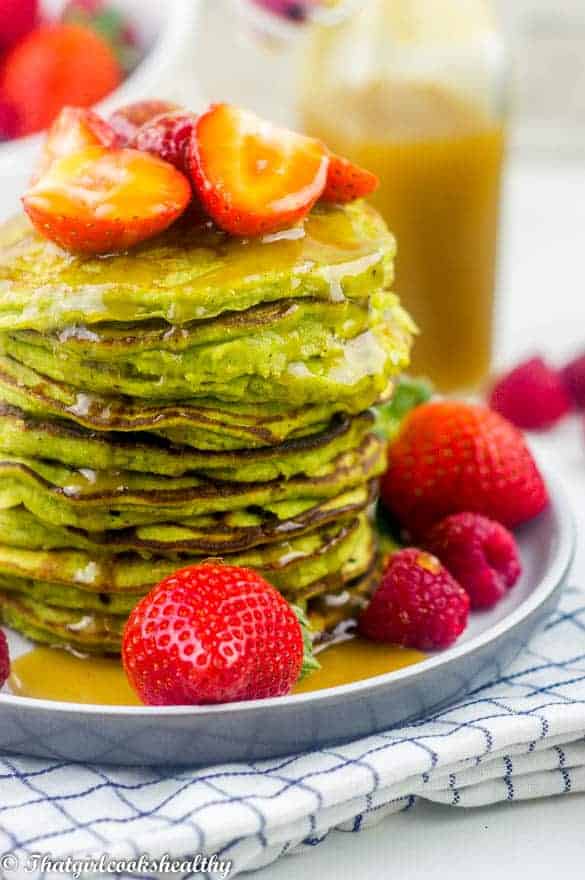 If you're looking to add more leafy greens to your diet, then these unique green smoothie pancakes are perfect. Green pancakes are a great way to sneak vegetables in so you get your 5 day. You can eat these pancakes all year round but the will definitely go down a treat for shoves Tuesdays.
My absolute favourite time month of the year has to be February. Although Feb falls into the winter bracket, I still look forward to it. From a culinary perspective, there's so much to prepare for. I'm talking about carnival, mardi gras, valentines and pancake day. As a blogger you either love it or hate it because of how overwhelming recipe creation can be.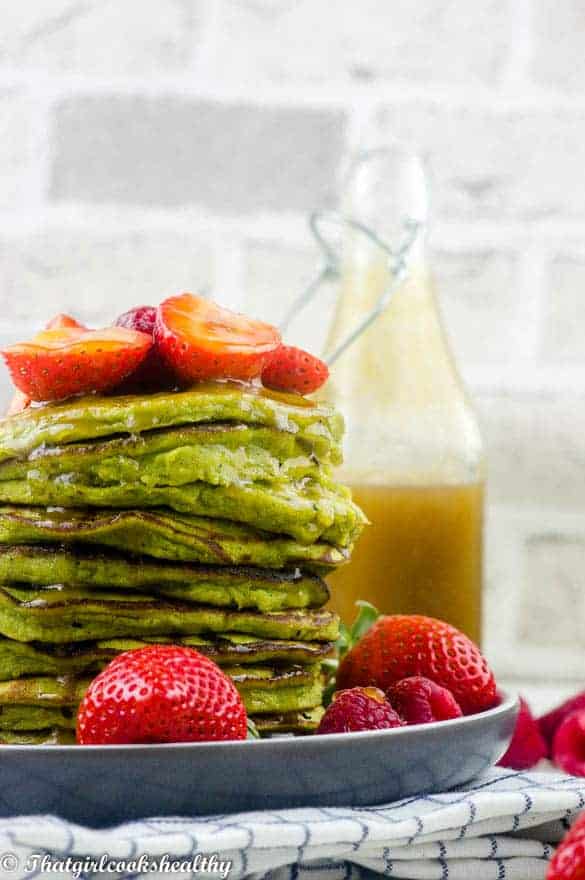 Let's recap on some classic recipes
For me it's a time to explore so many recipes, let's recap on a few recipes I previously did. Like this gluten free Jambalaya highly recommended to embrace mardi gras. It will feel like New Orleans has come to your very own kitchen.
If you're not prepared for valentine days, then treat him or her with this gluten free flourless chocolate almond cake I promise this cute little grain free cake will impress that special someone on your life.
Anyway, so those are just a few ideas centred around special dates during the middle of February. Another great day is shrove Tuesday aka pancake day. Children love this day because it gives them a chance to eat lots of pancakes. I remember when I was a child eating a few pancakes we made using one of those pre-made flour blends in a plastic bottle shaker.
I used to drizzle so much lemon on my pancake it was unreal. Now as an adult when I want to treat myself to some pancakes I enjoy them with some leafy greens.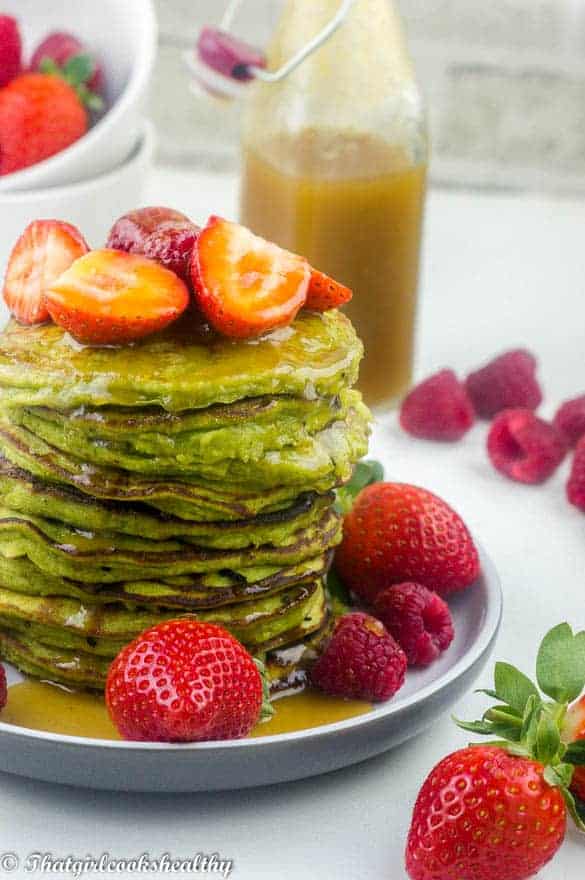 Recipe tips on how to make green monster smoothie pancakes
Adding green vegetables to your pancakes is a superb way of incorporating nutritional value.
Leafy greens – This secret ingredient will go down well with anyone would doesn't like to eat their greens. Children are notorious for not getting their greens so mom, dad if you make this recipe – I won't tell if you don't!
Besides, my homemade ginger syrup will make up for the addition all that kale. Now keep in mind that the pancakes are paleo so don't expect them to taste like conventional pancakes.
Coconut flour – I made these pancakes with coconut flour which requires a lot of moisture.
Extra moisture – The moisture comes from the eggs and semi ripe bananas. I'm not very keen on a strong banana taste in my pancakes so by using semi ripe – green slightly yellow this makes the perfect the structure while balancing out the taste.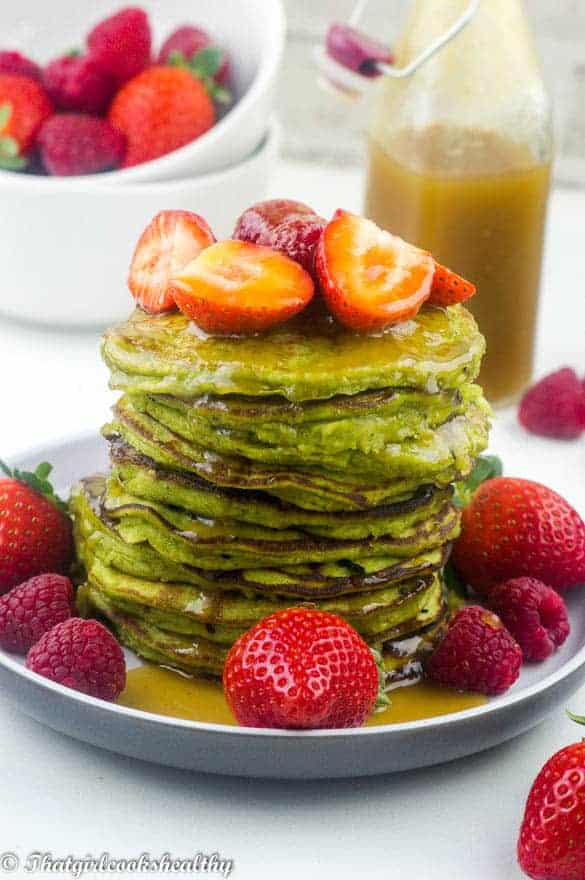 Notes
The texture of these kale pancakes are more like a pancake/fritter if I'm honest but equally as tasty.
You can crack up the protein power by using eggs whites alone and omitting the yolk.
Paleo approved and gluten free
Can use any leafy green to make these pancakes
Print
Green smoothie pancakes (paleo, gluten free)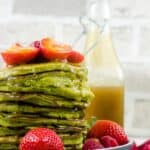 Paleo, gluten free, dairy free
Author:
Prep Time:

5 mins

Cook Time:

12 mins

Total Time:

17 mins
Ingredients
1 cup of kale, tightly packed
1/3 cup of coconut flour
1tbsp tapioca starch
3 large semi ripe bananas (green/slightly yellow)
6 large eggs
1 tsp vanilla extract
1/8 tsp himalayan pink salt
————————————————
Coconut oil for frying
Ginger syrup and fruit for topping and drizzle
Instructions
Place, the coconut flour, tapioca starch, eggs, banana, kale, vanilla extra and pink salt in the blender.
Puree the ingredients into a smooth batter. The batter should be thick and lump free.
Melt some coconut oil on a crepe pan on medium heat.
Ladle some of the batter onto the pan in a small circle. Then allow the first side of the pancake to cook through. It should be firm with a dark/golden hue coming through the green hue.
Flip the pancake over and cook the over side.
Repeat the last 2 steps using the rest of the batter.
Once done, decorate with fruit and drizzle with ginger syrup.