Last Updated on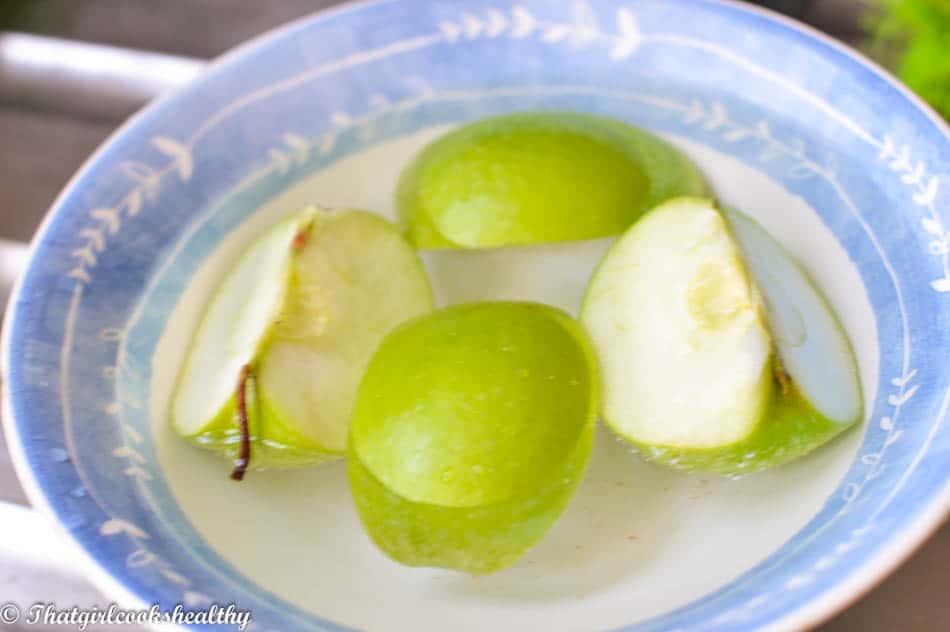 Let's be honest enough with ourselves, the sight of discoloured fruit is very unappealing. Humans as innately visual by nature, so it's natural that we eat with our eyes along with our taste buds and olfactory system. I had the misfortune of slicing up an apple whilst multitasking only to return to a bundle of dark fruit.
There have been countless times where I've had to rethink my baking strategy in fear of the fruit immediately turning dark. I've always wondered how to prevent fruit from turning brown and after doing a bit of trial and error I finally found the answer.
What does this happen?
So let's observe the science behind that annoying transition. Well to put it into layman's terms, fruit and vegetables contain a biological molecule called an "Enzyme". Enzymes are responsible for breaking down our protein, fats and carbohydrates during digestion. Once the fruit's enzymes are exposed to the oxygen from the air it quickly reacts negatively, thus creating a darkened appearance. 
Performing a simple task like cutting into an apple, which allows the oxygen to disturb the enzymes is just one of the reasons for browning to occur. Also bruising which galvanises the cells, allows oxygen to seep through.
So, what produce is susceptible to darkening?
I purposely worded my question with "produce" because this can also happen to veggies as well.
Anyway, the most common fruit and vegetables are:
Nectarines

Persimmons

Peaches

Apples

Pears

Bananas

Yam

Potatoes

Green banana (savoury banana)

Plantain
The solution
Fortunately, there is a simple method to remedy this frustrating problem, one which you will be thankful for. The most popular form of substances used are either a weak acid; lemon, citric acid (which is often used as preservative for canned fruit) or another preservative like sulfur dioxide and then there's salt.
I'm not a fan of chemically refined preservatives, so the citric and sulfur is an absolute no. However, I do recommend using Himalayan pink salt, as it's unrefined with an abundance of properties which help our bodies to function accordingly. Fresh Lemon is a secondary, so long as you're happy with your fruit and veggies having a subtle taste of lemon.
The preventative steps
Salt method: You' need 1tsp of pink salt and 4 cups of water (varied depending on size of bowl)
Lemon method: 1tbsp of Lemon and 4 cups of water (varied)
1, first, grab your fruit or vegetable
2, Cut it into desired shape (I did slices)
3, Submerge the item(s) into the water with your chosen substance
4, Leave to soak for 5 minutes
5, Carefully remove
I rigorously checked to see if this was truly foolproof and much to my surprise, the fruit was still bright, firm not mushy and not compromised in any way. Once you have saturated the produce, it won't be necessary to leave the item in the water, you can if want to – your choice!
Simply store in the refrigerator or freezer and use without having to avert your eyes to an amass of discoloured fruit.
Let me know how your's turned out? what method did you choose?