Toasted coconut Caribbean rice recipe – a quick step by step guide in how to make the fluffiest coconut rice using healthy slow released brown rice.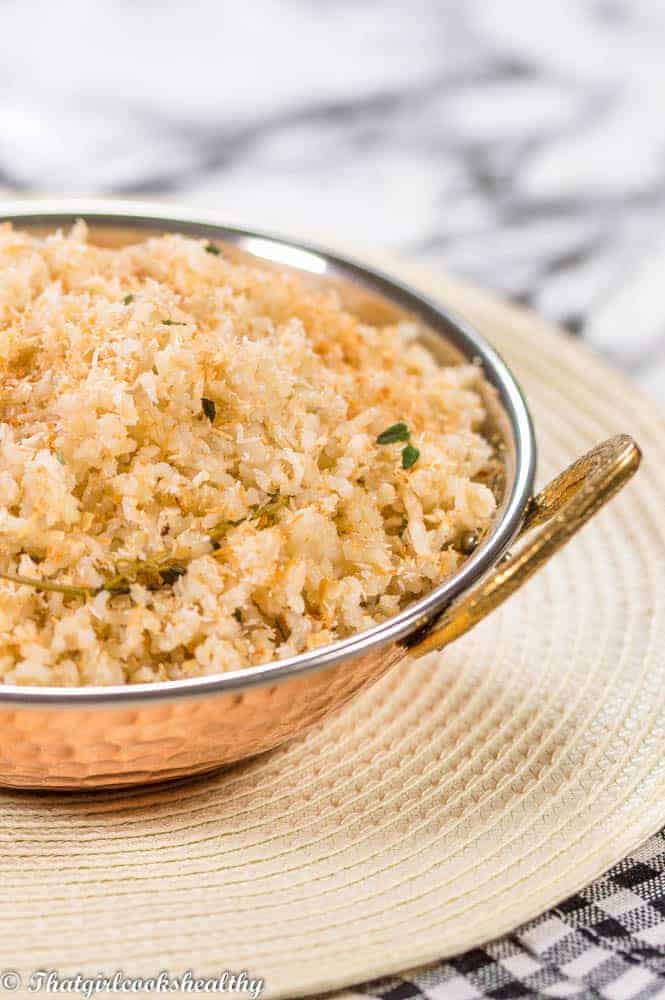 Who doesn't love some toasted coconut Caribbean rice? Especially when it's nutritional dense. I say this because from my research coconut rice tends to be made with white jasmine rice, my recipe contrasts this idea, as I made mine with brown rice due to being a much healthier substitute.
If you're health conscious like myself or simply keen to learn how to cook coconut rice in its simplistic nature with some toasted coconut flakes then let's get down to business.
Ingredients needed to make toasted coconut Caribbean rice
To this recipe you will need the following things ;
Brown rice
Onion
Coconut milk
Water
Himalayan pink salt
Thyme
Dairy free butter
Shredded coconut
How to make toasted coconut Caribbean rice
In order make yield I subtle coconut taste  I went overboard with the coconut by using both toasted coconut and coconut milk to ensure the flavour permeated the rice grains without becoming a sticky mess.
You can use my homemade coconut milk. This potent themed combination guaranteed a strong coconut taste.
Sauteing the onions – you want to saute the onions in the dairy free butter first and foremost so they are soft and flavoursome.
Rinsing off the rice – it says without going that the rice needs to be rinsed off several times to rid by debris.
Boiling the rice – I used a combination of coconut milk and some water to bring the rice to the boil before reducing the heat and then adding the pink salt, onion and fresh thyme (can use dried too).
Toasting the coconut – Toast about 1/4 cup of shredded coconut in the oven for 5 minutes until golden. This  will be tossed into the rice grains towards the end of cooking, before serving.
Can I use fat free coconut milk instead?
Yes, if you want to opt for a low fat content side rice dish then low fat/fat free coconut milk is a more viable option.
Serving suggestions
Grenadian nutmeg cinnamon chicken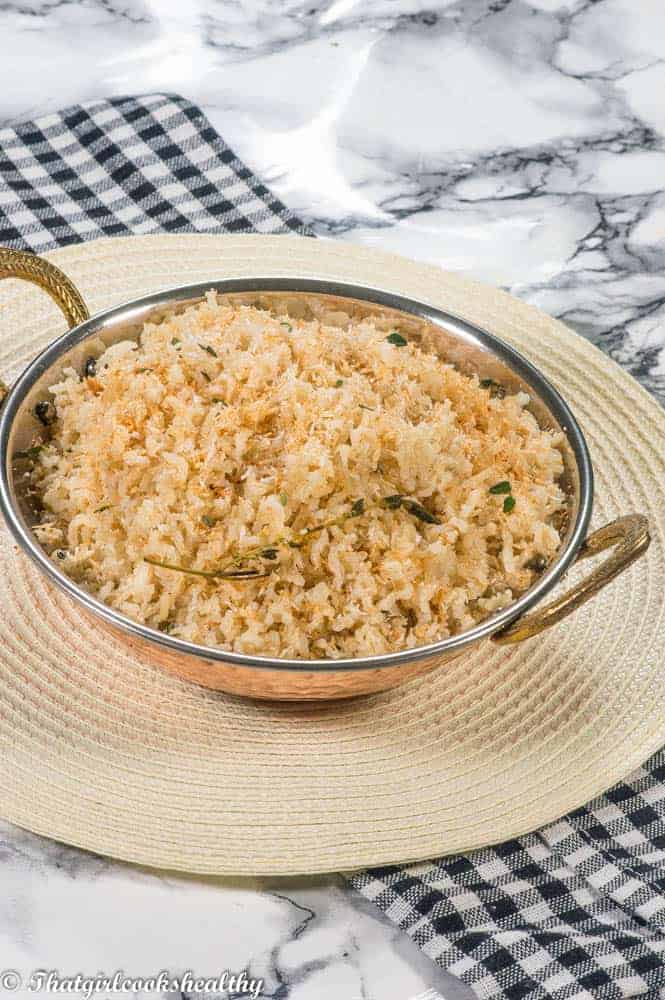 Making coconut rice – cooking tip
The secret to cooking rice without the aid of a rice cooker is finding the correct balance of liquid to 1 part of rice grains. The 1 part rice and 2 parts liquid is the desired sweet spot for fluffy (not mushy rice)
As a general rule, rice shouldn't be too moist and also shouldn't be too drying either, you're looking for a fine balance – somewhere in between (see picture).

Don't keep stirring the rice, once the rice is brought to the boil, cover and allow to simmer for the stated time.
Use brown rice as it is more nutritionally dense and full of fibre
Brown rice takes a while longer to cook than white jasmine rice
This is a vegan and gluten free recipe and freezer friendly too
Steps for making Toasted coconut Caribbean rice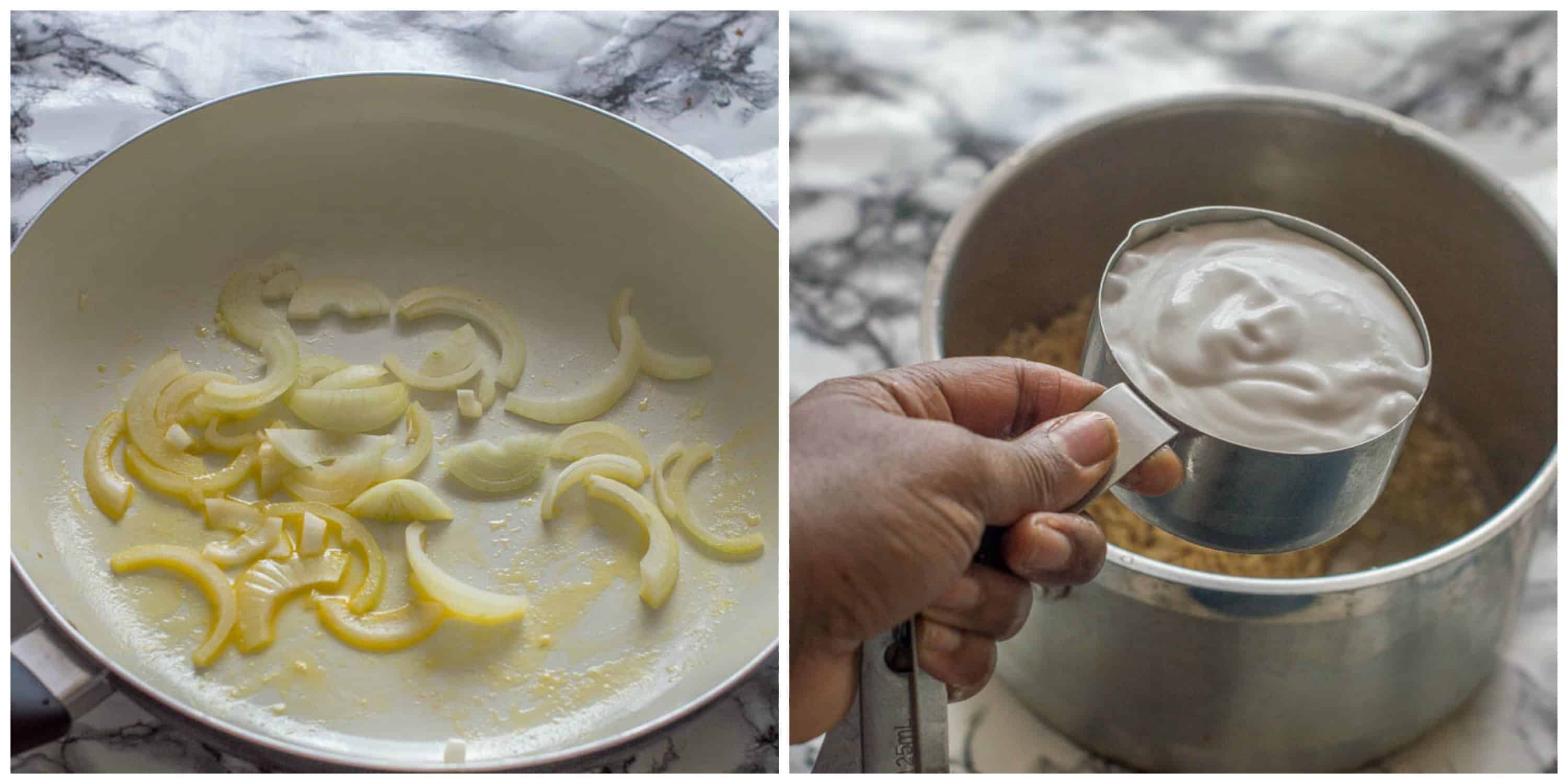 Saute the onions until soft and tender then add the coconut milk, water and additional ingredients.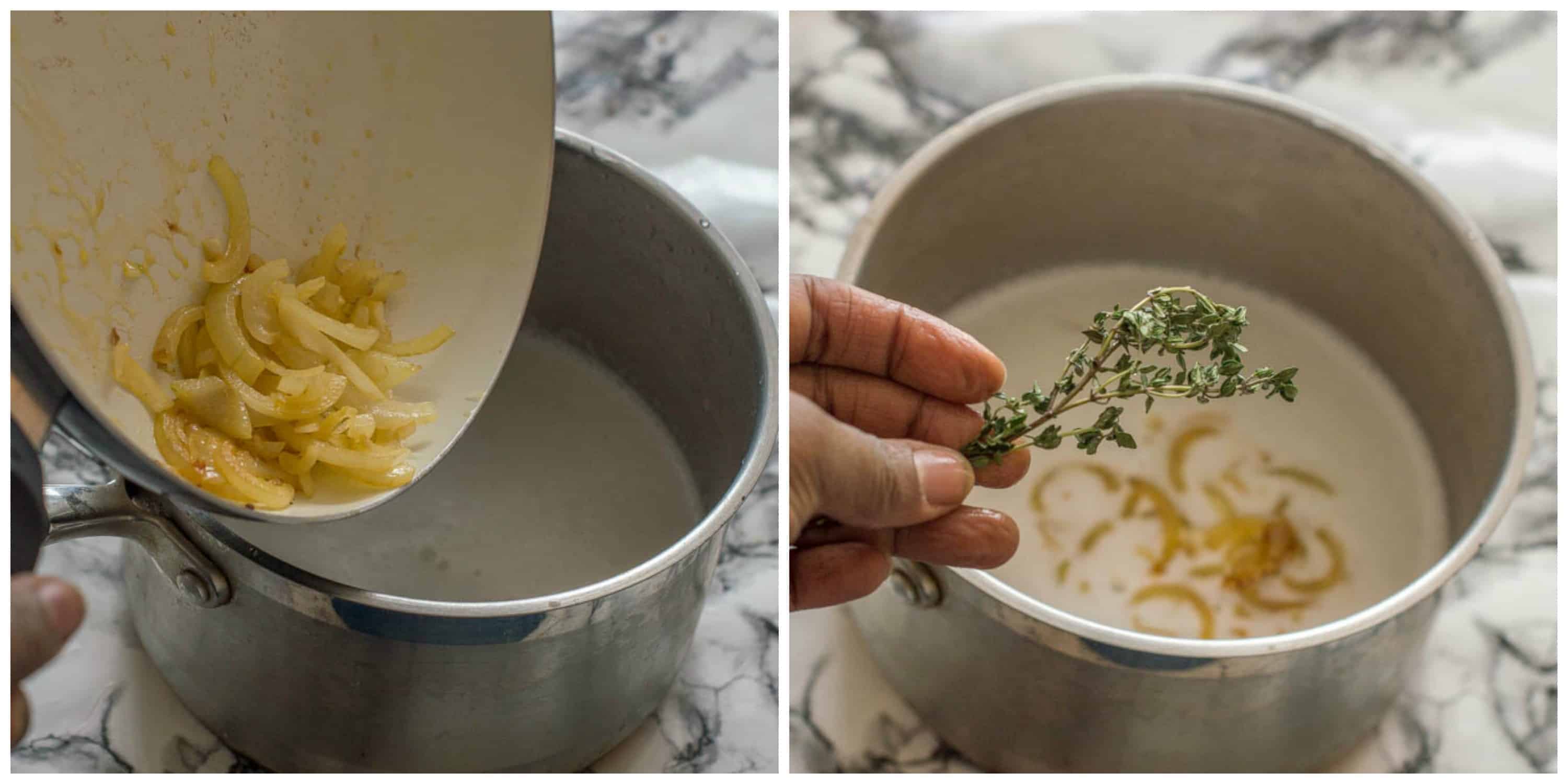 Add the thyme and onions to the rice with liquid before bringing it to the boil and simmering to cook.
Print
Toasted coconut Caribbean rice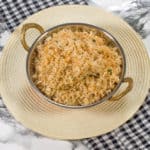 Learn how to make the fluffiest island style toasted coconut Caribbean rice
Author:
Prep Time:

10 mins

Cook Time:

25 mins

Total Time:

35 mins

Yield:

2

-

4

1

x
Category:

Extras
Scale
Ingredients
1 cup

of brown rice

1 cup

of coconut milk

1 cup

of water

1

small onion, sliced

2 tbsp

of dairy free butter

1/2 tsp

of himalayan pink salt

1tsp

of thyme (dried or 

2

sprigs of fresh)

1/4

  cup of shredded coconut
Instructions
Preheat the oven at 180c, line a tray with parchment paper and spread the coconut on it evenly and toast for 5 minutes or until golden/
Wash and strain the rice to remove unwanted debris and set aside
Melt the butter on medium heat then saute the onion until soft.
In the meantime, heat the saucepan on high heat, add the brown rice,  coconut milk, thyme, pink salt and sauteed onions then stir a few times to avoiding sticking.
Once the pot begins to boil, reduce heat, cover and leave to simmer for approximately 20-25 minutes.
During the allocated cooking time, ensure to check rice periodically to avoid sticking and evaporation. if the liquid has absorbed and rice is still hard, gently fold in some more water and leave to simmer for longer. If rice is over saturated with water remove the lid and allow excess liquid to dissolve.
Once rice is cooked it should be light and fluffy – test the grains with a fork then toss in the toasted coconut prior to serving