Green banana porridge – a traditional hearty Jamaican savory porridge made with unripe bananas or even green plantain served for breakfast.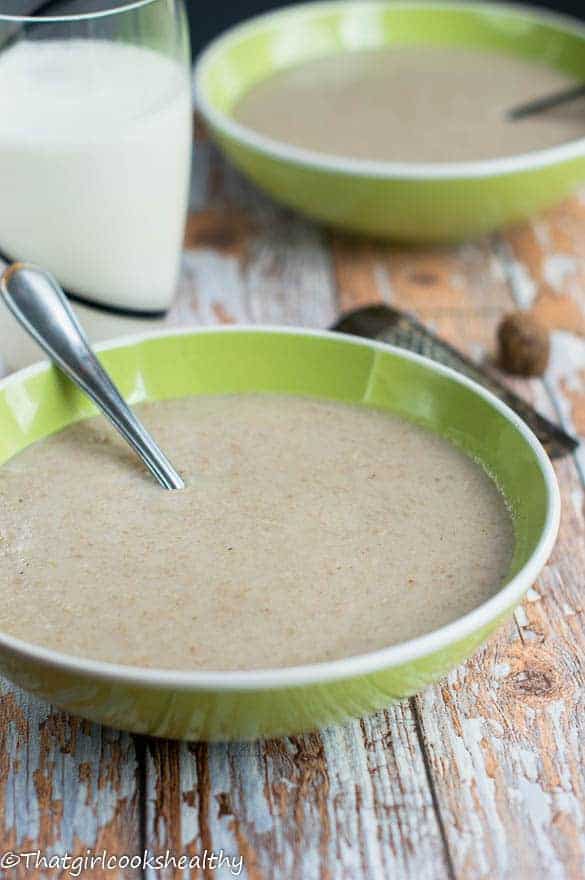 Green banana porridge is a favourite breakfast for many Jamaicans because it is packed with essential minerals and vitamins that not only sustain energy levels but help yield a long lasting fuller feeling. I personally drink this porridge on a weekly basis and cannot get enough of it.
For those of you who aren't in the loop regarding green bananas do not fret as I am more than willing to share what knowledge of have about green bananas and hopefully convince you to give this recipe a try. In short green bananas are literally unripened bananas, you know those yellow sweet chiquita bananas that you probably eat every day, well that's them.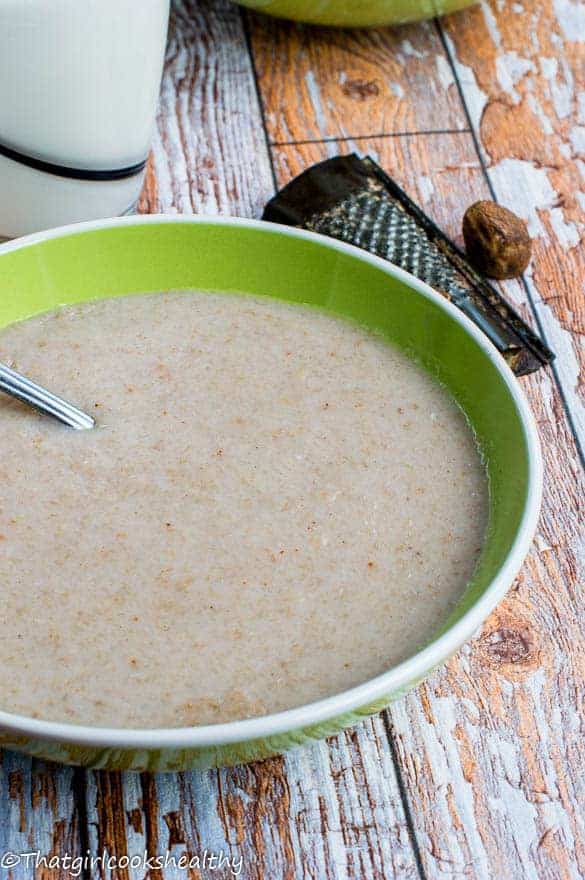 Unlike the ripened crop, green bananas aren't eaten in their raw form, instead we boil or fry the, depending on one's cultural custom. There was a myth that I often heard while growing up among the Caribbean community, that green bananas are a good source of iron.
The truth be told they contain a very small amount of iron. Spinach, callaloo or kale would be a much viable source of iron if you're on a mission to replenish your red blood cells.
This wonderful crop contains properties like such as potassium which is crucial for the functioning of the kidneys, helping to keep a healthy balance of sodium in the body while expelling excess water.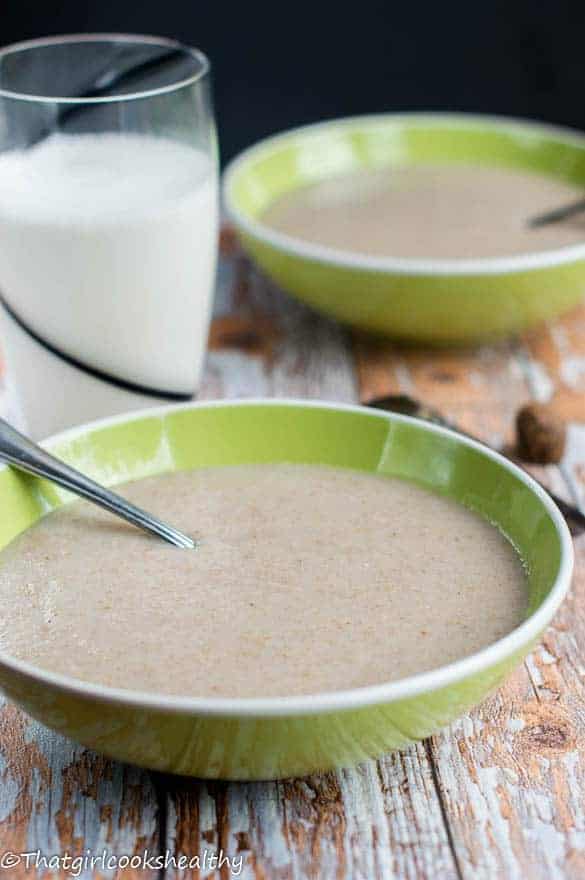 Resistance starch is an indigestible fibre which slowly sweept through the entire digestive tract evoking a fuller feeling whilst relieving constipation.
The aforementioned properties are said to aid lower cholesterol levels, weightloss, and balance blood sugar levels.
Keep in mind this recipe is totally vegan, I used coconut milk – full fat or homemade that's emulsified to get that creaminess  and condensed coconut milk to replicate the Caribbean people's love for conventional condensed milk. Also, you can make this recipe with a green plantain if you wish.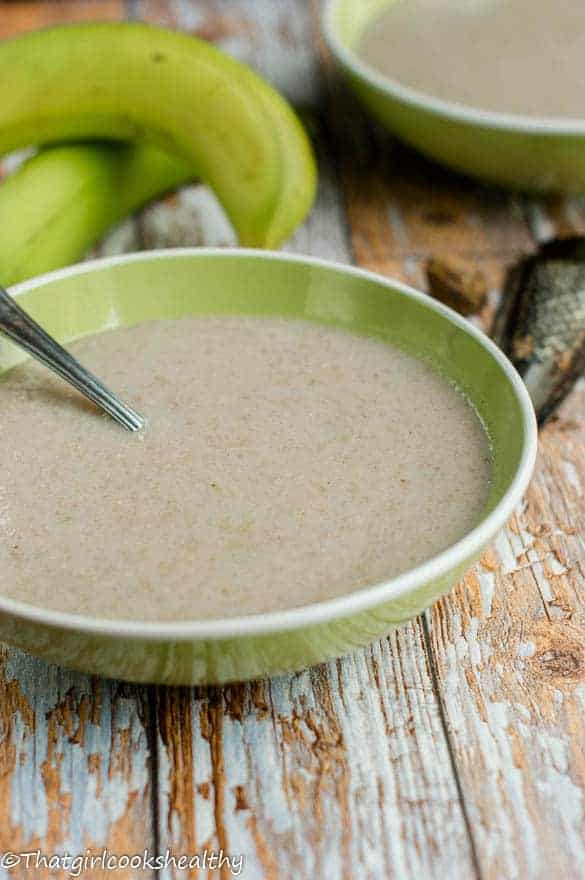 Print
Green banana porridge (Vegan style)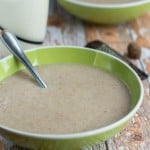 Paleo, gluten free, vegan
Author:
Prep Time:

3 mins

Cook Time:

15 mins

Total Time:

18 mins

Category:

Breakfast

Cuisine:

Caribbean
Ingredients
3 Green bananas
2 1/2 cups of water
2 cups of coconut milk (full fat)
1 tsp of vanilla extract or powder
1/4 tsp of nutmeg
1/4 tsp of cinnamon
1/8 tsp of himalayan pink salt
1/3 cup of condensed coconut milk (or sweeten to taste)
Instructions
Wash the green bananas to remove any debris.
Cut the tips of each banana and make an incision length ways with a pairing knife. Follow the incision around the banana in a circle so that the peel is removed and discard.
Slice the banana into large discs and put in the blender with the water and puree.
Once pureed pour the liquidised formula into a large sauce and begin to boil then reduce heat while stirring.
Then stir in the coconut milk with the spices, pink salt and vanilla.
Finally pour the desired amount of condensed coconut milk and allow to boil for a further 5 minutes. Do not overstir as it will quickly become too thin, stir once of twice throughout the given time.
Serve accordingly.