Organic condensed milk – Learn how to make this easy organic condensed milk that's made from coconut milk making it perfect for a vegan lifestyle.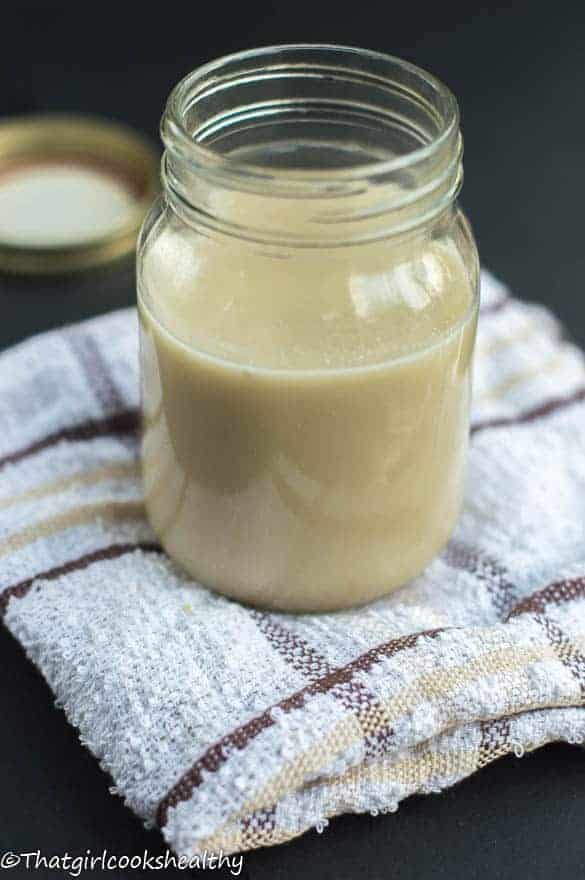 After submitting my Jamaican cornmeal porridge recipe, ya didn't think I'd leave you hanging? huh? No that's not my style, I'm a teaser but one who is true to her word. As previously mentioned I would disclose the condensed coconut milk recipe within a few days.
There are a lot of recipes floating around the web that call for full fat coconut milk from a can. I don't have a problem with using the canned stuff if it wasn't ladened with additives and preservatives. This made me feel very isolated from the condensed coconut milk crew as I didn't want to succumb to the concept of using canned milk with extras plus it wouldn't be fair on my readership.
Unfortunately, homemade coconut milk won't suffice simply because of the large volume of water needed. I tried in vain with my homemade coconut milk only to be defeated, believe me the results were humourous.
I used organic coconut milk (full fat) and coconut palm sugar which has a very low glycemic index. As the process of condensing milk requires evaporating the excess water this is quite time consuming but the time and effort certainly pays off. I'm talking roughly 25 minutes or so but can leave overnight to set if you wish to do so.
***** please note that this recipe has been updated since I first posted it.
Just keep in mind the milk itself won't completely thicken so I have changed to recipe a little to quicken the process
The finishing results – dairy free condensed coconut milk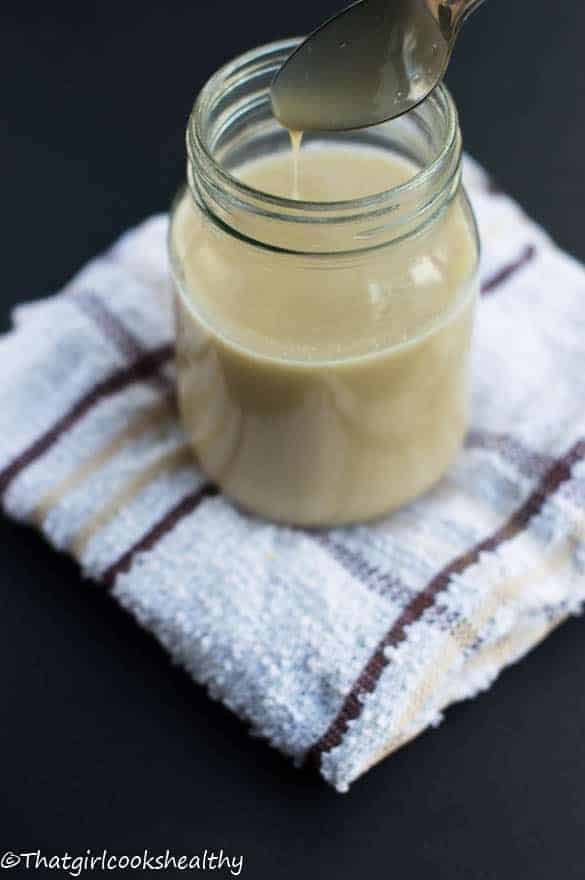 Print
Organic condensed coconut milk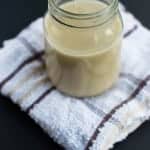 Gluten free, paleo, vegan, vegetarian
Ingredients
1 can of organic coconut milk
1/4 cup of organic coconut palm sugar
1 tbsp of tapioca starch mixed with 2 tbsp of water
** recipe has been updated since see changes below
Instructions
Start off by pouring the coconut milk into a saucepan and boil for 5 minutes on high heat. Be sure to keep a watchful eye so the milk doesn't burn or bubble over.
After 5 minutes reduce the heat to low and pour in the coconut palm sugar – whisk thoroughly.
Leave saucepan to simmer for 25 minutes – through out this time, stir the mixture periodically.
Around 20 minutes into the simmering the texture of the milk with begin to thicken slightly with a dark hue of brown (see picture above).
To hasten up the process I have now modified the recipe with tapioca starch to thicken and reduce time so stir in the starch now.
Once desired texture is reached, set aside until cool before leaving it to completely chill in the refrigerator overnight. The mixture will thicken completely and set overnight, ready to use however you can use immediately
Lasts for atleast one week
Notes
Lasts for at least one week
Make sure to occasionally stir during the entire cooking time.