pigeon pea salad!! Bite into a taste of the tropics this lunch time with this vegan style legume salad made from gungo peas and mixed vegetables.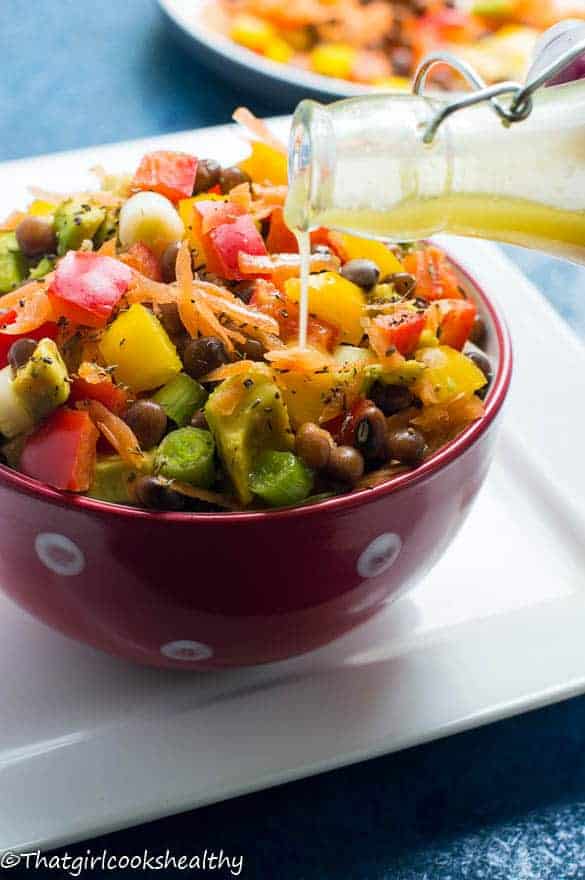 Now we're really delving into some Caribbean flare with this pigeon pea salad. I'm sure you already know that I'd be on hand to provide the alternative name to gungo peas. In the Caribbean (English speaking islands) you'll find these peas referred to as pigeon or congo peas.
Growing up gungo peas (pigeon peas) would make a regular appearance on Sundays, why on the weekend you may ask? Well because we'd rotate between rice and peas (technically red kidney beans) or gungo peas and rice. There was always a huge divide in the house, some of us were partial to red kidneys while myself and co enjoyed gungo peas and rice.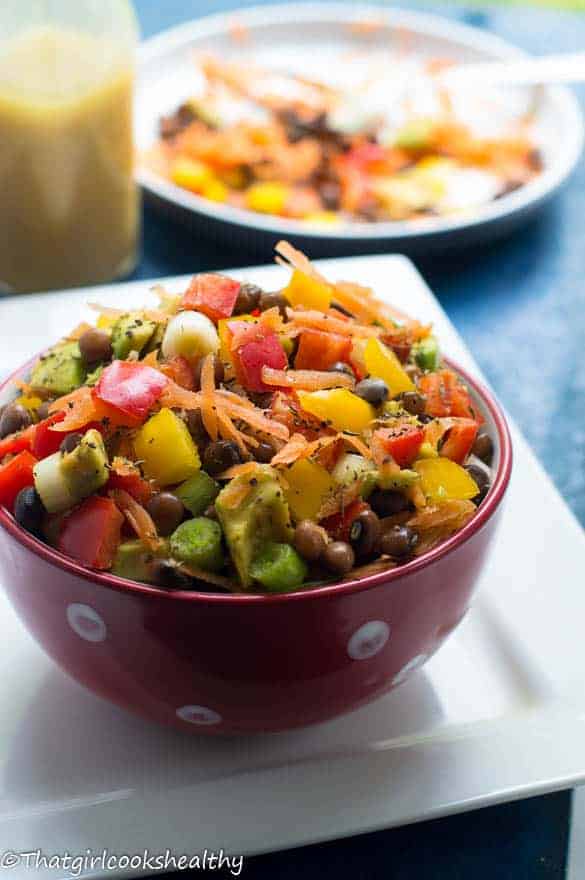 Growing up and eating pigeon peas/gungo peas
Mom would make a large batch of both variants and of course Charla was always there to gobble up the gungo peas. Aside from making gungo peas and rice on Sundays, we didn't really incorporate them much in other recipes, at least not that I recall.
Fast forward into the future I'm looking at creating inventive ways to mix old traditions with temporary flavours. Actually, that is what inspired me to make this gungos pea salad – combing the old school with new school and you know what it totally works because you'll get a taste of the Caribbean while watching your weight.
The health benefits of pigeon pea salad
That's right, it's low in fat and high in protein ideal for a calorie controlled diet.
The fibre and protein from the peas help to stabilise glucose (blood sugar) which is highly crucial for metabolic disorders affecting the liver or pancreas, diabetes is a prime example.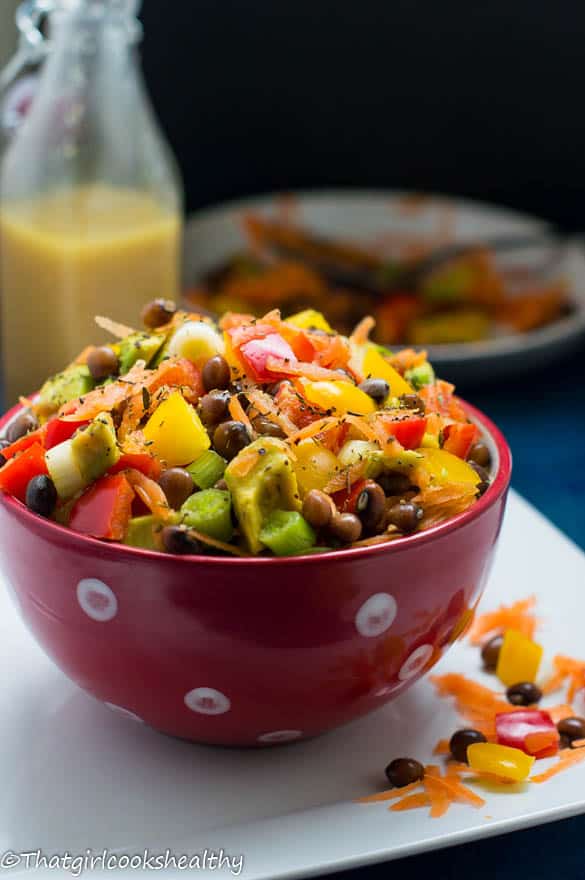 About the gungo peas salad and prep tips
Don't be alarmed by the use of avocados, it won't have any bearing on a calorie control diet, if that's your concern. Avocados are enriched with omega fats which help to relieve inflammation and keep our brain cells rejuvenated along with maintaining a healthy heart.
The true flavour of this legume salad comes from the dressing, don't skip the dressing, it's the epitome of goodness. Furthermore, it's the same dressing that I featured in my Belizean mango salad recipe. Do you remember that dish? If so, then you won't want to skip this one.
To save on the prep work use canned beans.
I really want to make this legume salad, can I use something else if I can't find pigeon peas?
If obtaining pigeon/gungo peas is a problem simply use black eyed peas instead, but do make sure the peas are saturated in water only without additives.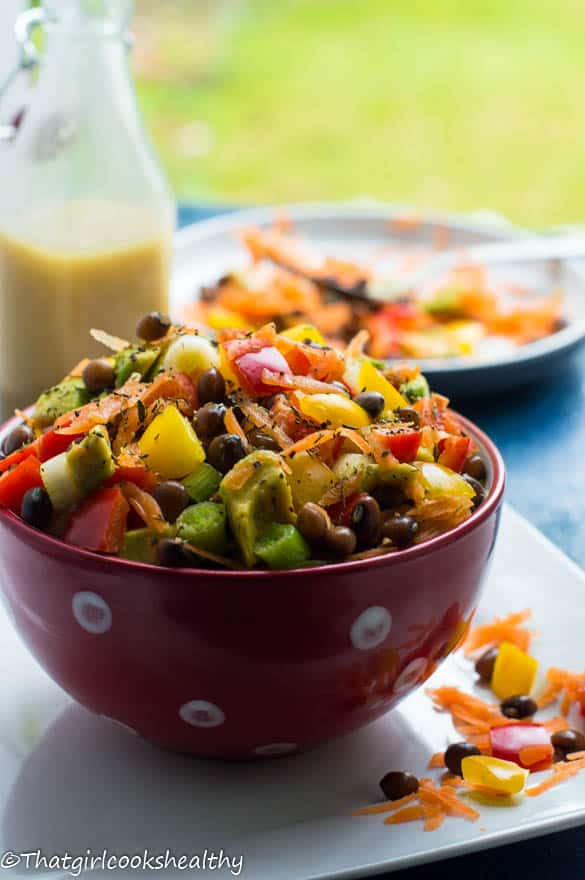 Print
Gungo peas salad (pigeon peas)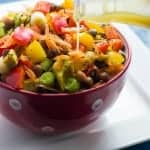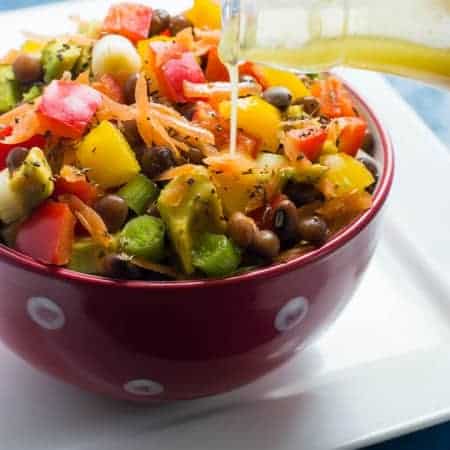 Author:
Prep Time:

5 mins

Total Time:

5 mins

Yield:

2

Category:

Lunch

Cuisine:

Caribbean
Ingredients
1 cup of pigeon/gungo peas (or 1 can drained)
1 small carrot, grated
3 scallions, sliced
1 cup of bell peppers (sweet red peppers and yellow mixed)
1 large avocado, chopped.
———————————————–
Dressing
For the dressing
2tsp of ginger, minced
The juice of one lime
1/2 tsp of garlic granules or two small garlic cloves, crushed
1/4 tsp of sesame seed oil
4tbsp of extra virgin olive oil
1 tsp of coconut palm sugar
⅛ tsp of coconut aminos
a dash of himalayan pink salt
1 tsp of dried thyme (to garnish)
Instructions
Arrange all of the veggies in your favourite bowl or on a plate.
Pour a generous amount of dressing over the entire salad and garnish with the dried thyme.
Serve accordingly
**double or triple the batch of dressing if required**