Sweet potato mash recipe – a simple mash made with boiled sweet potatoes and seasoned with a hint of nutmeg making it the perfect paleo option.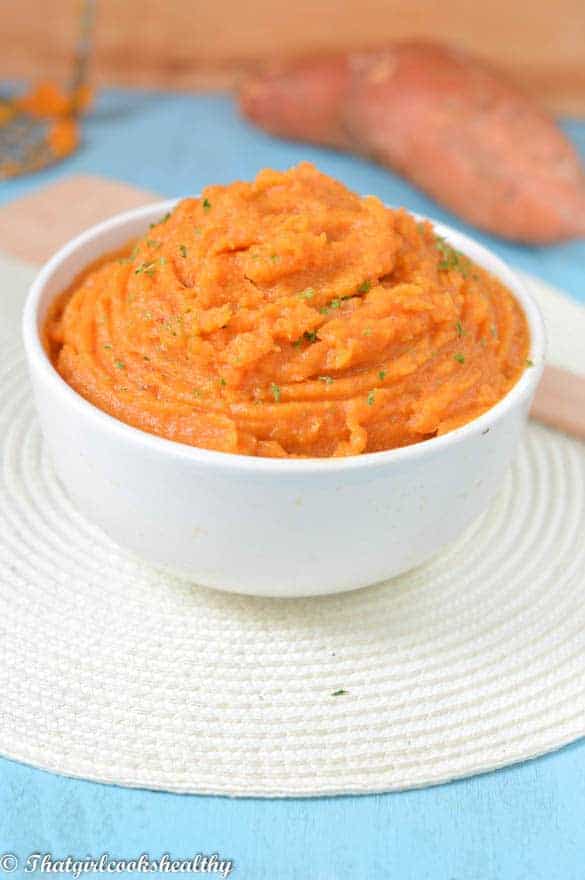 Wow, can you believe January has flown by oh so quickly? Neither can I, it was just the other day when everyone was talking about Christmas and their New Year's resolutions.
Speaking of which, how are those resolutions coming along? At least one or two of you probably slipped up here and there. I won't give you a rant about why I never do them, but I will say this, I like to start as I mean to go on.
Lately, I've been eating sweet potatoes like they're going out of fashion. Every meal I have eaten for the past two weeks has featured sweet potatoes and we're now in February and guess what Charlene is eating today????? **drum roll** some SP's – not even going to give them some credit by their name, you know what I'm talking about.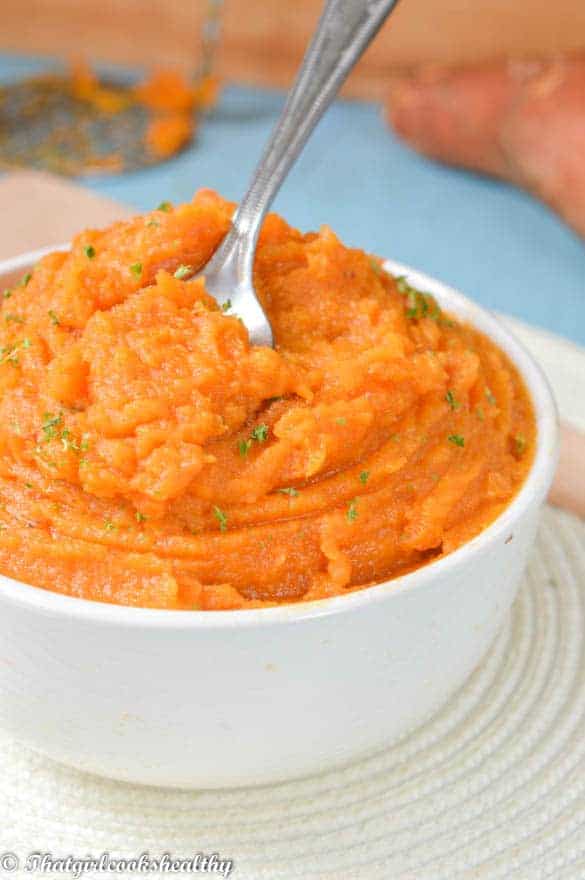 Sweet potatoes are one of those veggies that's on the fence for many people. I know why this is, it's simply because the name renders this thought of eating a vegetable loaded in sugar that's equivalent to eating a processed mars bar, am I correct? Yes, while sweet potato is a starchy vegetable and just like with most starchy veggies, is a sweet high quality complex carbohydrate.
The small amount of fructose in sweet potatoes can be a major problem for people with gastrointestinal problems as it can irritate the lying of the intestine, where the absorption process takes place  and/or causes bloating. Thankfully, I  don't have any problems consuming sweet potatoes. In spite of their questionable sugar content,  they are indeed classified as a clean starch.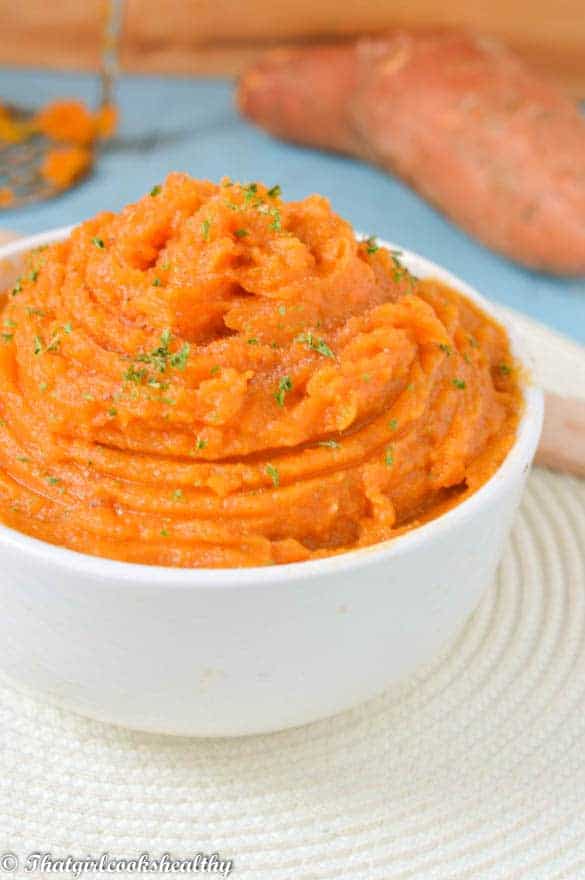 Many paleo and gluten free followers eat them with no problems at all because they are a nutritional powerhouse of anti oxidants, vitamin A and B6, packed with iron, magnesium and fibre.
The way a piece of sweet potato is metabolized is slightly different from how a candy bar is broken down and I think people need to pay close attention to the nutritional content as you could be missing out on something that compliments the body rather than destroys it.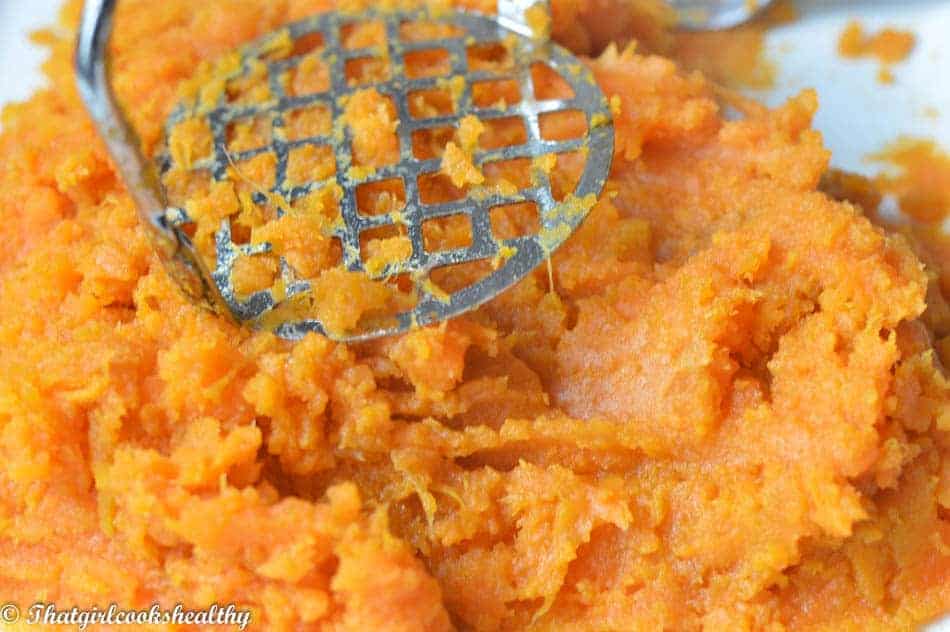 This recipe is super easy, simply boil the potatoes for roughly 30 minutes in their skin, this will make it easier to remove once cooked and save the hassle of scraping if off. Once cooked, remove from pan, allow to cool and use a masher to crush the potatoes.
The skin should fall off whilst doing so. As a side note, to make the potato creamy pulse a fraction of the potato in the food processor and mix with the rest.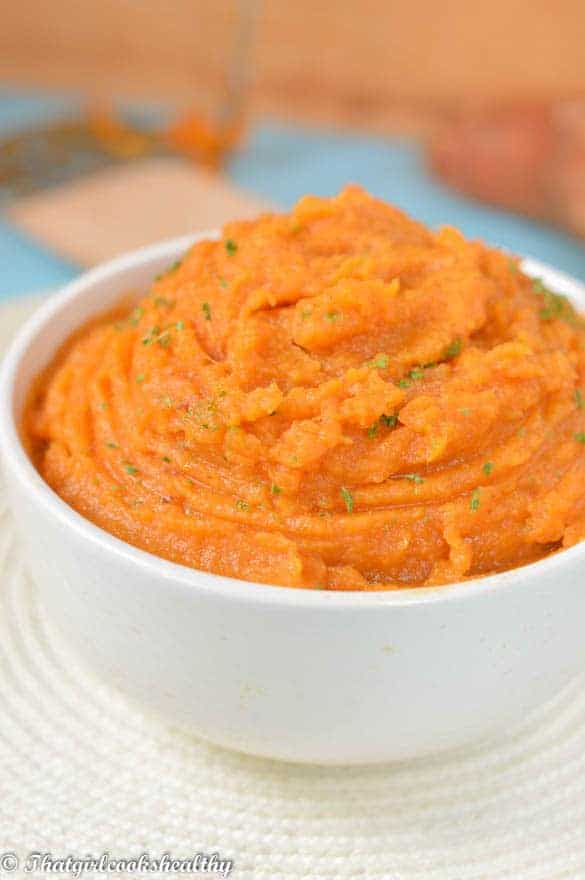 I paired this sweet potato mash with my side kick nutmeg. While I am on the subject of nutmeg, there are reports of nutmeg causing psychotropic effects. I can assure that that you will do have an adverse effect from nutmeg unless it is abused, in other words, taken in high doses and with the intent to induce a hallucinogenic state.
Nutmeg has anti viral, analgesic, antibacterial and anti inflammatory properties. It is widely used in many countries and it especially embraced in the Caribbean region unscratched.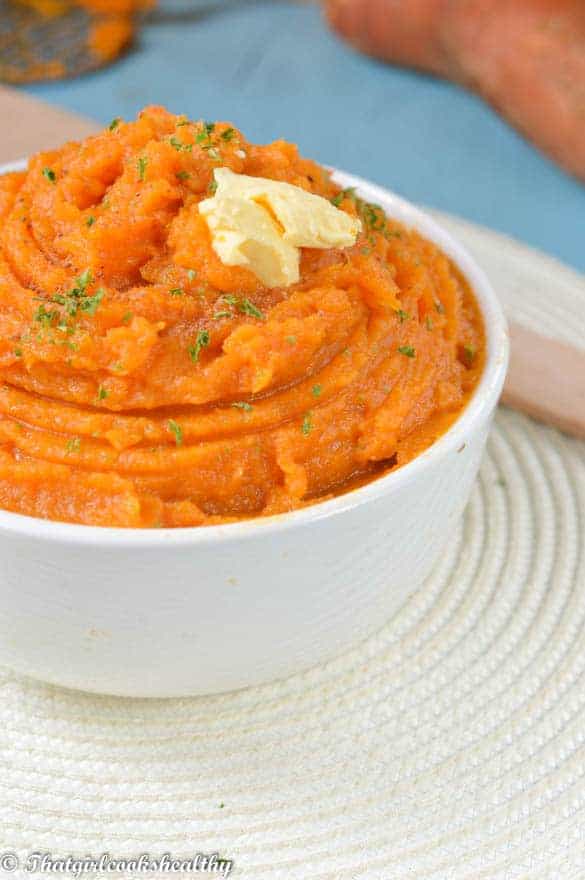 So chill-laxic and get enjoy this side line appetiser!
Print
Sweet potato mash recipe (vegan)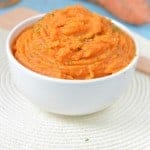 Paleo, gluten free, vegan
Author:
Prep Time:

2 mins

Cook Time:

25 mins

Total Time:

27 mins

Category:

Appetiser
Ingredients
3 large sweet potatoes
1-2 tsp of ground nutmeg, depending on taste
12 oz of water (depending on size of pot used)
Instructions
Place the sweet potatoes in a large pot and pour the water into the pot and bring to the boil.
Leave the heat on high and allow the sweet potatoes to cook for 25 minutes or until the potatoes are soft.
Test the readiness of the potatoes by inserting a fork, it should be soft to the touch.
Once cooked, carefully remove the potatoes from the pot and set aside to cool.
Use a masher to smash the potatoes into smaller pieces and remove the skin as you continue to break down each one.
Use a fork to mix in the nutmeg evenly.
For extra creaminess add a quarter of the crushed potato to a food processor and pulse for a few seconds and add to the rest of the smashed potato.