Simple shrimp salad recipe – This tasty low fat seasonal salad consists of shrimp on a bed of leafy green rocket, cherry tomatoes, red onions, cucumber drizzled with a sweet garlic dressing.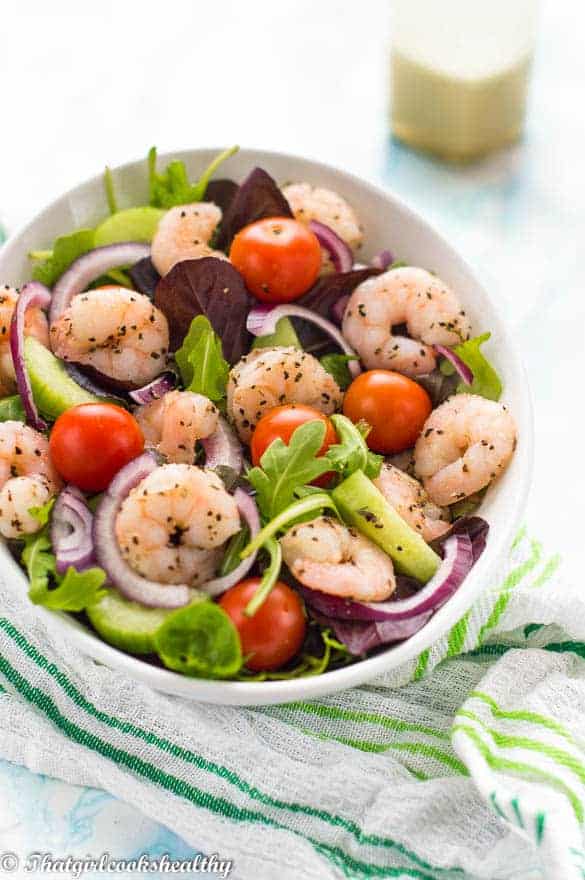 During spring and the summer months in the UK, like many Western countries salads are big business. The crockpot, slow cookers and pie dishes are often stored away for several months. They are traded in for recipes that call for fresh leafy greens, citrus fruit and generally food that is light and airy.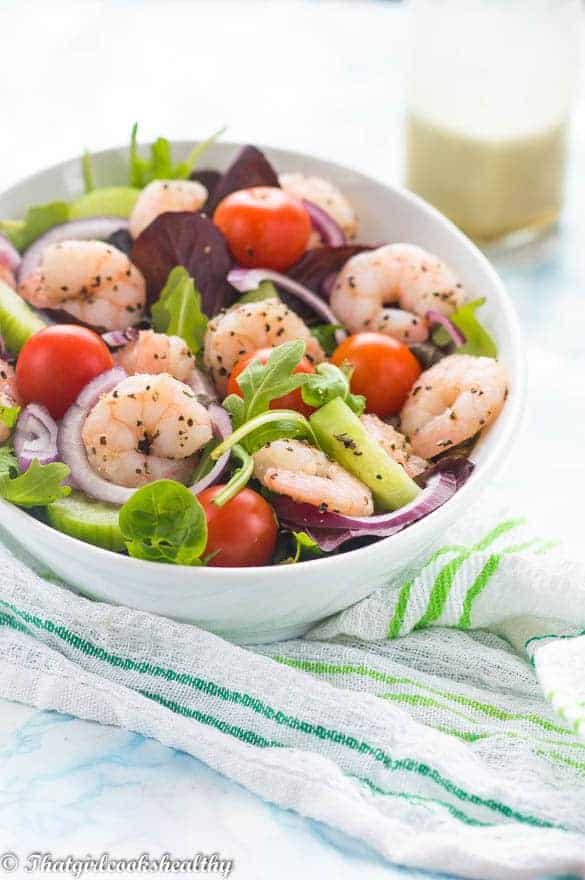 As a foodie this is the time of year where I get to explore recipes that are easy to prepare while retaining their flavour. This simple shrimp salad is a prime example of what I'm referring to. It's a tasty no fuss salad with many ingredients which you've probably used at some point.
My choice of greens is rocket which I feel is underrepresented compared to lettuce and spinach. It's a healthy green goodness and loaded with an abundance of minerals and vitamins such as copper, potassium, fiber, vitamin A, pantothenic acid, iron, calcium phosphorous just to name a few. Combined with some baby cherry tomatoes, sliced red onions and cucumber slices for additional nutritional content.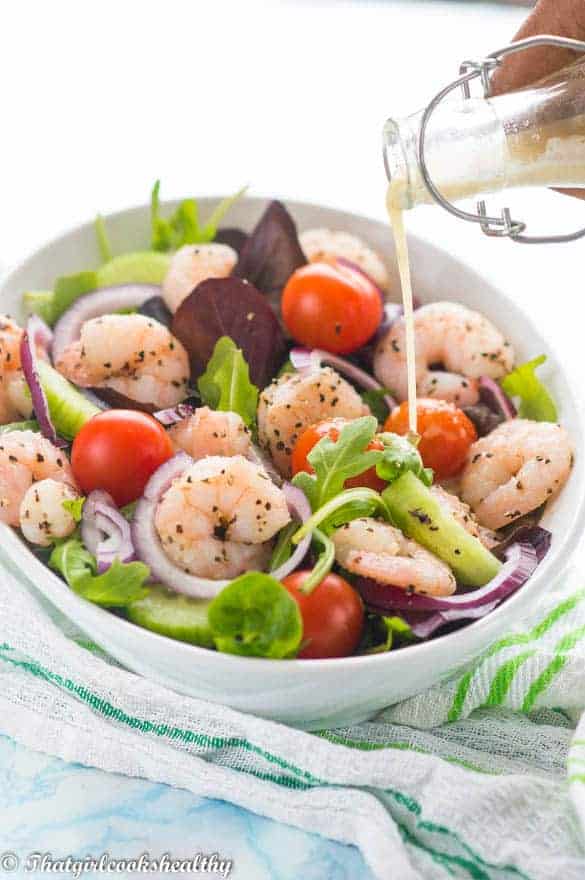 No salad would be perfect without a dressing and this sweet garlic dressing made from coconut nectar for a low GI index option with garlic cloves, extra virgin olive oil, apple cidar vinegar with black pepper, himalayan and some parsley will tantalise your taste buds. The dressing can be easily prepared in a blender to breakdown the garlic cloves and combine the rest of the ingredients together.
I like to use a oval sloping bowl to house the actual salad – starting with the rocket and then adding the rest of the ingredients before tossing them together with a final drizzle of the sweet dressing. You can use whenever bowl you want for this weightloss salad, just don't skimp on the leafy greens and go wild with the dressing and thank me later!
Want more summer salads? Why not try this mango prawn salad or this  avocado zucchini salad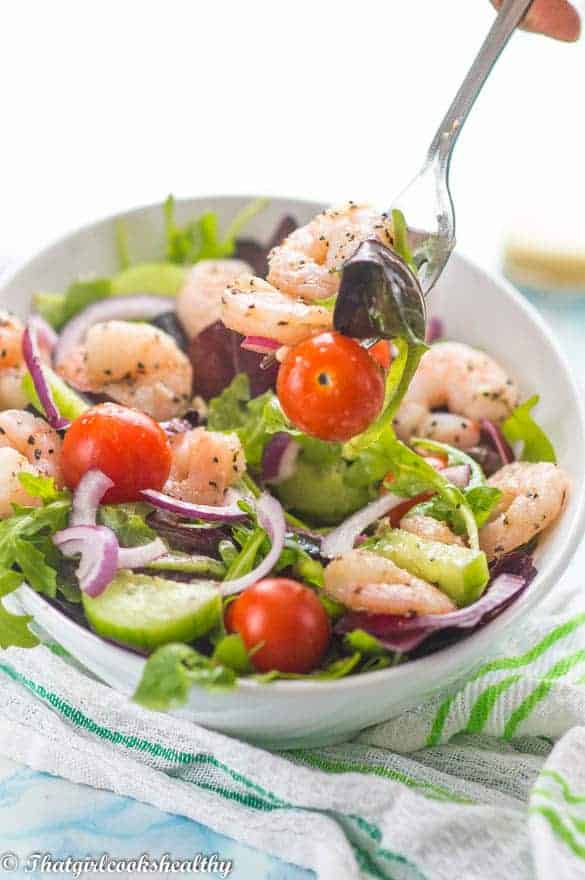 Print
Simple shrimp salad recipe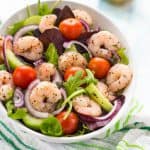 Delicious low fat shrimp salad drizzled with a sweet garlic dressing
Ingredients
200g of cooked shrimp, devained
1 tsp of black pepper
1 tsp of garlic granules
1/4 tsp of himalayan pink salt
8 cherry tomatoes, washed
90g of rocket (a small bag), washed
1/2 cup of cucumber, sliced and halved
1 small red onion, sliced
---
For the dressing
2tbsp of coconut nectar
2 garlic cloves
2 tbsp of extra virgin olive oil
3 tbsp of apple cidar vinegar
1/4 tsp of black pepper
1 tsp of parsley
1/4 tsp of himalayan pink salt
Instructions
In a medium sized bowl coat the shrimp with the garlic granules, pink salt and black pepper and set aside
Add all of the ingredients for the dressing to a high speed blender and blitz.
In a salad bowl of your choice arrange the rocket along with the tomatoes, red onion and cucumber slices.
Add the shrimp to the leafy salad bowl and toss everything together.
Drizzle the garlic dressing all over the salad and enjoy!!
Notes
Shrimp is also known as prawn