Air fryer shrimp recipe – delicious gluten free jumbo sized shrimp breaded in shredded coconut and cooked within minutes in an air fryer.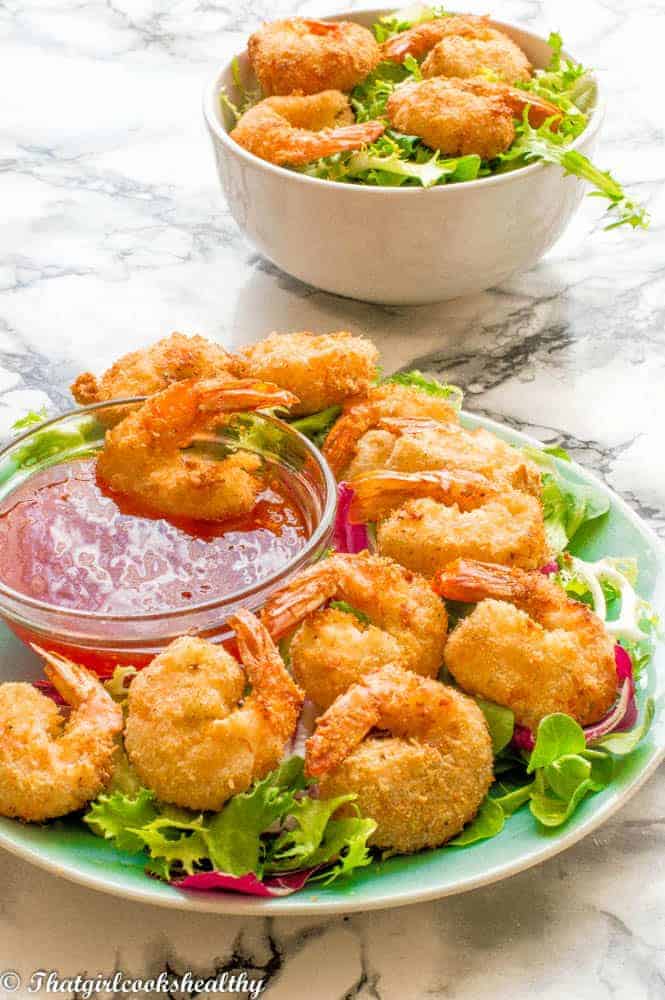 If you are a fan over crispy shrimp but don't care for the excess deep fat frying then this recipe is for you. My flourless coconut encrusted shrimp is made to sheer perfection – tasty, crispy and very very simple to make within minutes using a few ingredients.
When I first received my air fryer I was elated with it. I had seen it before on commercials, it looked for enticing. I said to myself I really want to add this device my ever growing number of kitchen gadgets. Fast forward a few months later and I'm in love with Phillips XL air fryer.
One of my first blog websites using my air fryer was my Jamaican fried chicken. This recipe was a hit with my readers and also in my personal life. I cannot wait to test it out some more and show you what other in genius foods that I can add a spin to.
Cooking shrimp in an air fryer
I have to admit since transitioning to an air fryer I haven't looked back. I like I said there's plenty of trial and error going down in Charla's house but it's definitely a keeper. I like the fact that little to and/or no oil is used (depending on what you're cooking/preference).
My biggest hurdle that I was able to overcome to deep fat frying. Like many of us I've made deep fried food in the past. While that sort of food isn't healthy, I would deny certain foods are incredibly tasty so making some air fried shrimp without drowning my fish in oil is a HUGE advantage.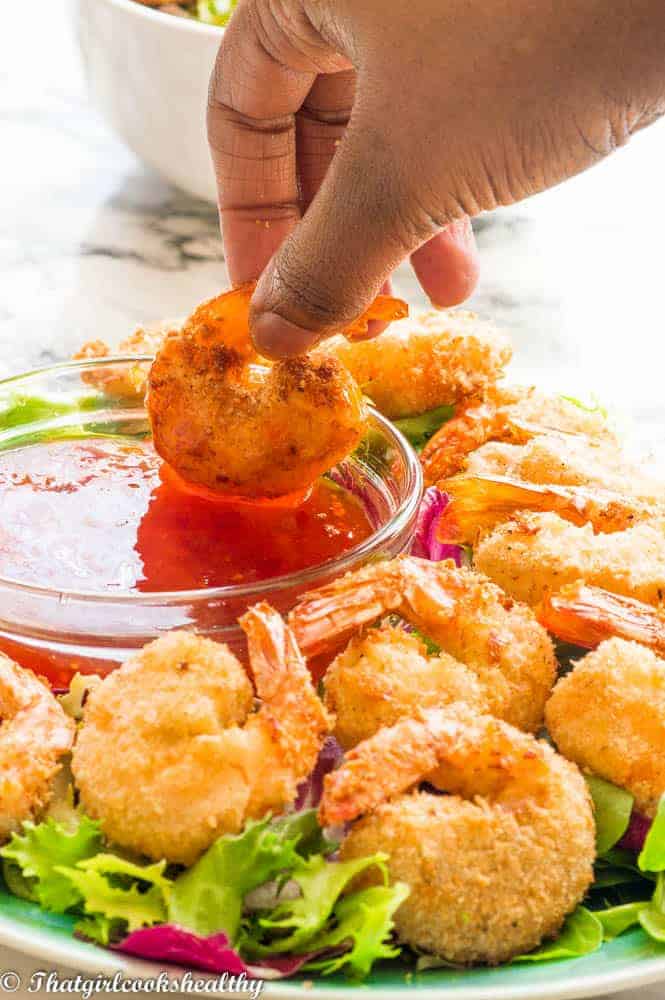 Ingredients to make air fryer shrimp
Coconut, shredded
Almond meal
Coconut milk or almond works too
Shrimp
Seafood seasoning
Eggs
Tapioca flour
Oil – spray works best
How to make air fryer shrimp
Shrimp – I used shrimp that's jumbo in size with the tail on. The tail is great if you like that crispy crunch and also for holding when dipping and coating. You'll need to devain the by running a knife down the shrimp to remove the vain and also make sure your choice in shrimp in raw (the grey hue ones) which yield a longer cooking time.
Batter mix – Rather than do a 1-2-3 step dredge and coat technique I changed things up a little by mixing together the tapioca starch with the coconut milk, some of the seafood seasoning and the egg. The forms a great sticky batter that holds the coconut coating even better.
Coating the shrimp – The coconut and almond meal work in unison to create a nice coating for the shrimp. Hold the shrimp by it's tail and simply roll then tap off any excess.
Air fryer basket – Before you add the shrimp to the fryer basket, generously coat/spray in oil. This prevents any sticking. Once I add the shrimp I lightly spray the top of the shrimp from a distance too.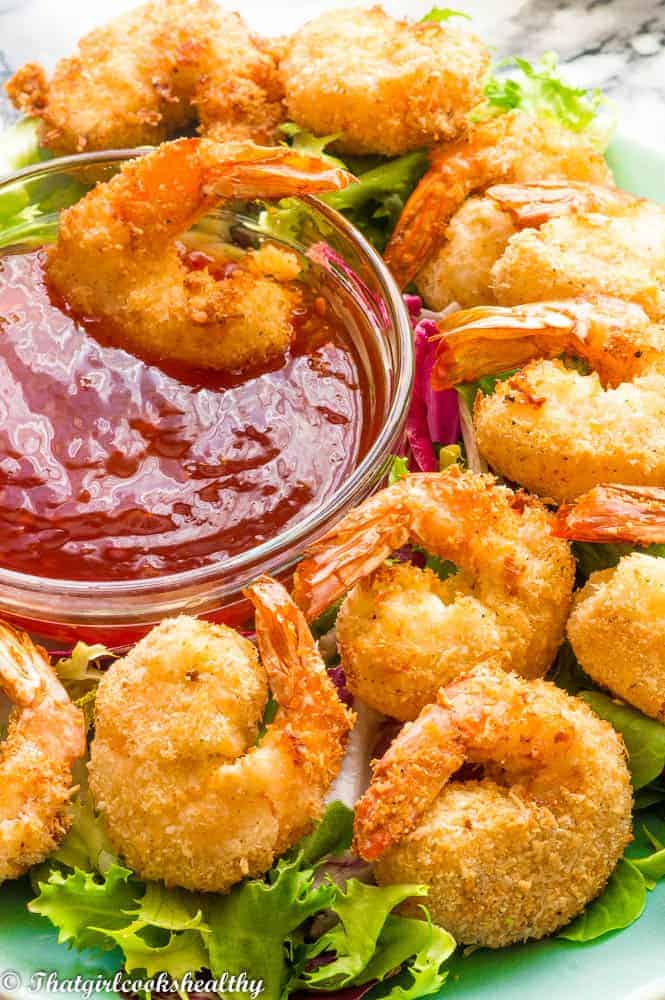 How long does the shrimp take to cook in an air fryer?
It only takes a maximum of 10 minutes for both sides to fry.
Can I use frozen shrimp to make this recipe?
Yes, as long as you thaw thoroughly and blot of the excess water. Frozen shrimp in the air fryer works just fine.
Step by step – making air fryer shrimp (with pictures)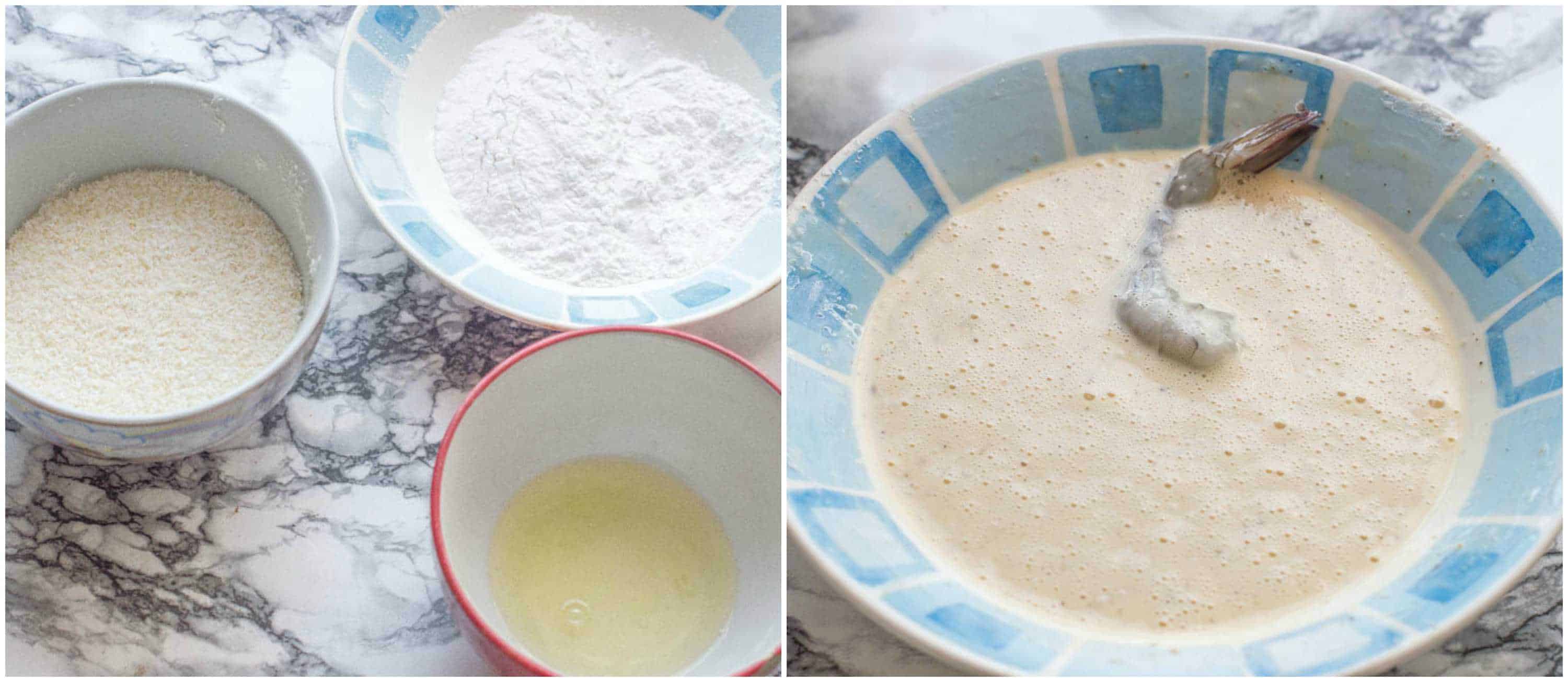 Set up your three bowls – tapioca starch, egg and coconut/almond meal and mix together the egg with the tapioca starch to form a smooth batter. Take each shrimp and dip into the prepared batter.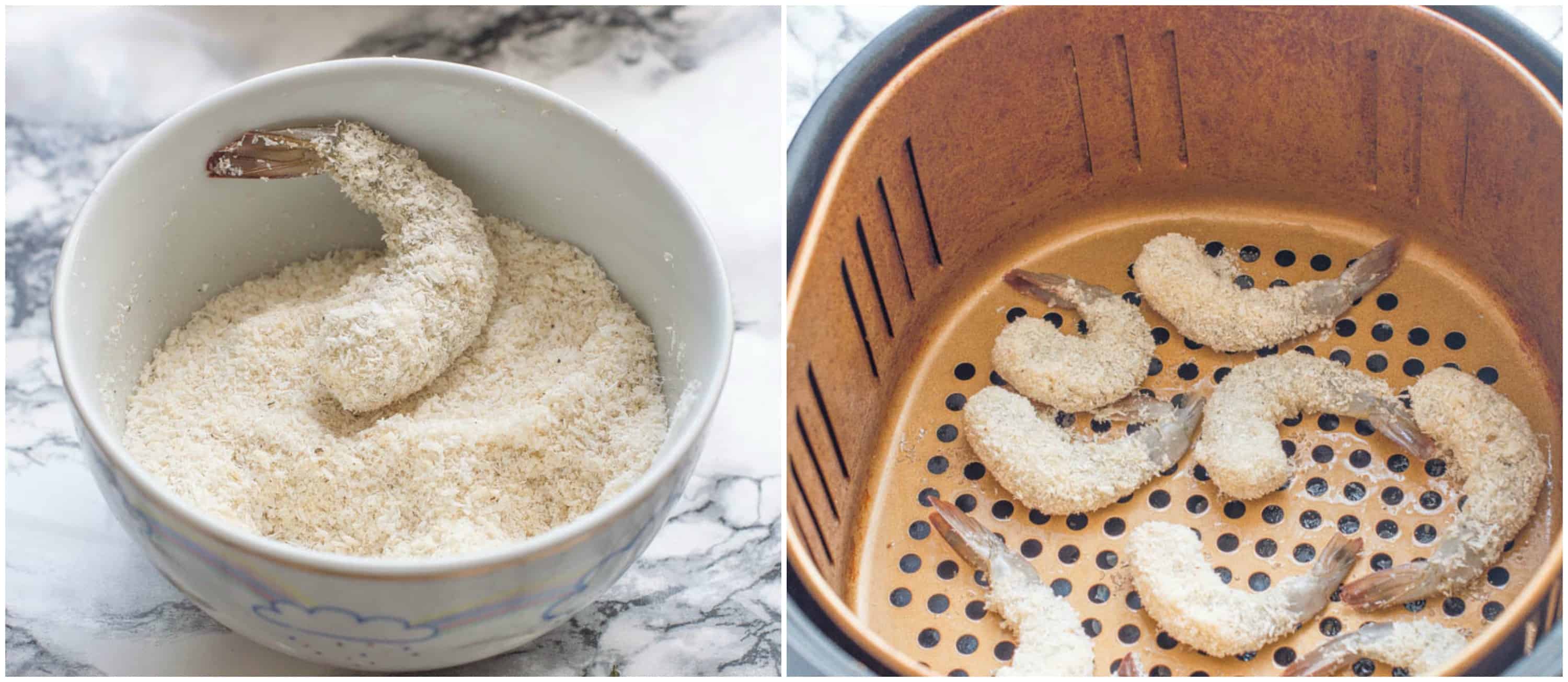 Coat each shrimp (holding by the tail) with the coconut/almond meal mixture and then add them to the sprayed air fryer basket prior to frying.
More side dishes you may like 
Print
Crispy coconut low carb air fryer shrimp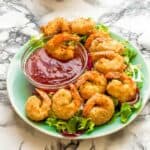 Learn how to make this delicious air fryer coconut shrimp within 10 minutes
Author:
Prep Time:

15

Cook Time:

10

Total Time:

25

Yield:

4

Category:

Appetiser
Ingredients
1 lb of raw, shrimp, devained with tails on (aprox 18-20 shrimp)
1 cup of coconut, shredded
1/2 cup of almond meal
1/3 cup of tapioca starch (leave out to make it keto)
2 tsp of seafood seasoning (see post of recipe)
1 large egg
1/4 cup of coconut milk (or almond milk)
Instructions
Spray the air fryer basket with oil, evenly and set aside.
In a bowl add the almond meal, 1 tsp worth of seafood seasoning and shredded coconut, mix together to thoroughly combine.
Place devained shrimp in a bowl and set aside.
Crack the egg in a bowl then whisk in the coconut milk, 1 tsp worth of the seafood seasoning and tapioca starch to form a smooth batter.
Dip each shrimp in the batter first, holding it by the tail to coat evenly.
Then roll in the coconut and shake off any excess. Repeat this and above step with the rest of the shrimp.
Place the shrimp in the basket, being careful not to overcrowd. You may need to cook the shrimp in two batches.
Spray some oil onto the shrimp from a distance not to disturb the coating.
Push the basket in and switch the air fryer on, select the M button and click the shrimp icon.
Adjust the cooking time to 165c/350F for 10 minutes
Turn the shrimp halfway, spray some more oil if needed.
Serve accordingly
Nutrition
Calories:

360

Fat:

20g

Carbohydrates:

20g

Fiber:

4g

Protein:

28g