Homemade cashew milk couldn't made any easy for vegans or those who are dairy free. This four ingredient method delivers the tastiest plant based milk yet.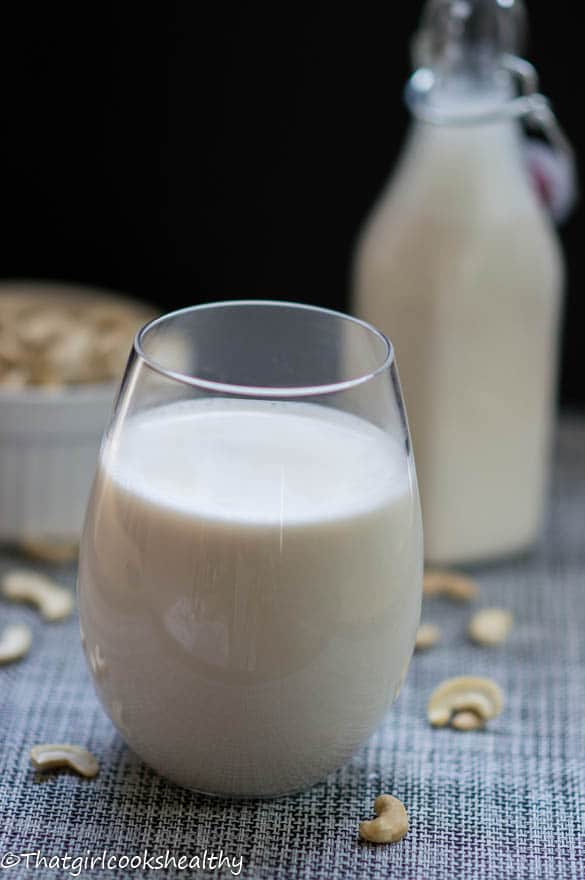 If you're a fan of homemade nut milk then you'll be pleased to know I have another addition to add to the batch. Scroll through my recipe index and you'll see a small selection of nut/seed milks – pistachio, almond, quinoa and coconut milk. My favourite so far has to be coconut milk, you guys probably would have already known by the number of times you see coconut milk featured in my recipes.
The truth be told, I'm slightly biased with this particularly nut milk since it's something I grew up on. Growing up in a Caribbean household, you simply couldn't escape it, whether you liked it or not. We do tend to incorporate large quantities of coconut milk in island food, it's simply  unheard of to add almond milk to say rice and peas (also known as peas and rice) I some how don't think it would be complimentary, I'd give that one a miss.
More recently people are making informed choices about what they consume, in other words they have decided to take an active stance in what they ingest. Well my website act as a vehicle for anyone who wants to make food from scratch. While I'm don't proclaim not a nutritional guru with a doctorate, I can certainly convey some of things I've learn over the years and skills which I utilise on a daily basis.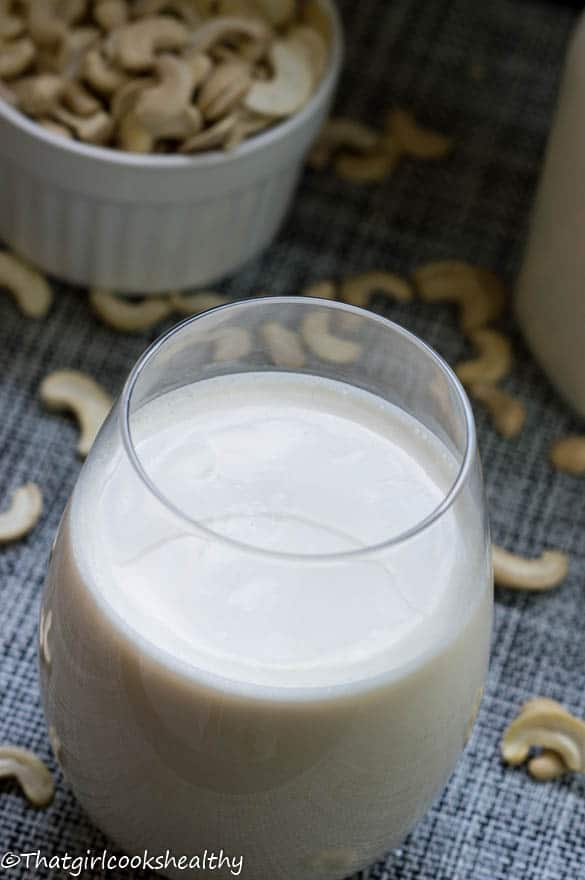 I really want people to enjoy cooking and learn why it's important to have a good relationship and a better understanding of what's being ingest. As far as I'm concerned, nut milk is the best thing out there, honesty I'm so amazed back the different variety of nut milk you can make at home.
I've still yet try a few but my favourite aside from coconut milk has to be almond and homemade cashew milk. The reason why they're my favourite nut milks is due in part to their rich and creamy texture. Since going dairy free I've never looked back I rotate the nut milks accordingly to my preference at the time and what I'm making. It's actually quite a fun process once you get into the thick of it.
From a health perspective,  if you  have the misfortune of being  lactose intolerant (the inability to digest the sugars in dairy) or afflicted with irritable bowel syndrome plus those horrendous side effects, then going dairy free might something worth trying.
People with auto immune disease have also found eliminating dairy can help to ease or even rid themselves of their affliction. The hormones from cows milk is often transmitted to humans via consumed, for some this can aggravated the immune system causing  inflammation.
Many parents have their own concerns about infant milk allergy and more often than not pediatricians recommend breast feeding mother to go dairy free to decrease the chance of the milk protein being passed from mom to baby.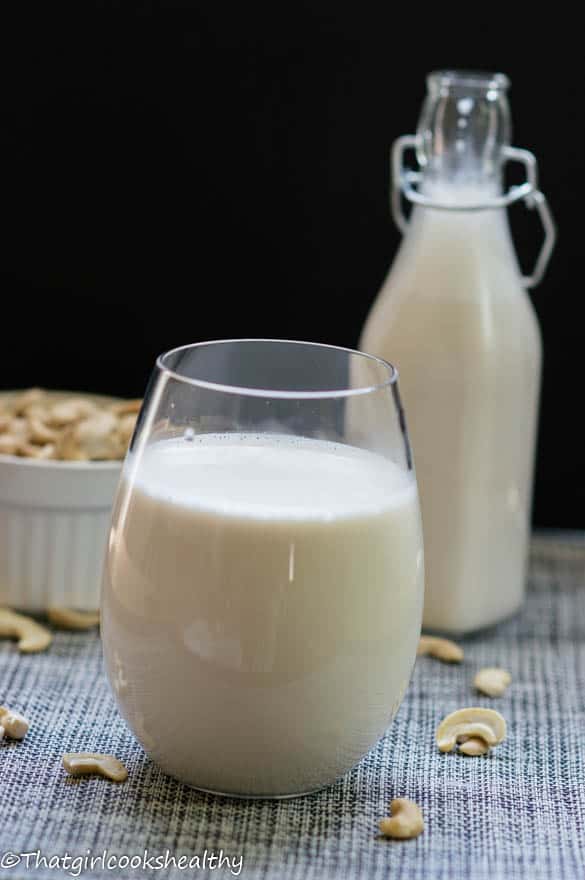 If you are suffering from any of the above, I strongly recommend giving nut milk a try. Start out slowly if you're not used to it, just include some freshly made nut milk at first rather than going cold turkey.
Homemade cashew milk is raw, vegan friendly, gluten free, no dairy and a favourite amongst the paleo crew.
Print
Homemade cashew milk recipe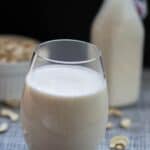 Raw, dairy free, paleo, vegan, gluten free
Author:
Prep Time:

3 mins

Total Time:

3 mins

Category:

Nut milk
Ingredients
1 cup of cashew nuts
4 cups of filtered water
2tsp of vanilla extract (optional)
1/8tsp of himalayan pink salt
Instructions
Soak the cashews in tepid water (not the filtered water) for 3 hours or overnight.
Drain the water that the cashews were soaked in and rinse several times.
Add the cashews, filtered water, optional vanilla extra and pink salt to the blender.
Pulse the contents on high speed for 1-2 minute, during the given time the nuts will have broken down in their entirety (depending how powerful the blender is)
Double check the nuts have completely broken down by running the liquid through a strainer or cheese cloth.
Store in a mason jar in the refrigerator for up to 4 days.