Pineapple mint infused water – this detox drink is made with pineapple and fresh mint leaves turning plain water into deliciously refreshing sweet water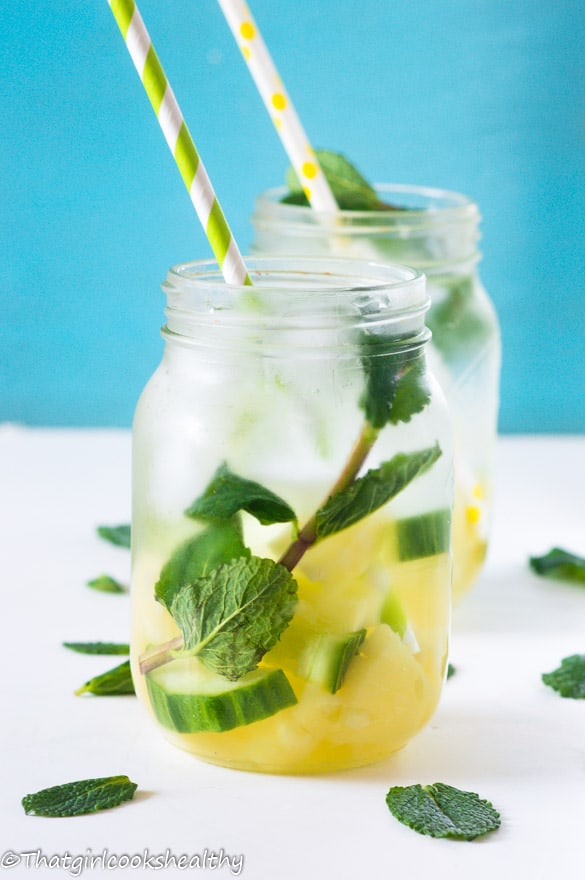 I think it's about time that I submitted a drink recipe to add some dynamic to the blog. This isn't any old drink either, I'm referring to some flavoursome pineapple mint infused water. If you're a health enthusiast like me then chances are you're probably seen a load of fruit infused water circulating the internet. If you haven't no worries because by the time I've finished explaining what it is you'll be drinking fruit water with me.
Fruit infused water is essentially what the name suggests, adding a few pieces or even slices of fruit to your water. You might be wondering why in the world would someone do that? Why not extract the juice from the fruit or eat it by itself? Good question!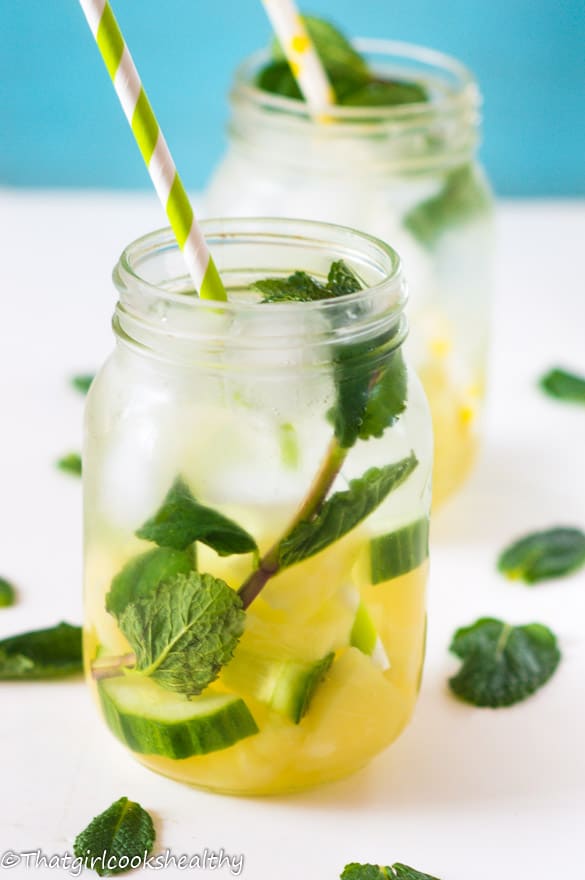 Look at it this way, a large percentage of our body constitutes water, we need water more than food. Trust me if you're unfortunate enough to find yourself stranded on a scorching hot deserted island, with no food in sight, there's a good chance you'll be able to survive providing you can find an oasis or a source of clean water to hydrate the body. My analogy might sound extreme or highly unlikely for some BUT….I feel I should emphasize the importance of consuming water.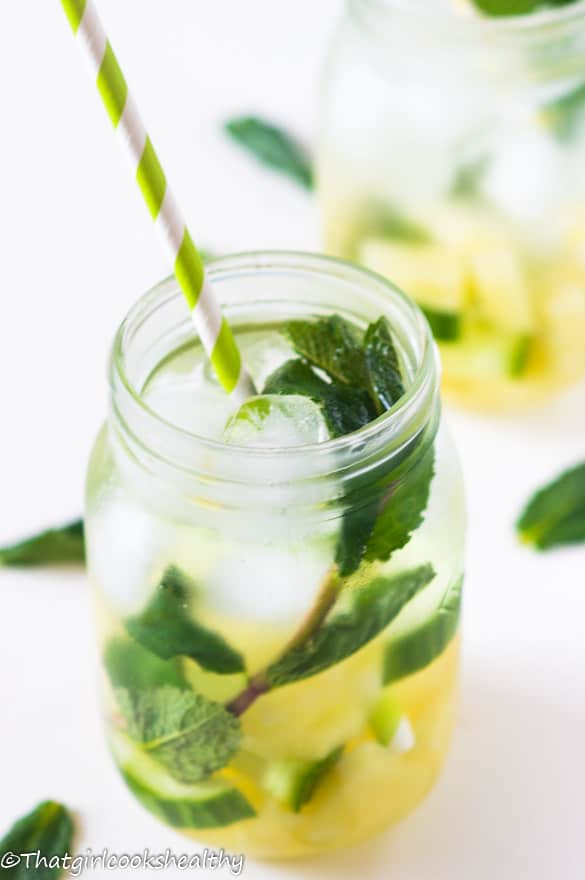 It's not uncommon for people to loathe water or simply find it boring, that's why fruit infused water is the perfect way to met your recommended 8 glasses of water per day. You can add whatever fruit or even vegetable you wish, the world is your oyster and you are in complete control.
Fruit infused water acts like a cleanser, see it as a mode of entry to the world of detox. Water not only dehydrates the body, it also flushes out the toxins from our vital organs such as the skin, kidney and liver. The liver's primary function is to break down fat, it also needs replenishing to rid itself of any build up of toxins which might inhibit weight loss.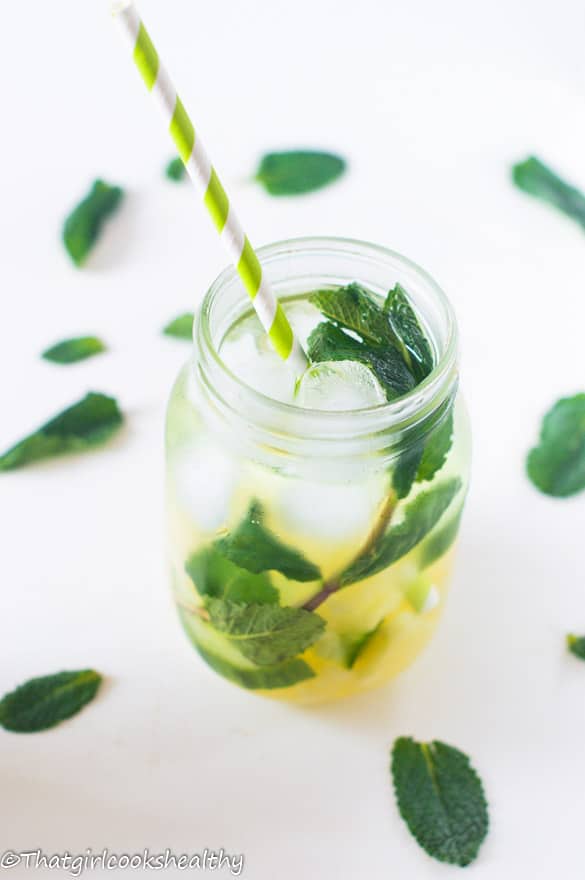 Ladies listen up, that stubborn pouch around the tummy is a clear indication that the liver needs to be cleansed. Adding fruit infused water to your healthy lifestyle is guaranteed to aid weight loss, your skin will be glowing and your body will feel more energized
There are no written rules for fruit infused water, it's really a matter of taste. The more fruit you add, the more concentrated the flavour of the water. I added about a cup's worth of fruit, a few slices of cucumber and  replenished my water bottle accordingly.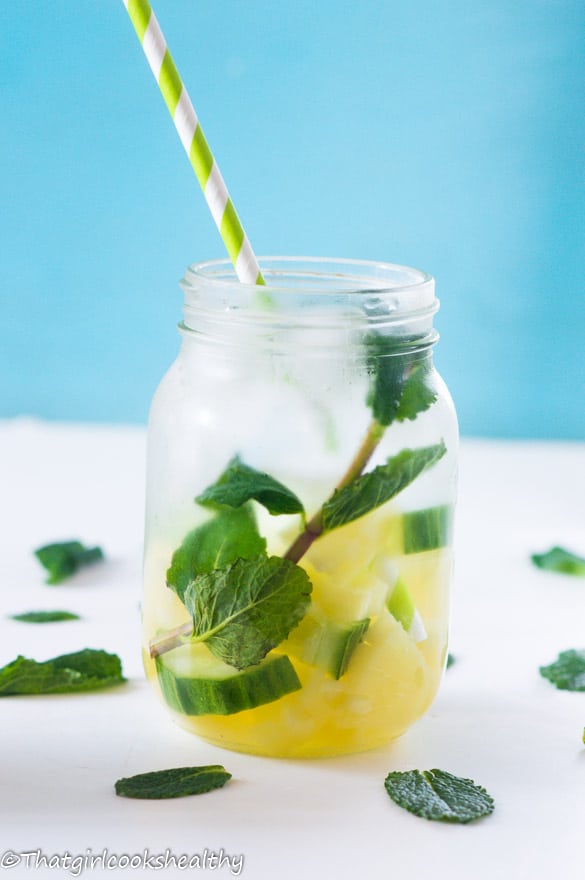 Print
Pineapple mint infused water
Paleo, raw, gluten free, dairy free,
Author:
Prep Time:

2 mins

Total Time:

2 mins

Category:

Drinks
Ingredients
1 cup of fresh pineapple chunks
2 sprigs of fresh mint
4-6 slices of cucumber
water** start with a glass and replenish as needed
Use a large bottle, glass or even a small jug to store
Instructions
Add all of the ingredients to your glass or container of your choice and replenish with more water accordingly (fruit will steep and taste more concentrated overtime).